If the two-hour barrier for the marathon falls on Saturday, it won't be an official world record but will generate global coverage for athletics and will inspire runners in every corner of the planet
For years experts have described the sub-two-hour marathon as the "impossible barrier". Not since the 1950s, when excitement grew over the prospect of the first sub-four-minute mile, has such anticipation surrounded a potential athletics achievement. The feat of running 68 seconds per 400m, or 4:35 for each mile, for an entire 26.2 miles has been thought to be beyond the ability of any man alive, or even at anyone in the future.
Mo Farah, the European record-holder with 2:05:11, describes the pace needed as "mind blowing", whereas the athlete who is gearing up to attack the mark, Eliud Kipchoge, likens a successful bid to "landing on the moon for the first time".
Kipchoge arrived in Vienna this week ahead of an attempt on the two-hour barrier at the city's Prater park on Saturday morning. The 34-year-old Kenyan clocked 2:00:25 in the Nike-backed attempt in Monza, Italy, in 2017 and has the tantalising prospect of trying to go just one second per mile quicker this weekend at the INEOS 1:59 Challenge.
The attempt has divided opinion in the sport. Some pour scorn on the attempt. "It's not athletics as I know it," one expert told me. "I hope you don't give it too much space in your magazine," another added.
This is because the conditions have been crafted in Kipchoge's favour. The course is expected to be faster than big city marathons such as London and Berlin – and even flatter than the Monza race course used in 2017 (pictured below). A phalanx of elite pacemakers, including the Ingebrigtsen brothers from Norway and Bernard Lagat from the United States, will roll in and out of the time trial, maintaining an arrow shape in front of Kipchoge the whole time to help the Kenyan's aerodynamics. On his feet, meanwhile, are the latest Nike Vaporfly shoes – although the footwear is widely available and used by elite and recreational runners around the world.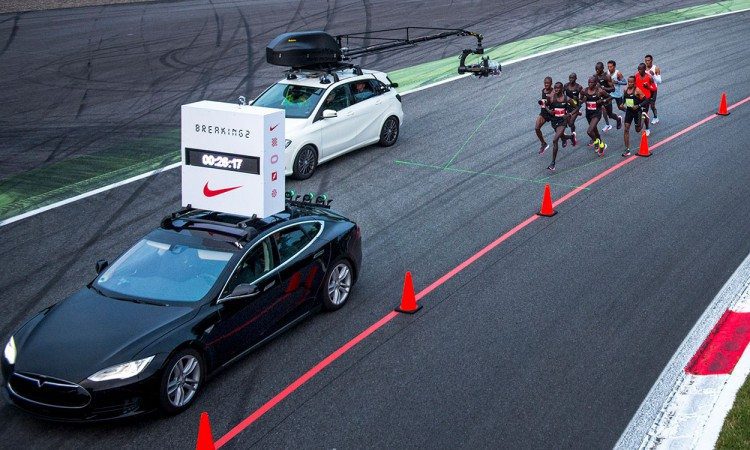 I have no problem with these factors. Over the years I've noticed there are what I call 'sub-two pessimists' and 'sub-two optimists'. I've always fallen into the latter category and this is partly because I thought future attempts would take place on synthetic tracks and in artificially created cool and windless environments by athletes who never got injured due to improvements in science and medicine.
I am lucky enough to be going to Vienna this weekend to watch the event live. I am hardly the only enthusiast either with millions of intrigued runners and fans tuning into the coverage to see how it plays out.
As a child in the 1970s the idea of someone breaking the barrier first caught my imagination in the Michael Winner movie The Games. On the eve of a fictional Olympic Games, a runner called Harry Hayes played by Michael Crawford is urged to go for the 'two-hour marathon" by his coach, played by Sir Stanley Baker. It is all played out in tongue-in-cheek fashion in the make-believe world of cinema, but here we are, half a century later, possibly about to see it for real.
During my life I have seen the marathon record tumble, too. In the 1980s, it hovered in the 2:08 zone courtesy of Steve Jones (below) and Rob de Castella. Carlos Lopes then brought it down to 2:07:12 before Belayneh Dinsamo and Ronaldo da Costa took it into 2:06 territory.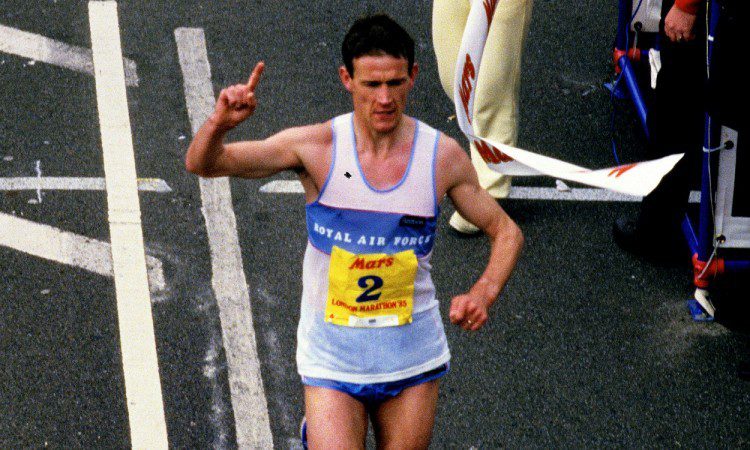 At the turn of the millennium, Khalid Khannouchi ran a couple of 2:05 world records followed by Paul Tergat and Haile Gebrselassie bringing it inside 2:05 and, in 2008, below 2:04. Since then, Patrick Makau, Wilson Kipsang and Dennis Kimetto improved it further as a flurry of record-breaking performances culminated in Kimetto running 2:02:57 in 2014.
Last year, Kipchoge set the current world record with 2:01:39. The Olympic champion is regarded as a class above everyone else in the marathon. Or rather was, until Kenenisa Bekele came within two seconds of his record in Berlin this month.
When Paula Radcliffe ran a ground-breaking 2:15:25 women's world record to win the London Marathon in 2003 I was reminded by Mel Watman, one of my predecessors as editor of AW, that Jim Peters became the first man to break the 2:20 barrier in 1953 and at the time it was inconceivable that a woman would ever finish a marathon in one piece let alone in a time quicker than the best men of the day.
This weekend's attempt in Vienna will not count for record purposes, although the IAAF president Seb Coe is not opposed to the event. "I'm pretty relaxed about this," he said a few days ago in Doha. "Anything that attracts attention to our sport within reasonable boundaries is good.
"It attracts interest and excitement. It is a barrier and is not something that would be ratified as a world record. And I have encouraged people to be creative and think outside the box. If people are inspired to start running because of it, then that's great."
Despite all the talk of weather conditions, pacemakers and controversial footwear, the biggest factor by far is Kipchoge's form and fitness. No one quite knows how well his training has gone in recent months in Kenya. On Saturday, we will find out.
If he does achieve it, expect the floodgates will open. When Sir Roger Bannister ran the first sub-four-minute mile he said prophetically: "Apres moi, les deluge" – and he was right.
Kipchoge definitely believes others will follow. So does Farah. "If Eliud does it there will be so many more people believing that they can then do it," Farah reckons.
"It'll be the same as when Roger Bannister ran the first sub-four-minute mile. He was the first to do that but years later I was doing it at the end of my races, like at the Worlds in Moscow in 2013," he adds.
"The more you believe, the more it is possible."
» Follow our coverage from the INEOS 1:59 Challenge on our website and social media as we report live from Vienna this weekend. A live stream is available here.
» For more on the latest athletics news, athletics events coverage and athletics updates, check out the AW homepage and our social media channels on Twitter, Facebook and Instagram