Nike unveils intriguing upgrade to road racing shoe on eve of London Marathon with Vaporfly Next%
It is almost two years since Eliud Kipchoge came within 25 seconds of breaking the two-hour barrier for the marathon. The 'Breaking2' time trial on the Monza motor racing track in Italy was further proof that Kipchoge is the world's best marathoner and it introduced the world to the Nike Zoom Vaporfly 4%.
Since then thousands of ordinary runners have paid more than £200 (the latest model is £239.99) for these shoes in the hope they will propel them to a PB. As editor of Britain's only track and field athletics magazine, over the years it is easy to become immune to the hype surrounding new shoe launches. Yet the springy midsole in the Vaporfly actually does seem to 'work' and on Sunday we will see Kipchoge and Mo Farah (pictured above) racing for the first time in the latest incarnation of the shoe – the Vaporfly Next% – and to crank up the anticipation Nike has this week released a short video showing the Briton training in the footwear in Ethiopia.
The new bright green or 'phantom glow' coloured model (pictured below) features 15% more ZoomX foam in the midsole, a lighter upper made out of 'Vaporweave' plus, of course, the carbon fibre plate that somewhat controversially gives the shoe its spring. With comfort in mind, laces are offset to the side to reduce pressure on the top of the foot and there is more padding to protect the Achilles. Feedback from elite athletes also led to traction being improved on the outsole, which could be vital on Sunday if the roads of London become wet with rain.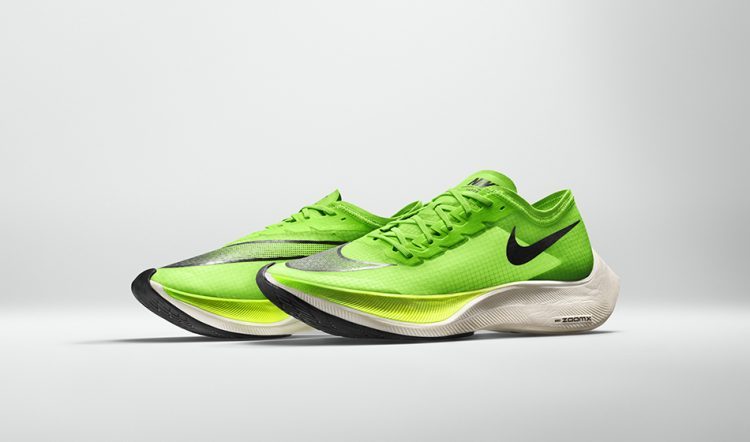 Back in the winter one of Britain's leading distance runners told me the consensus among elite athletes is that it makes a difference of about a minute to your marathon time and that even non-Nike sponsored athletes are occasionally wearing them. However, if Nike's claim of a 4% improvement in 'efficiency' translates to a 4% better time, then a mere minute is a conservative estimate.
Runners are forever fascinated by shoes and during my time at AW I've seen the growth of trail-specific shoes, a trend toward shoes with a 'barefoot feel' and, most of all, a preponderance of motion control footwear. Even interviewing Jakob Ingebrigtsen at the European Indoor Championships in Glasgow in March, my eye was drawn to what seemed incredibly tight Nike spikes, with his feet almost bulging out of the toe box.
As a middle-aged plodder with dodgy knees, I'm not the best person to test the Vaporfly shoes. But earlier this year I ran more than a minute quicker in a pair of Vaporfly 4% shoes on the Eden Project parkrun than I did when wearing non-Nike shoes at the flat, grassy Wanstead Flats parkrun in London. Speed aside, they are super-comfortable too.
My one-off experience aside, the New York Times studied data from half a million races last year and, apart from discovering that Strava users spelt Vaporfly in 147 different ways, the newspaper surmised that runners did benefit from a 4% improvement, although the percentage varied from one runner to the next.
Not surprisingly, the IAAF is looking into whether they break any rules. Questions have also been raised lately over Laura Muir's track spikes, which feature similar technology.
Of course, plenty of races are still being won by athletes wearing different brands. But, if money is no object, then an increasing number seem to be following, quite literally, in Kipchoge's footsteps.
» For more on the latest athletics news, athletics events coverage and athletics updates, check out the AW homepage and our social media channels on Twitter, Facebook and Instagram