Marathon man says breaking the two-hour barrier at the INEOS 1:59 Challenge in Vienna in October will be on a par with the first moon landing
Sir Roger Bannister's first sub-four-minute mile went down in history as one of man's greatest achievements. His 3:59.4 in Oxford in 1954 was compared to the first ascent of Everest by Sir Edmund Hillary and now, with the INEOS 1:59 Challenge looming in Vienna, marathon runner Eliud Kipchoge believes breaking the two-hour barrier for 26.2 miles will be as significant as when Neil Armstrong became the first man to set foot on the moon in 1969.
Speaking on a crackly phone line from his training camp in Kenya on Wednesday, Kipchoge said breaking the two-hour barrier in the Austrian capital in October is "more important" than world or Olympic titles or big city marathon victories. "It's like the first man to go to the moon," he said.
Kipchoge is the reigning Olympic champion and holds the official world record with 2:01:39 set in Berlin last year. He also clocked 2:00:25 at a Nike-backed Breaking2 attempt in Monza, Italy, in 2017 and the 34-year-old reckons he can improve by the necessary one second per mile to run 1:59-something when he attacks the barrier at the Prater park in Vienna during an October 12-20 window of opportunity that organisers have created.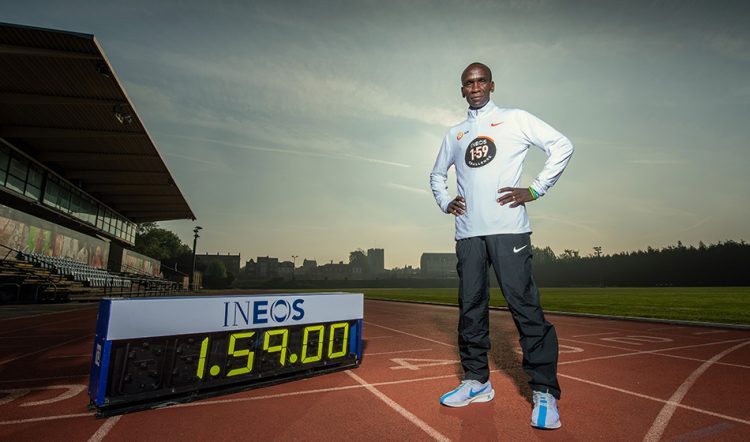 At the Breaking2 attempt Kipchoge used a phalanx of pacemakers that dropped in and out, plus the new (at the time) Nike Vaporfly shoes on a looped course used primarily for motorsports – and the mark was subsequently not ratified by the IAAF with some critics going as far as calling it 'technical doping'. So it will be interesting to see what new ideas and innovations INEOS will bring to this upcoming time trial in Vienna.
We know he will wear similar Nike shoes with a carbon fibre plate. There are reports that the pacing team will include the Ingebrigtsen brothers from Norway. The course in Vienna is reputed to be even flatter and straighter than Monza, too, whereas we can only speculate what, if any, influence the INEOS-sponsored cycling squad led by Sir Dave Brailsford might have, given their notoriety for applying "marginal gains" and ongoing success in the Tour de France (first and second in the general classification this year).
Kipchoge, however, answered questions about his own preparations only during what was his final interview before 'race week' itself in October. "My main focus is to show that no man is limited and the main way I can do that is by breaking two hours," he says.
Kipchoge's preparations include rising at 5am every day and he is currently logging about 200-220km (120-136 miles) of running per week, plus regular gym workouts. Core stability sessions, incidentally, are one of the things he has added to his schedule following the Breaking2 attempt.
Kipchoge says he will arrive in Vienna about one week before the attempt and jog on the course to familiarise himself with it. Is he not curious to see the course any earlier? "I prefer to stay in Kenya and concentrate on my training," he says. "This is my priority."
🌡️ Temperature
💧Humidity
🌧️ Precipitation
🌬️ Wind speed

Getting the weather right was one of the biggest factors in choosing the Vienna course. Let the #INEOS159 team explain…https://t.co/HhtN5Zz6Ph pic.twitter.com/xGdM1s1A9M

— INEOS 1:59 Challenge (@INEOS159) August 14, 2019
In Monza, he remembers: "I realised I was not going to break the mark with about a kilometre to go. I was going too slowly and tried to adjust but it was no longer possible. But I think I will improve this time."
This month marks 15 years exactly since he shocked the sport by out-kicking world mile record-holder Hicham El Guerrouj and world 5000m and 10,000m record-holder Kenenisa Bekele to win the world 5000m title in Paris. Since then he believes he has grown in experience and become mentally stronger. Certainly, he seems to have total confidence in his ability to break two hours.
"I have no doubts at all," he says. "I have a strong team and I believe I can do it. Marathon is no longer an individual event. It's a team event."
If Kipchoge does this 'impossible' feat, does he believe others will follow in his footsteps, just as they did in the mile after Bannister's sub-four in 1954. "Yes, because athletes will begin to believe that they can do it too," Kipchoge says with certainty.
» Read more about Eliud Kipchoge in AW in the run-up to the INEOS 1:59 Challenge in October and follow our race week coverage online and in the magazine
» To learn more about Eliud Kipchoge's attempt to redefine the limits of human achievement, the INEOS 1:59 Challenge, visit ineos159challenge.com