Briton adds 1500m title to her 800m win after four races in four days in Sweden
Britain's Jemma Reekie completed an historic middle-distance double at the European Under-23 Championships in Gävle, Sweden, adding the 1500m title to her 800m gold claimed the day before.
After four races in four days, the 21-year-old clocked 4:22.81 to become the first British athlete to ever win two individual gold medals at the European under-23 event.
It was another fine performance by the Andy Young-coached runner, who is a training partner of British 1500m record-holder Laura Muir. With her latest win, it means that all the female European 1500m titles are currently held by either Reekie or Muir, with Reekie also the reigning European under-20 champion and Muir having both the senior indoor and outdoor titles to her name.
"I don't think it has hit me yet," said Reekie. "I am really tired, my legs are sore and the girls did not make that easy for me, both days, but I am really pleased.
"I didn't know the last lap was as fast as it was (59.6) but it did feel hard so I am glad it was fast.
"I know I said coming here that I would be happy with two medals but there was only one colour I wanted in both and I am really pleased I got it right."
Elise Vanderelst of Belgium secured silver in 4:23.50, while bronze went to Italy's Marta Zenoni in 4:23.96.
As the championships came to a close, the British team finished fourth on the medals table and third on the placing table as Germany ended up on top after a strong last session featuring six gold medals.
Among the nation's winners was Niklas Kaul as he achieved an impressive 8572 points to take the decathlon title, breaking the championship record with his European-leading PB.
The 21-year-old adds this gold to a CV which also includes 2015 world under-18 and 2016 world under-20 titles, plus 2017 European under-20 gold.
He pushed all the way to the line in the final event, clocking his second quickest ever 1500m of 4:17.63 to complete a series which also featured an 11.17 100m, 7.26m long jump, 15.19m shot put, 2.03m high jump, 48.67 400m, 14.83 110m hurdles, 47.35m discus, 4.80m pole vault and dominant 77.36m in the javelin.
Estonia's 2017 European under-20 silver medallist Johannes Erm had led the decathlon at the end of the first day and went on to secure silver with a national under-23 record of 8445 points, while Kaul's team-mate Manuel Eitel took bronze with 8067.
Germany's other titles on the final day were claimed by both 4x100m relay teams, as the men's quartet ran 39.22 and the women's clocked 43.45, plus the men's 4x400m team (3:03.92), steeplechaser Frederik Ruppert (8:44.49) and Annika Fuchs, who improved her PB by more than a metre with 63.68m to win the women's javelin title.
GB teams secured silver in both 4x400m relays as individual 400m medallist Cameron Chalmers anchored the men's team to a time of 3:04.59 before Hannah Williams crossed the line with 3:32.91 on the clock to finish behind individual 400m champion Natalia Kaczmarek as she powered past on the final leg to get gold for Poland in 3:32.56 after running a 51.84 split.
Silver medals were also claimed by Britain's Spencer Thomas, as he came through to clock 1:49.06 behind Poland's Mateusz Borkowski (1:48.75) in the 800m, plus Tom Gale, as he cleared a season's best of 2.27m in a high jump competition won by European senior silver medallist Maksim Nedasekau of Belarus with a 2.29m clearance.
In the 4x100m relays, GB's women's team finished fifth in 44.54, while the men's team was unable to get the baton around.
Earlier on in the day, the GB team co-captain Callum Wilkinson (1:22:13) had claimed bronze in a 20km race walk contest won by Russia's authorised neutral athlete Vasiliy Mizinov (1:21:29), as Britain's Cameron Corbishley placed 12th in 1:27:07.
The women's 20km race walk title was won by Turkey's Ayse Tekdal in 1:34:47.
Back on the track, Denmark's Anna Emilie Møller won a battle between champions in the women's 5000m, running a national record of 15:07.70 to add that title to her 3000m steeplechase win in Gävle as Germany's 10,000m champion Alina Reh was second in 15:11.25.
GB's Jodie Judd ran a PB of 15:51.67 to place sixth and Amelia Quirk, who trains with St Mary's University student Møller in the UK, clocked 16:08.71 for 12th.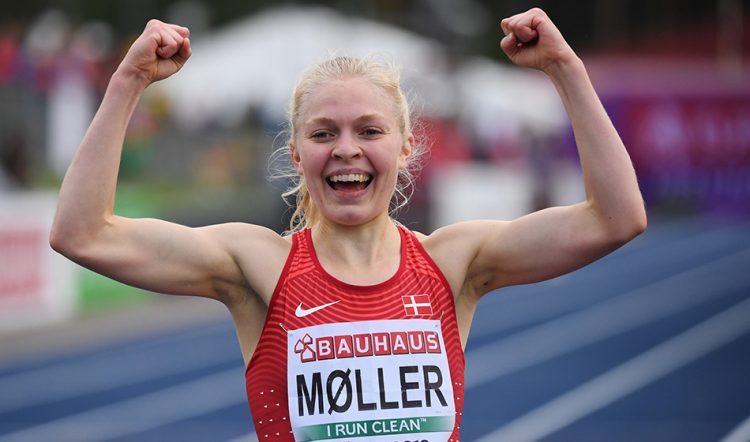 France's Hilary Kpatcha won the women's long jump title with a 6.73m (+0.5m/sec) leap after jumping a PB of 6.81m in qualifying, while GB's Alice Hopkins was seventh with 6.12m (+2.4m/sec).
Turkey's Necati Er leapt to triple jump success with a national record-breaking mark of 17.37m, while Slovenia's Kristjan Ceh won the discus with 63.82m.
The 400m hurdles golds were claimed by France's 2017 European under-20 champion Wilfried Happio (49.03) and Paulien Couckuyt of Belgium with a PB of 56.17. GB's Alex Knibbs finished eighth in the men's event in 50.82.
Switzerland's Angelica Moser retained her pole vault title by clearing 4.56m.
Results can be found here, while a report on day one action is here, a day two round-up is here and a day three report is here.
» For more on the latest athletics news, athletics events coverage and athletics updates, check out the AW homepage and our social media channels on Twitter, Facebook and Instagram