Britain tops medal table at European U20 Championships after three golds on final day
Three gold medal-winning performances, including one as part of a clean sweep in the men's 800m, helped the Great Britain team to the top of the medal table as the European Under-20 Championships came to a close in Borås, Sweden.
Oliver Dustin, Ben Pattison and Finley McLear stormed off the final bend in the two-lap final and battled down the home straight before Dustin edged ahead to pip Pattison and McLear managed to stay on his feet to bag bronze.
It was reminiscent of the GB one-two-three at the 1986 European Championships, where Seb Coe, Tom McKean and Steve Cram were memorably described as "three Spitfires out of the sun" by one newspaper as they swept into the home straight. Although time will tell if the GB junior trio from 2019 will go on to match those achievements at senior level.
The winning time was 1:50.56 as Pattison, who had led through 400m in 57.90, clocked 1:50.68 and McLear ran 1:51.19, almost staggering over the line, as the trio finished more than a second ahead of the rest of the field.
Hungary's Lorinc Varga was fourth in 1:52.26.
Reminiscent of the good ol' day of British middle distance running!

A British one-two-three in the men's 800m in #Boras2019! pic.twitter.com/orOdMLkzHt

— European Athletics (@EuroAthletics) July 21, 2019
Demonstrating the nation's great current depth, Britain managed the clean sweep even with European under-20 leader and British record-holder Max Burgin out injured.
"What a race, what a battle," said 18-year-old Dustin, last year's English Schools champion. "It was a scrappy race. It was a slow-ish first lap and it took a bit to wind it up. I just wanted to sit in a good position, track whoever was leading and then give it everything in the home straight.
"I can't wait to get to the victory ceremony with the guys. We all came into this wanting a one-two-three and we all performed to the best of our ability. We just showed Europe how to run an 800m."
Britain's two other triumphs came in the women's 4x100m and 4x400m relays.
First Cassie-Ann Pemberton, Amy Hunt, Georgina Adam and Immanuela Aliu combined to clock 44.11 to win the 4x100m ahead of the Dutch team (44.21) and Germany (44.34) as world under-18 record-holder Hunt claimed her second crown of the championships after her individual 200m success.
Then Natasha Harrison, Isabelle Boffey, Louise Evans and Amber Anning ran a world under-20 lead of 3:33.03 to win the 4x400m ahead of Belarus with a national under-20 record of 3:37.06 and Poland with 3:37.13.
That secured a second title for 800m winner Boffey and a second medal for Anning after her 400m silver.
Another two medals had been claimed by GB team-members earlier on during the final day of competition as Seamus Derbyshire secured silver in the 400m hurdles and Holly Mills claimed bronze in the long jump after her fourth place in the heptathlon.
Sweden's Carl Bengtstrom got gold in the hurdles in 50.32 ahead of Derbyshire's 50.86 PB, while Mills was just a single centimetre off her PB with a best of 6.50m.
The long jump was won by Italy's Larissa Iapichino, the daughter of Olympic and world medallist Fiona May, after an exciting contest.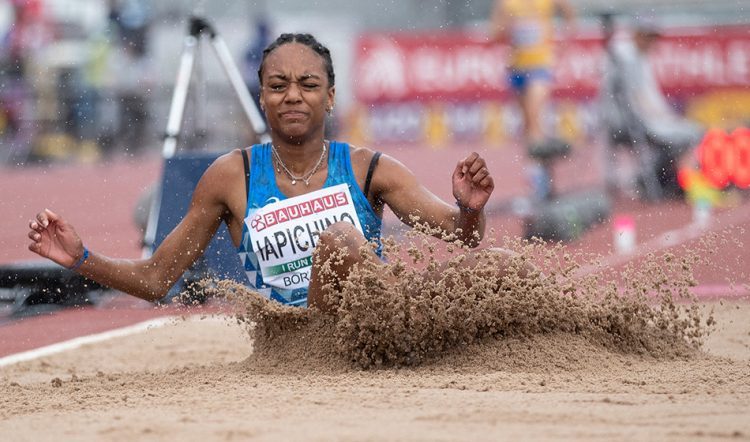 Iapichino jumped 6.58m to take a title which her mother had claimed in 1987, while silver went to Sweden's Tilde Johansson thanks to her best leap of 6.52m. Mills' British team-mate Josie Oliarny placed seventh with 6.14m.
Another athlete following in her parent's footsteps was Russia's Aksana Gataullina as, competing as an authorised neutral athlete, she claimed the pole vault title with a clearance of 4.36m, 36 years after her father Rodion Gataullin won gold himself.
The women's 400m hurdles title was claimed by Femke Bol of Netherlands after a run of 56.25, with GB's Marcey Winter finishing sixth with a PB of 58.18.
Switzerland's 800m silver medallist Delia Sclabas won the women's 1500m title after a sub-60-second final lap as Ireland's Sarah Healy secured silver, 4:25.95 to 4:27.14. GB's Erin Wallace finished seventh in 4:30.08.
Slovenia's Klara Lukan gained gold in the women's 5000m as GB's Izzy Fry finished fourth (16:24.50) and Grace Brock eighth (16:43.00), while the men's title was won by Spain's Aaron Las Heras after a PB of 14:02.76 as Ireland's Darragh McElhinney claimed bronze (14:06.05). GB's Rory Leonard placed ninth in 14:28.56.
Poland's Zofia Dudek (9:30.06) won the women's 3000m title from Portugal's Mariana Machado (9:30.66) as GB's Saskia Millard (9:33.77) and Eloise Walker (9:45.19) were fifth and 11th respectively. Turkey's Murat Yalçinkaya claimed the men's steeplechase crown after clocking 8:58.20 as Britain's Remi Adebiyi (9:17.81) and Kristian Imroth (9:25.19) were 12th and 14th.
There was gold for Germany in the men's 4x100m as the quartet pipped GB by 0.01 with 39.79, but the British team missed out on medals after later being disqualified. Silver went to Italy and bronze to Netherlands. The men's 4x400m title was won by Turkey in 3:08.34.
Spain's Yasiel Brayan Sotero won the men's discus title with 62.93m as Czech twins Michal (62.17m) and Jakub Forejt (61.64m) secured silver and bronze. GB team co-captain James Tomlinson finished fifth with 60.01m.
Netherlands' Jorinde van Klinken (17.39m) claimed the women's shot put gold, with Britain's Sarah Omoregie 10th (14.69m), while Simon Wieland threw a Swiss under-23 record of 79.44m to win the men's javelin and Italy's Carolina Visca 56.48m to win the women's.
Germany's Thomas Carmoy won the high jump (2.22m) and Artem Konovalenko of Ukraine won the triple jump (16.50m).
The morning's 10,000m race walk titles were won by Belarus' Mikita Kaliada in 41:10.03 and world under-20 silver medallist Meryem Bekmez as she led a one-two for Turkey in the women's event, clocking 44:44.50 ahead of Evin Demir with 46:38.68.
Results can be found here.
» For more on the latest athletics news, athletics events coverage and athletics updates, check out the AW homepage and our social media channels on Twitter, Facebook and Instagram