Multiple global medallist is among 12 Russian athletes banned for doping after Court of Arbitration for Sport ruling
London 2012 Olympic high jump champion Ivan Ukhov and Moscow 2013 world high jump gold medallist Svetlana Shkolina are among 12 Russian athletes to have been handed doping bans by the Court of Arbitration for Sport (CAS).
The bans for the 12 athletes range from two to eight years and also include the disqualification of some results.
For Ukhov, the CAS ruled that he should be suspended for four years, starting from the date the ban was announced (February 1), with his results achieved from July 16, 2012, to December 31, 2015, to be disqualified.
That includes his Olympic win in London on August 7, 2012, meaning USA's runner-up Erik Kynard could be upgraded to champion and the trio of joint bronze medallists – Britain's Robbie Grabarz, who retired last year, plus Canada's Derek Drouin and Qatar's Mutaz Essa Barshim – could be in line for silver medals.
Ukhov is also set to be stripped of his world indoor silver from 2014 and his European bronze medal claimed the same year.
Shkolina has also been banned for four years, starting from February 1, 2019. Her results achieved from July 16, 2012, to July 28, 2015, are disqualified, meaning she loses her world title from 2013 and her Olympic bronze medal from 2012.
The group of 12 suspended athletes also includes hammer throwers Tatyana Lysenko Beloborodva, Gulfiya Agafonova Khanafeeva, Mariya Bespalova and Anna Bulgakova, hurdlers Yekaterina Galitskaia and Yuliya Kondakova, sprinter Tatyana Firova, shot putter Ivan Yushkov, discus thrower Vera Ganeeva and triple jumper Lyukman Adams.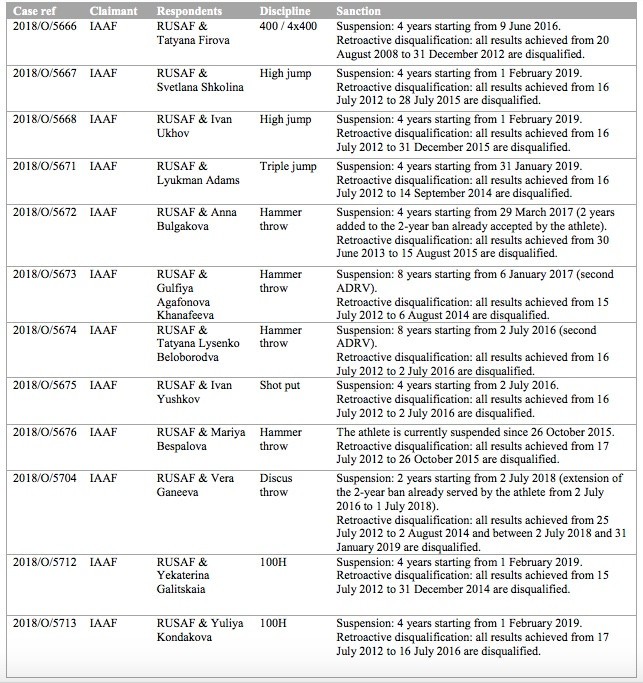 "The Court of Arbitration for Sport (CAS) has issued decisions in 12 first-instance disciplinary procedures in which it replaced the Russian Athletics Federation (RUSAF), which is currently suspended and unable to manage any disciplinary procedures, in accordance with the IAAF regulations," the CAS said in a statement.
"The procedures stem from the investigation conducted by Professor Richard McLaren, mandated by the World Anti-Doping Agency ("WADA"), in relation to allegations of systemic doping practices in Russian sport. Having studied the reports issued by Prof. McLaren, the Athletics Integrity Unit (AIU), on behalf of the International Association of Athletics Federations (IAAF), pursued allegations of anti-doping rule violations ("ADRVs") against several Russian athletes, in particular to the effect that these athletes participated in and/or benefited from anabolic steroid doping programs and benefited from specific protective methods (washout schedules) in the period 2012 (Olympic Games in London) – 2013 (World Championships in Moscow).
"Following the appeals filed by the IAAF at the CAS, each procedure was conducted separately and referred to a Sole Arbitrator. In all cases, the athletes have been found guilty of ADRVs under the IAAF Rules and individual sanctions have been imposed by the CAS on each of the 12 athletes concerned.
"These first-instance decisions may be appealed to the CAS Appeals Arbitration Division within 21 days."
» For more on the latest athletics news, athletics events coverage and athletics updates, check out the AW homepage and our social media channels on Twitter, Facebook and Instagram