What's it like to run seven marathons on seven continents in seven days? TV presenter Rob Bell recently returned from his '777' challenge and here he shares his experience
Many of Athletics Weekly 's readers log some serious mileage each week, but Rob Bell took it to another level with his recent '777' marathon challenge.
Not only did he run over 295km in a week, he did it on seven continents – one marathon at a time.
Here the Travel Channel presenter talks about his experience of running seven marathons on seven continents in seven days.
The '777' is quite some challenge. How did you prepare for it?
In the build up to this event we were fortunate enough to have the support of Pure Sports Medicine, who helped us to put together a training plan.
This stretched out and grew over a four month period and consisted of:
– Daily Theraband work to build up the glutes and upper back
– Strength and conditioning circuit exercises in the gym twice a week
– Speed work with either treadmill interval sessions or extended fartlek runs
– Volume of distance running – peaking at around 110km a week
Our story had particularly interested of one of the sports scientists at Pure Sports Medicine, Jorg Stadelmann, who ended up coming with us on the trip to gather data for a research paper and to guide us through the physical hardships.
With him, we'd conducted lactate threshold tests on the treadmill in the final few weeks before we left and so each of us had specific work rates to train at depending on fitness levels and physiological makeup – using heart rates as our ultimate guide.
The aim then was to use this science to guide us through the challenge itself – to make sure we wouldn't blow up before the finish line, having used up all our energy stores. This worked to varying degrees, because sometimes you just have to run how you feel you want to run.
It was a fascinating battle to experience between body and brain.
What were some of the challenges you faced?
The biggest challenge for me was the tiny amount of time you had for anything that wasn't directly to do with running.
Updating our website and social media channels was tough because you were limited to the time in airports when wifi was available. But at the same time, it was something I felt I desperately wanted to do because of the huge reaction it got, which in turn acted as a huge boost for me.
Things like brushing your teeth became a real chore, because it was never easy and there was never a good time for it.
What were the stand-out highs and lows?
The biggest high for me was running in Cairo. Running as an organised activity is still very much in its infancy in Egypt and running clubs in Cairo have only existed in the past few years.
When we got in touch with a local running club in Cairo for help on where we should run, it was the start of something very special. They felt so honoured that we should bring part of this global event to their city, that they took it upon themselves to galvanize all the running clubs to put on Cairo's first marathon for over 30 years.
They set up a Facebook page especially for the event and we were delighted to watch the number of participants registering to run grow from around 20 on the first day to over 1200 by the time we arrived.
We were greeted at the airport. Fast-tracked through security and transported to the start point to see a huge crowd forming. And together, we ran through the (still open to traffic) streets of Cairo. We had bib numbers and water stations and fellow runners to talk with, or at least attempt to talk with in broken English and Arabic. Throughout, there was a huge sense of sheer joy and elation that we were there and that they had a marathon.
To be a part of that and indeed part of the reason why it happened is something very special. It was a very emotional day for me.
I can think of two particularly low points. The first was in London on marathon number four, when my main training and running partner in this challenge, Dan, got injured. We feared it could be a stress fracture in his ankle, which would prevent him from running in the rest of the event. While he got a full diagnosis via an MRI scan, he was unable to run our home marathon. Despite all the amazing support from family and friends, who were there at the start line and even run part way with us, in the back of my mind, I couldn't shake the fact that Dan may well not be getting on the next flight with us.
This low point was suddenly flipped immediately after the run with the news that there was no permanent damage and that if Dan could run through the pain, he was safe to carry on.
The second low point was starting the run in Sydney. It was 37 degrees and even in the shade it felt like I was melting. The tendons in my feet and ankles swelled up and were  immensely painful from the toil of the previous six runs. Also, my stomach was not happy with what had been digested that week and decided to let me know for sure.
The last run in Sydney felt different. I'm convinced it was down to the fact that perhaps my brain switched off knowing that I was pretty much done having arrived in Sydney with plenty of time to spare for the last run. With the brain now asleep the body had something to say and it was "Oi – enough is enough!"
So the first 30km of that last run were incredibly tough. I couldn't run freely and had to keep stopping for food and water. However, for the final 12km, the head kicked in again. I found a new focus and strode freely and actually pretty quickly towards that final finish line.
I love the power of mind over matter.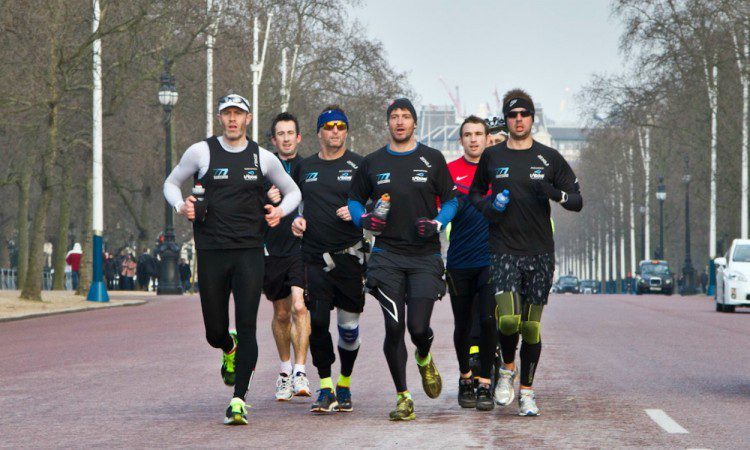 How did each marathon differ between locations and what were the associated challenges with each?
Antarctica – The challenge was mainly the terrain. It was rocky and wet underfoot and relatively hilly. We were lucky this was the first. However, the surroundings and wildlife played a welcome distraction from the fatigue. We had penguins and seals come out of the water to see what was going on and occasionally bark at us as we ran past.
Chile – Possibly the most serene marathon I've ever run. A beautifully flat and smooth road to run 21.1km out of town along the coast before turning back, with the Tierra del Fuego National Park in the distance across the water, dolphins soaring through the air from the depths, the sun continuously low all morning and a stray dog we named Lil' Stevie (after our road captain Steve Vials) who ran the entire distance with us, keeping an eye out and warning off other more aggressive strays.
Houston – We ran out and back in a park alongside a stream. What made this unique was the people we met along the way who would alter their running route to run alongside us and chat for a few kilometres. My body started to struggle towards the end of this one and so I had to slow the pace to get through. I think it was reacting to the shock of running so much in such a short period of time. Somehow, it bettered itself soon after.
London – The presence of family and friends made this very special. There was so much support and love. We were made to feel like heroes and it was such an amazing feeling that overrode any other feelings of pain.
Cairo – The people and the event was amazing. The conditions were indeed challenging. It was hot and dusty and smoggy and we were running on huge three-lane highways with cars coming from what seemed like every direction. You had to be extremely wary at all times.
Singapore – Possibly the one I was dreading the most because of the infamous humidity, but my body reacted well to it. I enjoyed running this perhaps more than most of the others. I've learnt that some days, your body is just in a great place to run. We started the run under the gaze of the unmistakable Singapore city skyline before settling in to the footpath along the East Coast Park with beaches and families out for weekend picnics.
Sydney – Hotter than anything I've run in before. The run into town to take in the views of Sydney Harbour nearly killed me. There was no escape from the heat and the constant descent down to the water meant only one thing coming back. And that hurt like hell.
» To witness Rob's journey, 'Monster Marathon Challenge with Rob Bell' airs in April on the Travel Channel, Sky channel 249 and 251, and on Freesat, channel 151