A round-up of the action at Mansfield's Berry Hill Park
Tonbridge AC's women and Leeds City's men took the senior titles at the ever-popular Saucony English Cross Country Relays on a bone-dry course in Berry Hill Park, Mansfield.
Tonbridge's surprise victory came as they ran home four seconds clear of Aldershot, Farnham & District (AFD), who were also runners-up on the men's side, albeit 31 seconds behind the convincing winners.
The in-form Emily Hosker Thornhill took a big lead for AFD on the opening leg. Her 9:11 for the slightly shorter opening stage put her 24 seconds in front of Tonbridge's Nicole Taylor.
However, with former European junior cross-country champion Emelia Gorecka a late withdrawal from AFD's team due to illness, Tonbridge's Lucy Reid (9:52) quickly overtook Anna Watson and came home 25 seconds in front. Ashley Gibson (10:02) then finally extended the gap with a lap of 10:02. Rotherham Harriers were third.
Jess Judd was fastest on the final two legs, running 9:24 for Blackburn Harriers.
By contrast, Leeds led as soon as the second of the four 5km legs after Loughborough's Jamie Williamson, quickest on the opener with 14:56, had no one to hand on to.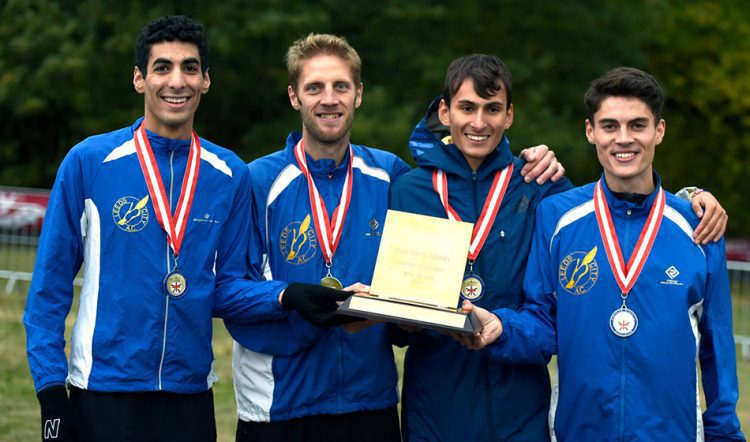 After Ossama Meslek ran 15:00,  Graham Rush pushed on for Leeds with 15:18 despite a spirited effort from AFD's Jonny Hay, whose 14:57 was the fastest of anyone on the last two stages.
Emile Cairess (15:01) and then Phil Sesemann (15:06) stretched out the advantage for Leeds to cross the line in 60:23.
In the first race of the day, the under-20 women's, Loughborough took the overall win but, as university teams are not eligible for medals, the title went to Herne Hill. Morpeth won the junior men's race.
The other titles went to Herne Hill Harriers (under-17 women), Invicta East Kent (under-17 men), Windsor, Slough, Eton & Hounslow (under-15 girls), AFD (under-15 boys), Tonbridge (under-13 girls) and Cambridge & Coleridge (under-13 boys).
See englishcrosscountry.co.uk for full results.
» The next AW magazine will include full coverage from Mansfield