Results from the World Athletics Continental Tour Gold event as well as Europe's oldest marathon, Karsten Warholm in Oslo and more
The Virgin Money London Marathon dominated the weekend.
Elite women's race report – click here
Elite men's race report – click here
Elite wheelchair race reports – click here
Internationally eyes were on the first edition of the Kip Keino Classic in Kenya.
Subscribers to AW magazine can access the AW Clubhouse for further reports and results – click here
Kip Keino Classic, Nairobi, October 3
The event ended the World Athletics Continental Tour Gold series and the was mostly Kenyan dominated, watched by a crowd of 6000.
Arguably the performance of the meeting though came from 17-year-old Beatrice Masilingi from Namibia in the women's 400m.
Her massive PB of 50.99 broke the African under-18 record and moved her to fourth in the world senior lists.
Home wins were achieved in most of the middle distance races.
Nicholas Kimeli set a Kenyan all-comers' record of 13:08.32 to win the 5000m, while Ferguson Cheruiyot Rotich maintained his unbeaten record at 800m as he won easily in 1:44.78 from Australia's Joseph Deng (1:45.21).
World champion Timothy Cheruiyot (pictured above in Doha), not at his very best due to a hamstring problem, still easily won the 1500m in 3:34.31.
There were predictable wins for world champions Hellen Obiri (15:06.37  5000m) and Beatrice Chepkoech (9:29.05 steeplechase).
Bahrain's Nelly Jepkosgei won the 800m in 2:02.07 from 2013 world champion Eunice Sum (2:03.73).
South African teenager Sinesipho Dambile won the 200m in 20.44, while the only British competitor, Kristal Awuah, won the women's race in a PB 23.05 from Egypt's Bassant Hemida (23.13).
Oslo, Norway, October 5
Karsten Warholm won the flat 400m, his 10th race this year, in 45.56 to retain his unbeaten record in 2020.
Vertical Nasego, Italy, October 3
Italy's Henri Aymonod won the men's vertical race from Ireland's Zak Hanna.
Italy's Valentina Belotti won the women's race by a minute from Slovenia's Mojca Koligar.
Trofeo Nasego Mountain Race, Italy, October 4
Ireland's Sarah McCormack won the women's event by over a minute. Former world champion Lucy Murigi could only finish 10th.
In an exciting day of racing Sarah McCormack and Sylvain Cachard emerge victorious at Trofeo Nasego!

In the international under 20 match Adela Kolackova (Cze) wins gold for the women and Alain Cavagna (Ita) for the men! https://t.co/dRVQuJBDHl

📷 D Benedetto and M Gulberti pic.twitter.com/cY8ZRUl0oU

— WMRA (@WMRAmountainrun) October 4, 2020
Sylvain Cachard of France won the men's race in a course record of 1:34:11 and was followed in by Italian champion Francesco Puppi.
Britain's Andrew Douglas just missed out on third spot by eight seconds.
Junior Performance Cross Series, Cookham, Berkshire, October 3
Will Barnicoat (picture below, by Hamed Photos) led from the gun to power away from the under-20 men's field on a challenging course in the first fixture of the Junior Performance Cross Series (JPXS).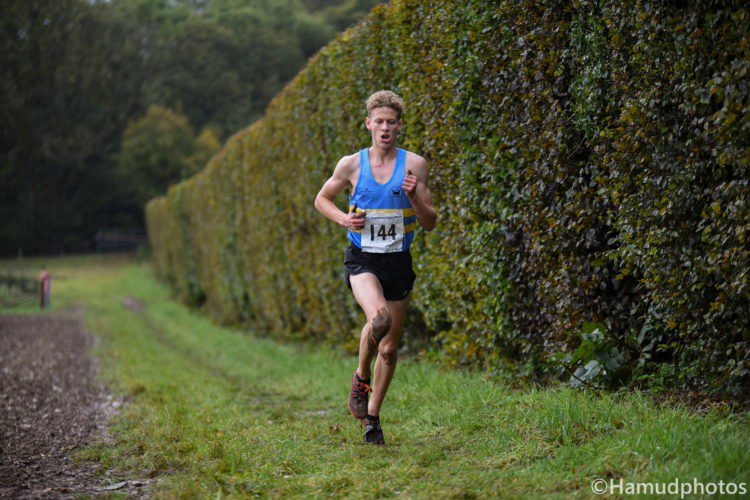 In the presence of the driving rain of Storm Alex, the Windsor athlete finished almost a minute clear of Hillingdon's Abdiftah Khalif on the 4600m course.
Barnicoat was one of two reigning National cross country champions competing at the event – the other being Chiltern Harriers' Alden Collier who won the 2020 under-13 boys' National title – organised by the local Cookham Running Club, founded by AW contributor Peta Bee.
The series of three, invitation-only events was set up to provide competition for mostly local clubs in a season where there is a drought of races and the first, a pilot held under an ARC race permit, was staged under strict Covid-19 secure regulations.
The JPXS is free to enter and, predictably, allocated spaces were filled within days. Participating clubs include Windsor, Chiltern Harriers, Radley AC, Wycombe Phoenix Harriers, Cookham RC, Highgate Harriers, Blackheath and Bromley, Hillingdon AC, Barnet and District AC, Cardiff Archers and Carmarthen Harriers.
Rachel Clutterbuck of Windsor claimed a nine-second win in the under-15 girls' race, while Jasmine Young was the fastest under-17 woman. In the second U17/U20 wave, Lottie Dewar recorded the second fastest time of the day.
Johnny James and Rowan Miell-Ingram of Radley AC were respective winners of wave 1 and wave 2 in the under-17 men's event while Chiltern's Daniel Munn and Emily Ford won the under-13 races.
A more in-depth report and results can be found in the AW Clubhouse, with access available for AW magazine subscribers. Click here.
Moscow, Russia, October 4
Vladimir Nikitin won in a Russian half-marathon record of 61:09.
Yelena Korobkina was the first woman in 74:30.
Japanese Championships, Niigata October 1-3
Tomohiro Shinno won the high jump with a 2.30m leap while Taio Kanai won a high quality 110m hurdles in 13.36/-0.1.
Spikkestad, Norway, October 3
Ola Stunes Isene won with a 63.20m throw in the discus.
Kosice, Slovakia, October 4
The 97th edition of the race saw organisers accept just 200 runners for Europe's oldest marathon.
Petra Pastorova won the women's race in 2:52:11 while the men's race went to local athlete Marek Hladik in a PB 2:26:08.
Top 3 Kosice Marathon in pandemic times, all Slovaks, Marek Hladik PB 2:26:08 first SVK winner after 21 years. Only 200 runners, 10 laps in the city, no foreigners. But tradition is kept. pic.twitter.com/zM0rokoPyu

— Alfonz Juck (@emenews) October 4, 2020
Spikkestad, Norway, October 4
Karoline Bjerkeli Grovdal set a Norwegian record of 15:04 despite having to swerve mid-race in order to avoid a car.
Spanish Junior Championships. Madrid, Spain, October 4
France's Sasha Zhoya set a world under-20 lead in the 110m hurdles of 13.27/-1.2.
Tivoli, Italy, October 3
World and European walking medalist Antonella Palmisano won the women's 5000m on the track in a world-leading 21:00.0.
Hastings Seafront 10km, East Sussex, October 4
Tom Austin and Dan Bradley were both well inside the previous course record as Austin won in 32:34 from Bradley's 32:54.
Dorney Lake Marathon, October 4
A high quality men's race was won by Will Mackay in 2:26:14 from Jack Blaiklock (2:27:17) and Chris Richardson (2:27:41).
Sara Willhoit (2:49:40) won the women's race with a three-minute PB.
Former international Emma Stepto was first W50 in 2:56:45.
Other UK age group leads were set by M50 winner Paul Jones (2:34:40), M60 James Grant (2:49:20) and Mike Sheridan (3:19:44).
Harrow AC Early Autumn Mile & 3000m, Harrow, October 1
Northern Ireland athlete David Clarke just missed his recent British M60 3000m record with 9:34.65.
Former European under-20 800m champion Khahisa Mhlanga set a 3000m PB of 9:18:09 in the same race.
Isle of Wight Marathon, Cowes, October 4
Ross Skelton was a winner by over a kilometre from James Moloney in 2:28:30.
Finishing seventh overall, Charlie Metcalfe of the local Ryde club was first woman in 2:56:38.
» Subscribers to AW magazine can access the AW Clubhouse for further reports and results – click here
» For more on the latest athletics news, athletics events coverage and athletics updates, check out the AW homepage and our social media channels on Twitter, Facebook and Instagram