World record-holder storms to victory by three minutes as American Sara Hall and Brits Natasha Cockram and Naomi Mitchell enjoy inspired runs in wet conditions
Brigid Kosgei cemented her status as the current queen of the marathon as she blasted to an emphatic victory in the Virgin Money London Marathon.
There were no world records on a dismally damp morning in St James's Park on Sunday (Oct 4), but Kosgei ran 2:18:58 to finish just over three minutes ahead of runner-up American Sara Hall, who ran an inspired race to overtake Ruth Chepngetich in the closing metres.
For much of the 26.2 miles the world record-holder ran in tandem with world champion and fellow Kenyan Chepngetich. Yet Kosgei made a decisive move at around 20 miles and coasted the final 10km on her own to take a decisive victory.
Kosgei, 26, suggested her build-up had been affected by Covid-19 lockdown and the uncertainty over whether the 40th race would actually take place after being postponed from its original date in April. But there were few signs of race rustiness or lack of training from the woman who smashed Paula Radcliffe's world record with 2:14:04 in Chicago 12 months ago.
On this occasion, racing in tougher conditions, Kosgei was nearly five minutes outside that time and she was also adrift of Mary Keitany's women's only world record of 2:17:01 as she took her second successive London Marathon title. Yet behind there were a number of PBs.
These were led by Hall who, aged 37, took 15 seconds off her best to run 2:22:01. Hall had passed halfway more than two minutes behind Kosgei and Chepngetich but she overtook the world champion in a final, dramatic stretch on the The Mall leaving Chepngetich in third with 2:22:05. "It was very surreal and I felt amazing out there," said Hall.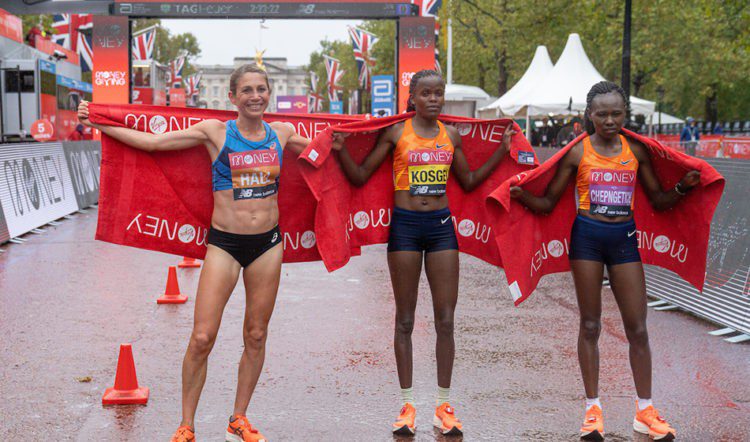 Ethiopian duo Ashete Bekere and Alemu Megertu finished fourth and fifth in 2:22:51 and 2:24:23 respectively as another American, Molly Seidel, enjoyed a great run with a PB of more than two minutes with 2:25:13 to back up her fine run at the US Olympic Trials in Atlanta earlier this year.
Gerda Steyn, the South African ultra-marathon specialist and Comrades Marathon record-holder, was seventh in 2:26:51 – a PB by a minute.
Sinead Diver, the Irish-born Australian, produced another great run aged 43 with 2:27:07 in eighth. Darya Mykhaylova of Ukraine (2:27:29) and Kenyans Valary Jemeli (2:28:18) and Edith Chelimo (2:29:03) followed as the top 11 broke 2:30 with Ellie Pashley of Australia completing the top 12 with 2:31:31.
Natasha Cockram won the battle of the Brits as she clocked 2:33:19 in 13th after overtaking Naomi Mitchell in the closing stages – Mitchell clocking 2:33:23 to smash her PB of 2:37:51.
Cockram was outside her Welsh record of 2:30:49 from Dublin last year but will be delighted to finish leading domestic runner home on a day that saw Lily Partridge and Steph Twell drop out.
Coached by Tony Houchin and a member of the Micky Morris Racing Team, Cockram's only race in the build-up was a 75:27 half-marathon in Llanelli in March but her talent has been known since her teenage days when she won multiple Welsh titles on the track and country before moving to study at Tulsa University for a spell.
"I couldn't even run this time last week," said Cockram. "I've spent the last couple of weeks on the cross-trainer and wasn't sure if I'd make the start line. When Naomi (Mitchell) passed me, I didn't have anything left and thought she was gone but I didn't give up and kept focusing on her and chasing her down."
Mitchell, meanwhile, was a revelation. As a youngster she placed outside the top 100 at the English Schools Cross Country Championships and as recently as 2015 was outside the top 100 at the British Universities' Championships and 162nd in the Inter-Counties on the country.
Three years ago she was even turning out for her club, Reading AC, in the triple jump at area league level and ran outside three hours in London in 2018 but under the coaching of Nick Anderson she has improved massively and for much of the closing stages on Sunday was the lead Briton.
Tracy Barlow was third Brit home in 2:34:42 in 15th followed by Tish Jones with 2:36:25.
The race began at 7.15am in steady rain with athletes socially distanced on the startline. They soon settled into distinct groups, though, with the leaders splashing through the puddles at sub-2:20 pace. Meanwhile a group of largely British Olympic hopes were paced by Jenny Nesbitt at 2:29:30 pace – the standard to qualify for Tokyo.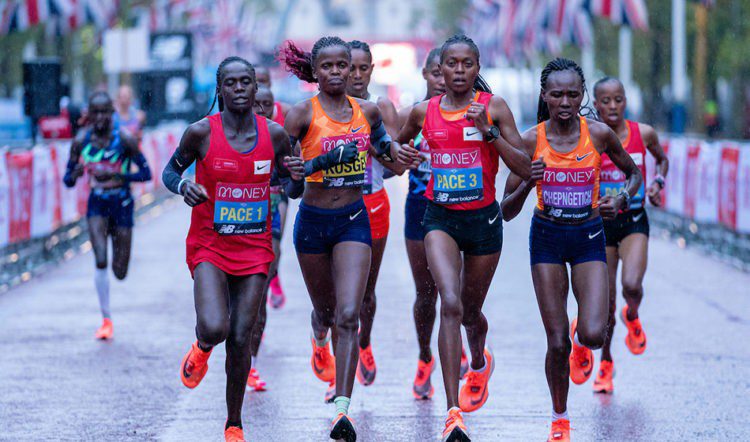 After an opening mile of 5:19 and 5km of 16:26, the leaders passed 10km in 32:25 (the Brits went through in 35:24) with Kosgei, Chepngetich and Jemeli tucked in behind the pacemakers although former winner Vivian Cheruiyot never looked comfortable and was slightly adrift of the leaders from the beginning and later pulled out before 30km.
At 10 miles Jemeli was dropped and it turned into a two-horse race between Kosgei and Chepngetich. One year after winning the world title on a horrendously hot and humid night in Doha, the latter was facing rather different conditions in the British capital but looked comfortable.
Halfway was hit in 68:11 with Chepngetich looking strong and Kosgei seemingly going through a mild bad patch. The lead duo were also by this stage passing backmarkers on the 19-lap course. Behind, Nesbitt led the lead Brits through in 74:31 although Twell was now dropped and clearly struggling.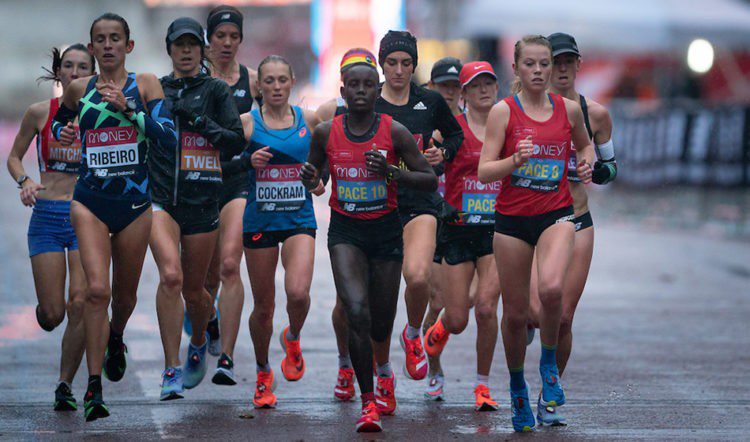 Just over 10 minutes later, Twell called it a day. The 31-year-old started the race with a black rain jacket on and still had it on as she slowed to a walk. Struggling with plantar fasciitis in the run-up to the race, she was not at her best and later said her body was starting to seize up in the conditions.
Partridge lasted half an hour longer before withdrawing just before the two-hour mark. The British champion began suffering with cramp at 16 miles and battled on for a while before sensibly deciding to drop out just before 20 miles.
It was at about 20 miles where Kosgei made her break and she immediately built up a big lead over Chepngetich. There was no crowd to greet her at the finish but it did not stop her enjoying the moment.
"The weather is not good, so we struggled," said the winner. "We have not prepared well due to the pandemic and I struggled up to the moment I finished. I will be well prepared for good results next year."
» For more on the latest athletics news, athletics events coverage and athletics updates, check out the AW homepage and our social media channels on Twitter, Facebook and Instagram