From being called a 'bloody nuisance' by his first coach, Christian Malcolm has matured into one of the most popular and respected figures in the sport
As Christian Malcolm settles into his new role as head coach of the British team less than a year before the Tokyo Olympics, the 41-year-old ex-sprinter appears to have all the attributes for success. Knowledgeable, experienced and approachable, he is certain to be a popular choice with athletes and fans.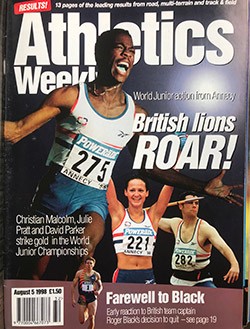 Just over 20 years ago I got the train down to South Wales to interview him for AW. After picking me up at the station in his white VW he took me to Newport Stadium where he spoke in relaxed, laid-back fashion about the European indoor 200m title he had won a few days beforehand, plus the world junior sprint double he had captured 18 months earlier.
Jock Anderson, his coach at the time, was also with us that day and described Malcolm as "a bloody nuisance" when he first arrived at the athletics club as a 12-year-old full of raw talent and mischief. "But he was too nice a kid for me to ever tell him off," he added.
In addition Anderson revealed that Malcolm's nickname was 'Flash'. Indeed, his turn of pace not only brought him world junior titles but earned football trials with Notts Forest and Queen's Park Rangers.
His big passion was athletics, though. His art teacher at school was Meriel Davies, the wife of Olympic long jump champion Lynn, whereas athletics coach Anderson subsequently stoked his ambition on the track.
After choosing sprinting over soccer, he enjoyed a long and successful career without quite achieving true greatness. He finished a fine fifth in global 200m finals in Sydney and Edmonton in 2000 and 2001, for example, in addition to making four Olympic teams and winning medals at European Championships and Commonwealth Games – the latter proudly wearing his Welsh vest.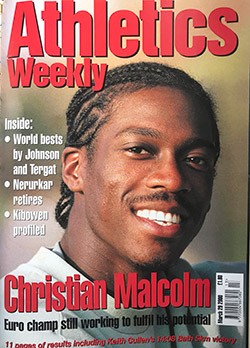 Malcolm won his world junior titles before some of today's GB team were even born and he now joins a national governing body to work alongside Sara Symington, the recently-appointed performance director. Whereas Malcolm has track and field running through his veins and possesses a wide range of contacts, Symington comes from outside the sport. So they should hopefully complement each other nicely.
No doubt Malcolm will bring some of the ideas and philosophies from his past coaches such as Anderson and Linford Christie – the 1992 Olympic 100m champion. Surely Malcolm will be far more at home – and effective – operating at trackside as opposed to working behind a desk, too.
Full of easy charm and with teeth that would make Simon Cowell envious, Malcolm is a super-friendly character. Don't be too fooled by his easy-going nature, though, because behind the wide smile is a man who knows how cut-throat and competitive elite athletics can be.
He realises what it takes to make the podium, but ideally dealing with Olympic hopefuls will only be part of his mission. When he was at his peak – running 10.11 and 20.08 for 100/200m at the turn of the millennium – the AW columnist Tony Ward used to ask on an almost weekly basis "who's in charge of coaching?" He was referring in particular to the wider world of athletics coaching – from elite level down to the grassroots club scene – and it is a question that UKA has historically struggled to answer, although hopefully they can now confidently point to Malcolm and say, quite simply: "It's him!"
Every champion – from Dina Asher-Smith to Katarina Johnson-Thompson to Mo Farah – started life at an athletics club with a humble club coach. So it would be great to see Malcolm's job description spanning beyond the narrow, elite-oriented "Olympic programme" that his recent predecessors such as Neil Black and Charles van Commenee have overseen.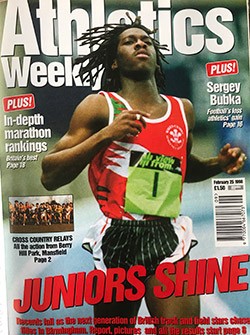 How can British athletics, for example, stem the ongoing bleed of talented teenagers who lose their form or quit completely once they reach the senior ranks? As a former sprints prodigy who was almost lost to football, Malcolm is better placed than most to start solving this problem. The head coach should be a man that every coach in the UK looks to for inspiration and guidance, rather than the role simply being for someone who oversees the Lottery-funded elite.
Taking such a prominent position in a country with such a rich athletics tradition, much will be expected of Malcolm. Do not expect him to buckle under the pressure, though. As an athlete he experienced pressure at the highest level and always looked to be the coolest athlete on the track. If there are any doubts surrounding him, it is his ability to make ruthless decisions when necessary.
At the World Championships in Doha I bumped into him on the roadside during the women's marathon and we chatted about old times – and his latest job Down Under – for some time as the female runners shuffled past us, struggling in the intense heat and humidity. Ironically and somewhat poignantly, UKA's performance director at the time, Neil Black, was standing just metres away but no one could have predicted that less than a year later Black would no longer be with us and Malcolm would be swapping his Athletics Australia uniform for British Athletics kit.
» For more on the latest athletics news, athletics events coverage and athletics updates, check out the AW homepage and our social media channels on Twitter, Facebook and Instagram