Sprinter retains his title, while Dai Greene bounces back to win 400m hurdles gold and a Europeans place
A busy weekend ended with a championship record-breaking victory for Nethaneel Mitchell-Blake as the world fourth-placer and relay champion stormed to success to retain his 200m title on the second day of the Müller British Athletics Championships.
Crossing the line with 20.24 (0.2m/s) on the clock, Mitchell-Blake improved by 0.01 a mark which had been set by John Regis in 1987 to finish narrowly ahead of Adam Gemili, who ran 20.26, and Leon Reid, who clocked 20.31.
It came after Mitchell-Blake finished fourth in the 100m on the first day of the championships in a warm and sunny Birmingham.
"It has been mentally exhausting but I don't say that with any dismay or upset because it's what I want, I signed up for it," said the winner. "This is my job and I love doing it.
"I wasn't too happy with the way it went yesterday but to come out today with the victory, I'm happy with where I'm at right now."
Gemili had been threatened with disqualification earlier on in the day after it was announced that he had false started during his heat, but after an enquiry the decision was reversed and he received a conduct warning, later also securing a European Championships team place alongside Mitchell-Blake for the August event in Berlin.
In the 400m hurdles Dai Greene put a tough few years well and truly behind him to win his first British title since 2013 and also secure his spot for the Europeans.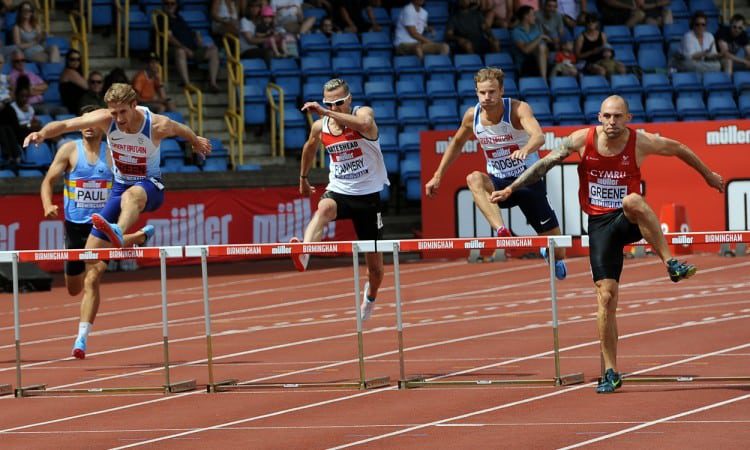 The 32-year-old was hit by another injury setback earlier this year when he was forced to miss the Gold Coast Commonwealth Games because of a hamstring problem. But on Sunday the 2011 world 400m hurdles champion and 2010 European gold medallist triumphed in a close and exciting race, clocking 50.06 ahead of Jack Green and Seb Rodger.
"It's been five years since I won," said Greene after securing his fifth title. "It doesn't feel like five years but I'm very happy and very proud to come away with the win. I wouldn't say my race was vintage but at the same time, I did enough to get the result I wanted.
"I'm in a better place physically than I've been for a while and mentally I seem to be as sharp as ever so I'm just relishing what the next couple of months hold."
Green ran 50.13 for silver to also book his place for the Europeans, while Rodger clocked 50.18 for bronze.
Hurdles success was also claimed by Andrew Pozzi, as the world and European indoor champion battled the windy conditions and his rivals to clock 13.61 into a -2.5m/s headwind for the 110m hurdles win ahead of David King with 13.81 and Khai Riley-La Borde with 13.96.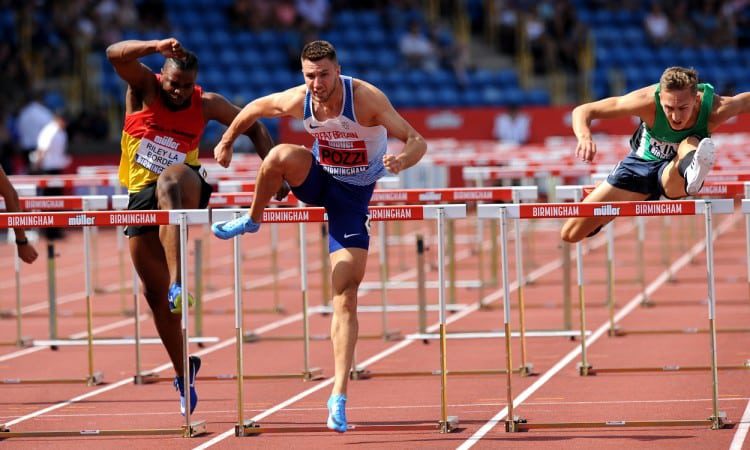 Chris O'Hare won a competitive 1500m final, leading a Scottish clean sweep with his time of 3:46.72 to finish ahead of Jake Wightman with 3:46.86 and Neil Gourley with 3:46.87.
The 800m saw Elliot Giles retain his title in a close race, clocking 1:50.28 ahead of Dan Rowden's 1:50.37 and Guy Learmonth's 1:50.43, while Matthew Hudson-Smith also enjoyed a highly successful title defence in the 400m as he ran a European-leading 44.68 from Rabah Yousif with 45.39 and Cameron Chalmers with 45.79.
Just two centimetres separated the top three in the men's long jump, as NCAA decathlon champion Tim Duckworth leapt 8.00m (-0.2) to get gold ahead of Dan Bramble (7.99m, -1.4) and Feron Sayers (7.98m, +2.3).
In 10th place after two jumps, US-based Duckworth leapt into the lead with what would prove to be his winning mark in the third round before he chose to pass his final three attempts. He will now work towards contesting the decathlon at the European Championships, with the timetable not allowing for a double with the long jump.
Charlie Myers won the pole vault title with 5.55m to equal his PB and also secure his Euro Champs spot. Having also already achieved the qualifying mark, Adam Hague will join him in Berlin, his 5.45m in Birmingham gaining him silver ahead of Harry Coppell with 5.35m.
The top two also secured their places for Berlin in the high jump, with Chris Baker and David Smith both clearing the qualifying height of 2.26m, Baker gaining gold on count back. Allan Smith bagged bronze with his 2.23m clearance.
Tom Bosworth won the 5000m race walk title, clocking 19:01.20 for a clear win ahead of Callum Wilkinson with 19:17.41 and Tom Partington with 21:36.64. Since racing at his first British outdoor championships 10 years ago, multiple British record-holder Bosworth has gone on to win six gold and three silver medals at this event. He'll now look to build on his Commonwealth 20km race walk silver when racing over the same distance at the European Championships in Berlin in August.
» See the July 5 edition of AW magazine for full coverage from Birmingham, while a day two women's events report can be found here