Long jumpers Shandell Taylor and Jerel Livingston are among the stars on day one of the 88th English Schools Championships in Birmingham
On an English Schools opening day dominated by field event finals, long jumper Shandell Taylor leapt to No.9 on the UK all-time under-20 men's rankings with 7.78m (1.7) as he took senior boys' gold.
The Essex youngster was fifth at the English Schools in 2017 but was determined to win a medal this year and the Trevor Wells-coached athlete did it in style as he added more than half a metre to his PB.
"This is my last year at the English Schools so I wanted to make this count," said Taylor. "I've trained and trained in the last year to do this."
Jerel Livingston was another long jumper to impress as he leapt to a championship record of 6.76m (0.5) in the junior boys' age group.
The 13-year-old from Greater Manchester improved his PB by 28cm as he beat Onen Eyong's championship record of 6.68m and Onochie Onuorah's wind-assisted outright championship best of 6.70m and he said: "I was ninth in the English Schools last year, so I was surprised to do so well today and I jumped a big PB!"
Four months after athletes at the English Schools Cross Country Championships struggled with freezing temperatures in Leeds, the New Balance-sponsored track and field championships was bathed in warm temperatures and the athletes responded with fine performances.
Tom Hewson threw a UK under-20 leading mark in the javelin and improved his PB by four metres with a 69.13m throw to take senior boys' gold.
The Hampshire athlete was not fazed by starting his final at the early time of 10.15am. He said he felt great and was delighted to see his spear almost hit the 70-metre line as it landed on the parched grass of an Alexander Stadium that has not seen rain for almost two months.
Hewson (below) cut a distinctive figure too as he competed with a baseball cap turned backwards. "It's something I've picked up in Finland," he said, adding that he'd recently returned from his fourth annual training trip to the spiritual home of javelin throwing.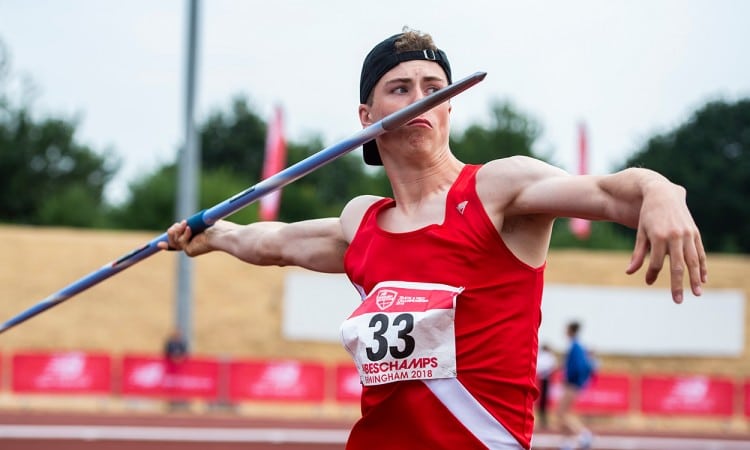 High jump talent Sam Brereton started his 2018 season late due to a niggly knee problem but hasn't looked rusty so far this summer as he jumped a PB of 2.07m at the British League in Bedford last weekend and then won English Schools inter boys' gold with 2.04m in Birmingham.
Brereton, who also won English Schools gold in 2017, used to be a decent goalkeeper on his local football scene, but he is now focused on athletics under the guidance of coach Clive Marsh in Cornwall.
"I was unlucky not to get a PB in the end but it's fine and I'm glad to have won," said Brereton, who celebrated with a victory somersault on the high jump bed.
The English Schools is full of raw talent and one of the winners, Abazz Shayaam-Smith, admits she didn't even know what the triple jump was when her coach suggested that she gave it a go about three years ago. She certainly knows what's involved now, though, as she took gold on Friday with a 12.83m effort that threatened Ahtollah Rose's championship record of 12.88m.
As a local West Midlands competitor, Shayaam-Smith lives within almost a hop, step and a jump of the Alexander Stadium and at 6ft 2in she towered over most of her rivals. Given her height, surely she is a good netball player too? "Not really. I didn't have the co-ordination!" she says.
Shot putter Lewis Byng was seventh in the European Under-18 Championships last weekend but struck gold at the English Schools here with a mighty 17.89m. "After winning English Schools silver last year I was determined to win today," he said.
Elsewhere in the throws, Nana Gyedu took the inter girls' shot put with 13.61m, while Beth Rees of Staffordshire took the senior girls' javelin with 47.29m.
Jack Halpin, the UK No.1 in his age group in shot and hammer this year, won the junior boys' shot by almost a metre with 14.66m. Sam Woodley of Hertfordshire was similarly impressive as he won the senior boys' discus with 54.56m to beat runner-up Alfie Scopes by six metres.
Another jumper in form was Emily Race as the Nottinghamshire high jumper won the senior girls' event with 1.81m, while Aaron Ashmead of Essex was a convincing winner of the junior boys' triple jump as he leapt 13.57m to win by more than half a metre.
The pole vault contests were closer, though, with winner Lucinda White and Amy Hunt both clearing 3.05m in the junior girls' event, for example, and gold medallist Jacob Clark and Owen Heard clearing 4.30m in the inter boys' event.
On the track it was a day of endless heats and zero finals with hundreds of athletes sent on their way by officials at a meeting that is famously run with military precision. Indeed, the track action was so busy that well over 40 track races had been completed in the first couple of hours of competition alone before 12 noon, with dozens more in the afternoon.
Qualifiers from these rounds will compete in a wave of track finals on Saturday, although one notable runner who will not be racing is Max Burgin – the European under-18 champion was a non-starter in his 800m heat.
European under-18 high jump champion, Dominic Ogbechie, meanwhile, races the inter boys' 200m on Saturday after winning his heat on Friday, while 800m talents Khai Mhlanga and Zakia Mossi will also be in action.
» See the July 19 issue of AW magazine for full coverage from Birmingham