Two titles in 20 minutes for GB at the IAAF World U20 Championships as Emerson secures heptathlon success and Norris wins the hammer
Niamh Emerson is ensuring that Britain's fine tradition in the heptathlon continues as she became the nation's latest athlete to claim a global gold in the seven-discipline event, winning at the IAAF World U20 Championships in Tampere, Finland.
Exactly three months after claiming bronze at the Commonwealth Games, the 19-year-old enjoyed a PB-filled two days to score 6253 points and secure success ahead of the 18-year-old defending champion Sarah Lagger, who broke the Austrian under-20 record with 6225 points, and Poland's Adrianna Sulek, who also broke the national age-group record with 5939 points for bronze.
Britain's Jade O'Dowda was also in PB form as she achieved 5660 points to secure seventh place.
"I'm so happy with that!" said Emerson, whose points tally is just 14 points off Katarina Johnson-Thompson's British under-20 record. "I was nervous but I was so confident in what I needed to do and I pretty much did it. Normally I get so nervous and stressed but today I knew what I was doing.
"Words can't describe how happy I am with a PB and that title."
The competition had come down to a dramatic conclusion, with just two points separating Emerson and Lagger ahead of the final event – the 800m. As the last heat featuring the two leaders got under way, the rain began to pour but Emerson powered away over the final 200m to cross the finish line in 2:09.74 and take almost a second off her previous best time.
Lagger also clocked a PB with 2:11.53, while Sulek ran 2:12.38 and O'Dowda crossed the line in 2:21.74 from heat two.
"I never decide what I'm doing in the 800m until it's actually there because it changes everything," added Emerson. "I knew the Polish girl was going to do the first lap in 62 seconds so I had to stay behind her and I had a race plan from that and it happened exactly to plan. You're normally on plan D but I didn't need it."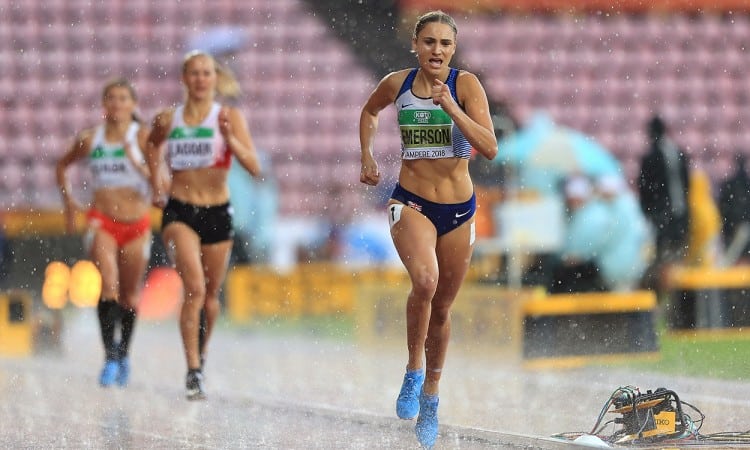 Emerson had started off with a 13.76 (+0.5) sprint hurdles PB before equalling her high jump PB with 1.89m, throwing the shot 12.27m and running a 24.80 200m to lead overnight ahead of Adriana Rodriguez of Cuba, with Lagger a close third.
She began day two with a leap of 6.31m (+2.6) after a first-round foul and 5.96m from her second attempt, before throwing a best of 39.02m in the javelin and then finally going second-quickest overall with her 800m PB behind Agathe Guillemot of France's championship heptathlon best of 2:09.37.
Captain Norris leads by example
It had been a golden 20 minutes for Great Britain as Emerson's win closely followed the triumph of her team captain, Jake Norris.
Going into the hammer final as the only athlete with an 80 metre-plus PB, the 19-year-old secured success in style by launching the implement out to a British under-20 record-breaking distance of 80.65m to improve his own mark of 80.45m set in Bedford in June.
Proving it was no fluke, he also backed his winning mark up with 80.55m from the final round.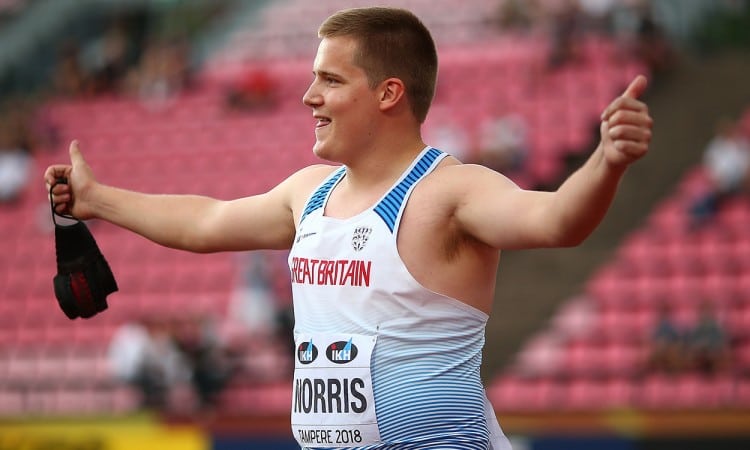 In a thrilling last round of the competition, Ukraine's Mykhaylo Havryliuk moved into the medals thanks to his final PB throw of 77.71m, pushing Sweden's Ragnar Carlsson into fourth. Ukraine gained a silver, too, as Mykhaylo Kokhan threw a 79.68m PB in the fifth round.
GB's Bayley Campbell finished eighth with a distance of 71.28m.
"I feel amazing having got that PB and record because to be able to do that at a major championships is unbelievable, let alone to win the whole thing," said Norris, who was joint GB team captain with pole vaulter Molly Caudery.
"It's been an honour to the lead the team at the World Juniors as well, they're such a great bunch of guys and I can't complain about anything. The atmosphere today has been insane and it's been an unreal experience to be named champion of the world."
Later on, in the final event of the session, Jona Efoloko and Charlie Dobson secured a 200m one-two to add another two medals to GB's haul. Read more here.
Qualifying news
In earlier qualifying action, GB's Alex Botterill and Markhim Lonsdale made it through to the 800m semi-finals after crossing the finish line third in their heats. Botterill was later moved up to second after winner Teddese Lemi of Ethiopia was disqualified for a lane infringement.
Both Erin Wallace and Francesca Brint secure their spots in the 1500m final, with Wallace clocking 4:21.60 for third in her heat and Brint making it through with her PB time of 4:18.58.
GB's Abby Ward cleared 1.84m on her third attempt to book her place in the high jump final, while USA's Tia Jones clocked 13.25 (-1.1) to go quickest in the 100m hurdles heats.
» Results can be found here, while the July 19 edition of AW will include full coverage. Read more about Jona Efoloko and Charlie Dobson's medals plus other evening session action here