Sprinter feels hungry for the summer after injury struggles
Adam Gemili says his injury in 2017 helped him deal with his latest setback and he's feeling "very motivated and hungry" ahead of the summer.
The 24-year-old formed part of GB's world gold medal-winning 4x100m team in London in August but missed out on an individual 200m spot from selectors following a below-par performance at the British Championships after a leg problem.
He had hoped to bounce back in medal-winning fashion at the Commonwealth Games on the Gold Coast but tore his adductor in his 100m semi-final, ruling him out of both the final and the relay.
But the mental strength Gemili built following that first setback means he has moved on and hopes to prove what he thinks he is capable of over the coming months.
"The injury last year, I'd never had anything like that," Gemili says. "I had my quickest openers and to go from that to not being able to run at all and the whole selection thing, it was an awful time.
"To come back to feeling like my old self again, feeling fit, feeling fast – to have a little setback (in Australia), I managed it well mentally because I've done a lot of work mentally and I know if I had just been really down in the dumps about it, it would have taken a lot longer to get over it.
"As soon as it happened I was coming to terms with it and then I was supporting the team and supporting the relay guys.
"It would have been so easy for me just to get on a flight and come home but I wanted to support the rest of the team."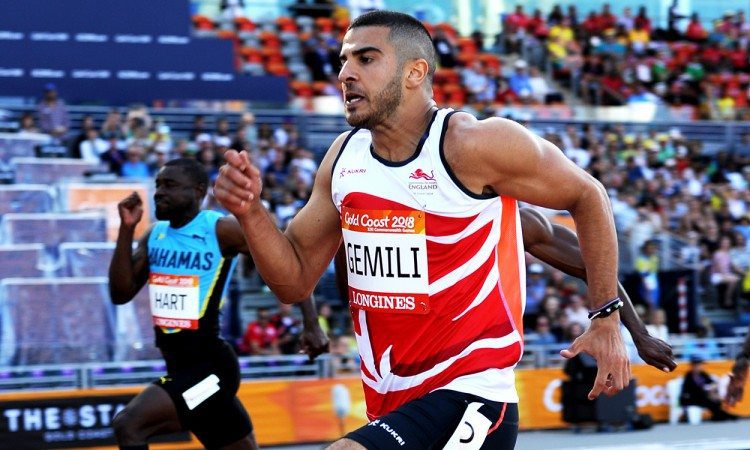 Gemili is based in the Netherlands where he is coached by Rana Reider and says his training programme includes work which is designed to try and prevent the sort of injuries he has experienced in the past.
"It's frustrating because we've done a lot of hamstring and adductor loading to prevent this, a lot of glute stuff," Gemili explains.
"Sometimes it just happens and there's nothing you can do about it. You always look at why it happens, the route of the injury, and try to figure that out and change stuff up. But in track and field it's so unpredictable and you're always on that line between running super fast and maybe getting an injury, that's the level you have to live on.
"It's about how you manage that and deal with that and hopefully this summer I can get it right."
The three-time European medallist is set to compete at the Oslo Diamond League on June 7 before the British Championships where he will race for a place on the British team for the Athletics World Cup in London on July 14-15 and European Championships in Berlin from August 7-12.
"The World Cup is something very different," he says. "Seeing how the schedule is and seeing how they are arranging it, it's got us really excited.
"I'm definitely targeting that and the Europeans as well."
» See athleticsworldcup.org