Marina Armstrong is one of the UK's leading 400m hurdles coaches and her current squad includes Jacob Paul, who will be competing at the Gold Coast Commonwealth Games
Athletics Weekly: How did you get started as a coach?
Marina Armstrong: Initially I never really wanted to coach. However, it all started when my daughter went to Epsom & Ewell Harriers where I was approached by three 400m runners who asked me to coach 400m hurdles. They were in their last year of school and I thought I'll help them for a year … that was 2005 and I'm still here!
AW: What's key to 400m hurdles?
MA: The main talent that 400m hurdlers can have is hurdle awareness, everything else can pretty much be coached. Hurdle awareness refers to stride pattern and running through the hurdle without stuttering… the athlete sights the hurdle from 10 to 20 metres and knows exactly which leg they will attack it from.
AW: Is it hard to train and race for?
MA: For sprint hurdles you need to be wired up for most workouts (to run really fast – Ed) and mentally switched on but for 400m hurdles you don't so much. Actually 400 hurdles is easier to run than 400 flat … it's easier to pace yourself over the hurdles and because you have to structure the race lactate doesn't hit as much as it can on the flat. If you know you are going too fast at hurdle two for example, then you can back off and get back into the rhythm. Athletes just need to remember that there is no "rest bench" at hurdle five.
AW: Are any types of athlete better suited to the 400 hurdles?
MA: It's difficult for me to say, but the best athletes I've have, have been with me from an early age. Jacob (Paul, pictured below) started as a multi-eventer, Shona as an 800m runner (Shona Richards was in Marina's squad until this winter and won silver at the 2014 World Juniors). Orla (Brothers, the UK under-20 No.1 last season, pictured above with Armstrong and Tyri Donovan) came to me as a sprinter, so they all have different backgrounds.
AW: Before a race do you give your athletes a pep talk?
MA: It depends on the athlete. I know who needs what. Some of them I let warm-up and I sit in the corner and that's enough. I think it is important for personal coaches to be in the warm-up area at major championships, as sometimes all it needs is some eye contact for reassurance. I'll also ask other coaches to give a pep talk on occasions for some of my athletes, such as Lloyd Cowan (best known as coach to Christine Ohuruogu).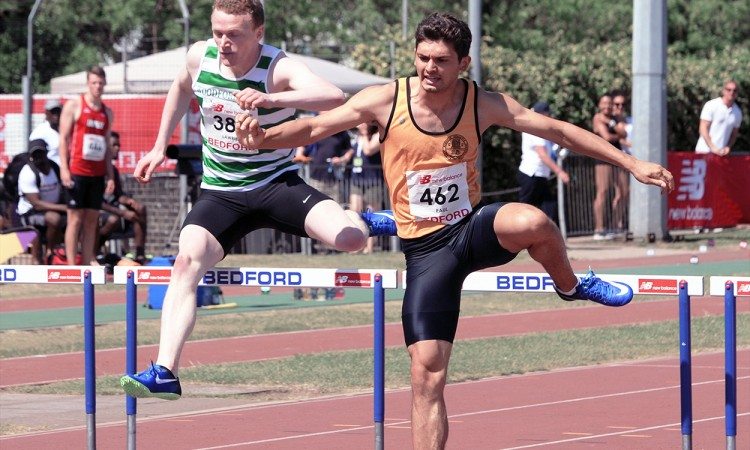 AW: What relevance has 400m ability to 400m hurdles?
MA: There's a differential of two to three seconds between the two events. It's difficult to judge as there are 400m runners who switch to the hurdles and don't show the same form and it can work both ways. Sabine Busch was an East German athlete who was running 49 seconds at the time. She switched to the hurdles and broke the world record (running 53.55 in 1985) and although she enjoyed great hurdles and individual and 400m relay success subsequently she couldn't then break 50 seconds for the 400m.
AW: Are you a short-to-long or long-to-short training programme-based coach? (The short-to-long approach starts with relatively fast work over shorter distances and with lower reps and builds endurance as the training phases pass via the gradual adding of distance and reps. Long-to-short is the more traditional approach and builds speed on an endurance base across the training year – Ed).
MA: I train for both volume and speed. We train speed from day one when we return to training. We've done volume since they (the athletes) were very young, so they are quite robust, in fact we may reduce volume now that they are senior athletes and they are fit. So, for example, with our speed sessions we start with 30m sprints at the start of training and then build up to 120m sprints. And in terms of endurance sessions, we're doing 800m reps (at the time of interview Jan 2018) and these will go down to 450secs. So, the speed and the endurance will meet in the middle, around March as the season approaches.
AW: What's a typical week's training include?
MA: We do over distance work on Monday; recovery tempo work on Tuesday; a lactate session on Wednesday; Thursday is weights; Friday speed; and Saturday hills and grass recovery runs. But that will change a little when we approach the pre-competition cycle.
AW: What value do you place on resistance training in your athlete's preparation?
MA: I think for injury prevention it's very important. We do a lot of conditioning focussing on glute work and for the hip flexors, for example, but we work on all aspects. We don't do heavy weights and we've stepped back from squats and from deadlifts. Most of our weight training is specific to the event. So, we do a lot of step ups, we do one-legged squats and we do hang cleans. If my athletes were sprint hurdlers I'd probably have them do more weight training but as they are 400m hurdlers we don't really need it as much. My best critical friends are my athletes and when I mention things to them such as should we do more weight training? Jacob, for example, will turn around and say: "Why should we change something that's working?"
"I value an individual athlete centred approach. What works for one athlete will not work for another"
AW: Do you have anyone that you go to as a mentor?
MA: I've been very lucky, I'm good friends with Clyde Hart (known most famously for his coaching of Michael Johnson) and I've also been a part of the England Athletics coaching mentoring scheme for the last four years and we've had incredible coaches come and present, such as Loren Seagrave, Vince Anderson and Mike Holloway. I've listened to all of them, sometimes more than once. I am a great believer in constant development as a coach. The moment I say: "I know it all" is when my athletes should find another coach.
AW: Have you noticed changes in the approach to 400 hurdles training over the years?
MA: Yes and no … When I look back to the training I did in the Soviet Union (Marina was a sprinter and hurdler) it's pretty much the same nowadays as it was when I trained. We just call things by different names now; what we used to call technique, we now call biomechanics, what we used to call weights, we now call resistance training. What has changed for me though is the approach used with an athlete. I value an individual athlete centred approach. What works for one athlete will not work for another.
AW: How do you support your athletes off the track?
MA: We have a Pilates tutor Kim Saha, who is also a physio, and I work closely with her. We've recently been fortunate to get support from London Cryo (londoncryo.com) which is helping speed up the athletes' recovery. Jacob will be utilising this in his lead up to the Commonwealths.
AW: Are you involved with your athletes' nutrition?
MA: We talk about it and research it together, but it takes time for an athlete to realise that nutrition is just as important as training.
AW: How will you be adapting Jacob's training for the Commonwealth Games?
MA: At the beginning of the season we had "Plan A" and "Plan B". Plan A was an early selection for the Commonwealths of which we were quite certain about as Jacob had achieved two A standard qualifying times but that didn't happen … Plan B was, if not selected for the Gold Coast to prepare for the Europeans in August in Berlin … So, late selection for the Commonwealths has forced us to move to "Plan C", on which we are working at present.
» Follow Maria Armstrong on twitter @CoachMarina_A