In the final part of our review of IAAF findings, we report on the biomechanical analysis of the women's world pole vault competition in London
Katerina Stefanidi won the women's pole vault at the London IAAF World Championships in impressive fashion, clearing 4.91m on her first attempt to set a Greek record. In doing so, the 27-year-old added a world title to her Olympic and European wins.
Behind her were USA's Sandi Morris, who took silver with 4.75m, and Venezuela's 19-year-old Robeilys Peinado, who snatched bronze with 4.65m. Britain's Holly Bradshaw was a disappointed sixth with 4.65m, a height achieved by five athletes.
How the medals unfolded was the subject of a detailed study by Dr Athanassios Bissas, head of biomechanics at the Carnegie School of Sport at Leeds Beckett University, and his team of 40 scientists were commissioned by the IAAF to study every scientific parameter of the final.
Positioning seven digital video cameras around the stadium Bissas and colleagues captured footage for 3D motion analysis during the event.
The cameras recorded between 60 and 200 frames per second for each vault, with the highest vault for each athlete selected for analysis.
Of the 12 finalists, only Stefanidi exceeded her season's best performance, but what led to her victory?
Previous pole vault studies have focused predominantly on the biomechanical run-up variables. But the Leeds Beckett team extended these concepts to include data of takeoff and bar clearance.
So exactly what do their initial findings tell us?
Run-up velocity
Bissas and the university's team calculated run up velocity between 5m and 10m before the box. Velocity ranged between 7.01 and 7.76 m/sec across the top six finalists.
The three medallists were, predictably, the fastest with Morris at 7.76m/sec, followed by Peinado at 7.51m/sec and Stefanidi at 7.44m/sec. Britain's Holly Bradshaw scored the fourth fastest run up velocity with 7.23m/sec.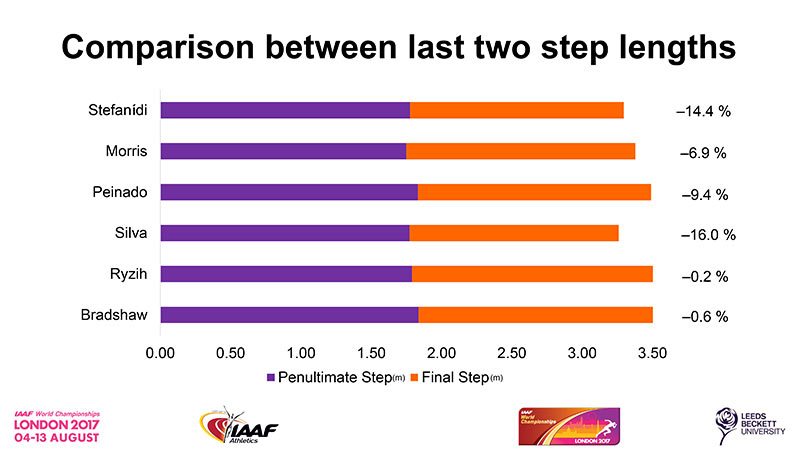 Take off
Results of the take off (TO) position – the distance from the box to the athlete's front foot at take off – were more widely spread.
For Morris, TO was 4.04m followed by Bradshaw's much shorter 3.77m.
By contrast, Stefanidi's TO position was measured at a sixth-ranked 3.21m.
Stefanidi's lower speed at TO compared to the other medallists perhaps facilitated a take-off position closer to the box and a steeper take-off angle of 27.5 degrees, Bissas suggested.
Morris and Peinado recorded an angle of 21.3 degrees with Bradshaw clocking 14.5 degrees.
Stefanidi's leading leg contact time was longer than those of the other medallists, which might also go some way to explaining her steeper take-off pathway and the bar clearance height.
» The pole vault preliminary report was jointly compiled by the following members of the biomechanics team from the Carnegie School of Sport at Leeds Beckett University: Helen Gravestock; Dr Brian Hanley; Dr Gareth Nicholson; Dr Tim Bennett; Dr Athanassios Bissas. The full report will be published by the IAAF in 2018
» Other analysis in this review series can be found here