Olympic, world and European champion beats Kenenisa Bekele's world mark at the Indoor Grand Prix, while Katarina Johnson-Thompson and Greg Rutherford are among other athletes to impress
Mo Farah ensured that the Sainsbury's Indoor Grand Prix ended on a high on Saturday as the Olympic, world and European champion clocked a two miles world indoor best of 8:03.40 to beat the previous mark of 8:04.35 run by Kenenisa Bekele at the same meeting in 2008.
Having run 4:03.9 for the first mile, the 31-year-old sped up and, spurred on by the supportive Birmingham crowd at the Barclaycard Arena, clocked 3:59.5 for the second mile to take almost a second off the global two miles mark.
Only two athletes have ever run the distance quicker outdoors – Daniel Komen with 7.58.61 and Haile Gebrselassie with 8:01.08.
Farah's 3000m split time of 7:33.1 also broke the British indoor record.
Having settled himself behind Paul Koech, as the race progressed Farah only had the Kenyan and American Bernard Lagat for company. With seven laps to go, Farah made his way around Koech and began to pick up the pace.
"Training has gone pretty well – I've been out in Ethiopia for seven weeks and I knew I'd trained well so I was confident," said Farah.
"I belong on the track so it's nice to be back. It's different training for a world record and training for the championships – I wanted to see what I could do as we'd targeted the world record."
The build-up to the event had been dominated by news of a Twitter spat between Farah and his fellow British athlete Andy Vernon with more about what Farah described as "history" between the pair uncovered on Friday, but the Alberto Salazar-coached runner put that behind him on Saturday to record the first top global mark of his career.
"I'll never give up chasing medals for chasing world records – medals mean a lot to me," added Farah. "This week inspired me. I'm an athlete so I just did what I'm supposed to do. It feels amazing to break the world record – I'll now fly home tomorrow to see my family and celebrate with them."
After the race, Vernon tweeted: "Everything aside that was a cracking run @Mo_Farah. Congratulations on the new WR."
Nine seconds behind Farah, Koech was next across the line with 8:13.46, while 40-year-old Lagat ran 8:17.05 for third – another world M40 best. His 7:41.3 clocked when going through 3000m is also a world M40 best.
Fresh from breaking the British high jump record at the British Championships in Sheffield last weekend, Katarina Johnson-Thompson continued her record-breaking ways but this time in the long jump.
The top-ranked heptathlete in 2014 leapt out to 6.93m in the third round to beat Canada's Christabel Nettey, who followed up her national record of 6.99m in Stockholm on Thursday with 6.84m for the runner-up spot in Birmingham. Ivana Spanović was third with a best of  6.75m. Abigail Irozuru, who went to third on UK indoor long jump all-time list with her winning leap of 6.73m at last weekend's British Championships, had been forced to withdraw before the competition with a hamstring problem.
"I am delighted to get the British record in the long jump, after doing it in the high jump last week too," said Johnson-Thompson. "Things are going really well at the moment and it gives me confidence going ahead."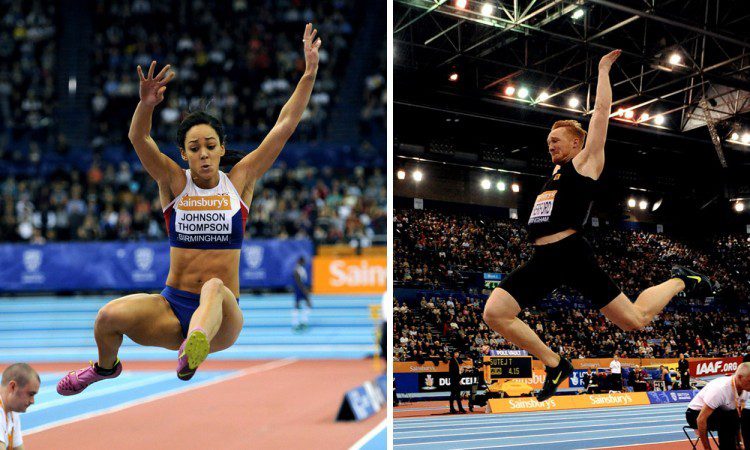 Over in the men's event and, competing in what was set to be his only indoor competition this year, Greg Rutherford saved his best leap until last – with 8.17m he regained the lead to claim victory with the best leap in the world so far this year. The 28-year-old managed four indoor PBs along the way, with his winning mark missing the British indoor record held by Chris Tomlinson by just one centimetre.
Next month's European Athletics Indoor Championships in Prague had not originally been the Olympic, European and Commonwealth champion's plans, but asked if his performance in Birmingham had changed his mind he said competing in Prague is now "a possibility, a slim one".
"I felt really good all day today, I really didn't expect to be jumping as well as I have been," he said. "Prague is a possibility I guess, a slim one."
Gao Xinglong was just five centimetres behind in second, while newly-crowned national champion Dan Bramble leapt a best of  7.88m for third.
There was much excitement in the Barclaycard Arena as around the time of Johnson-Thompson's British indoor record leap, Seren Bundy-Davies was dominating the women's 400m and came away with a British under-23 record and a Welsh record of 51.72 to beat world indoor champion Francena McCorory who ran 52.09. It was a fine performance by Bundy-Davies, who bounced back after her fall at the British Championships. Her British under-23 record beats the 51.77 run by Sally Gunnell in 1988 – six years before Bundy-Davies was born. Kirsten McAslan was third with 52.28.
There was another impressive run by Jenny Meadows in the 800m as she continued her winning ways, clocking 2:01.25 to maintain her unbeaten streak this season. The 2011 European indoor champion has gone sub-2:00 twice this year – her 1:59.21 in her season opener in Vienna easily a Prague qualifying time and the quickest indoor 800m since 2012 – and she claimed her seventh British indoor 800m title in Sheffield last weekend.
Meadows finished more than a second clear of runner-up Charlene Lipsey of the USA who ran 2:02.61, while Denmark's Stina Troest was third with a 2:02.93 PB. Shelayna Oskan-Clarke clocked 2:02.96 for fourth, one place ahead of Iceland's European junior champion Aníta Hinriksdóttir.
It was another race and another win for Kim Collins as the 38-year-old 60m world leader ran 6.50 after a slow start. Affected slightly by the two false starts which saw Daniel Bailey and Mike Rodgers disqualified, Collins was cautious in the blocks but made up for it in the second half of the race to beat Chijindu Ujah with 6.55.
World leader over 60m with 7.05 this year, double world silver sprint medallist Murielle Ahouré of Ivory Coast ran 7.10 for the win in the women's event ahead of American Tianna Bartoletta with 7.15 and Trinidadian sprinter Michelle-Lee Ahye with 7.17. British 60m silver medallist Rachel Johncock ran 7.29 to finish last in the final but had earlier run a PB of 7.24 in her heat to beat the qualifying time for Prague.
Sharika Nelvis enjoyed a dominant 60m hurdles win in a world-leading 7.87 – that time an indoor PB for the American athlete – as Yvette Lewis ran 8.09 for second. In third, Lucy Hatton ran 8.11 to beat European 100m hurdles champion Tiffany Porter with 8.13. Having clocked an 8.06 PB in Torun at the beginning of the month to miss the European Indoors qualifying mark by just 0.01, Hatton equalled that mark when finishing as runner-up at the British Championships last weekend and will now hope for selectors' discretion in order to secure a spot for Prague next month.
In the men's hurdles event, Lawrence Clarke again demonstrated his dip to clock 7.62 and secure the runner-up spot behind USA's Kevin Craddock with 7.58. American Jarret Eaton matched Clarke's time in third.
Nigel Levine seemed to run comfortably to clock 46.43 to claim 400m victory ahead of Jarryd Dunn who, with an indoor PB of 46.67 and a second place finish at the British Champs last weekend, secured his spot for Prague. USA's 2005 world 400m hurdles champion Bershawn Jackson finished third with 46.98.
After a quick start, Kenyan Jeremiah Mutai won the 800m in 1:45.93 ahead of South Africa's André Olivier with 1:46.25. Further down the field, Ireland's Mark English ran 1:47.17 for sixth, one place ahead of Guy Learmonth. Going sub-1:48, both Learmonth, with a 1:47.38 indoor PB, and James Bowness, with a 1:47.59 indoor PB, secured their places on the GB team for Prague.
Over in the men's 1500m and Kenya's Vincent Kibet was victorious, clocking 3:34.91. Lee Emanuel was the first Briton over the line, clocking a 3:35.66 PB for sixth. That mark moves Emanuel to second on the UK indoor all-time list behind only Peter Elliott.
Making her indoor debut, Tunisia's Olympic 3000m steeplechase silver medallist Habiba Ghribi clocked 8:46.61 over 3000m to hold off Ethiopia's Senbere Teferi with 8:46.84  and also beat a field including American Jordan Hasay who ran 8:50.21 for third. Laura Muir was the best of the British athletes, running 8:54.07 for sixth place ahead of Steph Twell, Jess Judd and winner of this event at last weekend's British Championships, Ireland's Sara Treacy.  Emelia Gorecka, who claimed the British 3000m title in Sheffield having finished as runner-up to Treacy on her indoor debut and was among the athletes to choose competing indoors over running on the mud at the English National held on the same day, finished last in 9:11.03. Ethiopia's Axumawit Embaye ran an all-comers record in the women's mile, clocking 4:23.50.
Nikoleta Kyriakopoulou won the pole vault thanks to her Greek record clearance of 4.80m, while Brazil's 2011 world champion Fabiana Murer cleared 4.70m for second. Sally Peake went over 4.15m but later withdrew through injury. Five athletes cleared the winning height of 2.26m in the men's high jump as Allan Smith claimed victory on countback.
» See next week's Athletics Weekly magazine for more in-depth reports, pictures and results from Birmingham