British 800m runner clocks 1:57.87 at World Indoor Tour Gold meeting as Gudaf Tsegay goes No.2 all-time in the mile with 4:16.16
Keely Hodgkinson returned to the scene of her European indoor 800m victory in 2021 and enjoyed another middle-distance win as she ran a world lead of 1:57.87 at the Copernicus Cup in the Polish city of Toruń on Wednesday (Feb 8). Yet such are her high standards, she was slightly disappointed not to break her British record of 1:57.20.
The much-anticipated clash with the athlete who beat her in the Commonwealth and Diamond League finals last summer, Mary Moraa, did not materialise. Taking part in her first ever indoor race, the Kenyan finished almost four seconds behind in fourth place.
Instead, Hodgkinson's closest rival turned out to be Noelie Yarigo, who ran a national record for Benin of 1:58.48 at the age of 37.
"This track brings back some good memories for me," said Hodgkinson. "The crowd was really loud and that carried me.
"It was good to get a decent first 800m of the season but to be honest, I am a bit disappointed with the time. I just did not commit enough early in the race, but I will try again to run fast in a few weeks. If everything goes perfectly, maybe I can come close to the world record (1:55.82, Jolanda Ceplak), but it is a tough mark to beat."
Hodgkinson did not go with the leaders as they passed 400m in 57.09. The Briton appeared to be hanging back to keep an eye on the threat of Moraa. But when the Kenyan clearly wasn't putting up a challenge Hodgkinson chased down Yarigo, catching her with one lap to go (88.34), passing her before the final bend and stretching away in the final straight.
A world record attempt in the women's mile saw Gudaf Tsegay of Ethiopia fall just short as she clocked the second fastest time in history with 4:16.16. Her target had been Genzebe Dibaba's mark of 4:13.31 from 2016.
The world 5000m champion followed the pace through 400m in 61.1 and 800m in 2:07.21 before passing 1200m in 3:11.26. She won by 13 seconds but looked disappointed to miss the record.
"I was hoping for the world record today, but athletics is like that," she said. "You can feel you are in great shape in training, but you don't always do what you wanted in competition. I still hope the world record will be mine one day!"
Miltiadis Tentoglou stamped his class on the men's long jump with a world lead of 8.40m – the Olympic champion's second best mark indoors. "I am very happy with the result today," he said. "I came here knowing I could jump far."
Pia Skrzyszowska delighted the Polish crowd with a 7.79 victory in the women's 60m hurdles, although another home favourite, Ewa Swoboda, lost out in the women's 60m to Mujinga Kambundji as the Swiss sprinter clocked 7.06 to Swoboda's 7.11 with Kayla White third and Daryll Neita fourth – both clocking 7.13.
Britain's George Mills enjoyed another good run too finishing a close runner-up in the men's 1500m in 3:35.92 behind Azeddine Habz of France, who clocked 3:35.59.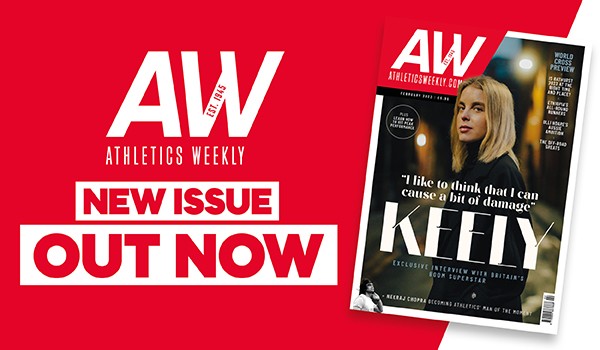 » Subscribe to AW magazine here