Sam Charlton completes hat-trick of domestic cross-country titles on a soggy Temple Newsam course near Leeds
As Sam Charlton swept down the finishing straight at Temple Newsam on Saturday, the Northumberland teenager proudly flashed three fingers to spectators to signify his golden hat-trick of domestic cross-country titles this year.
In February he won English National gold at Harewood House in Leeds. Last weekend he captured the Inter-Counties title at Prestwold Hall near Loughborough. Then, on a rain-swept and undulating course on the outskirts of Leeds today, he won the English Schools senior boys' crown.
"That's the hat-trick – the Nationals, Inter-Counties and now English Schools," beamed Charlton (pictured above), who was running against athletes in the year above him at school at the New Balance-sponsored championships.
"All week long people have been saying to me that I was the favourite here so there was a bit of pressure on me to win. But once I got on the start line and got going I felt good."
With athletes struggling to keep their footing on ground that became increasingly churned up during a day of relentless rain, Charlton clocked 21min 28sec to win by 10 seconds from Middlesex duo David Stone and Jem O'Flaherty.
Like Charlton, India Pentland (pictured below) won an Inter-Counties title seven days earlier at Prestwold Hall. She is also from the North-East of England and the Durham athlete out-kicked Georgia Hayes of Berkshire and Kate O'Neill of Essex to win by four seconds in 14min 58sec.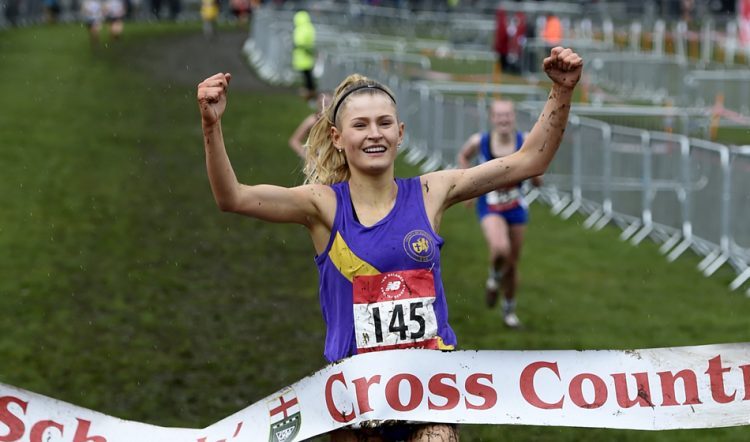 "I didn't think I was going to win that and I'm not sure where my finish came from," said Pentland, who took the lead in the closing stages with a powerful finish on the gruelling course.
Following in the footsteps of past winners of this title such as Paula Radcliffe, Pentland put so much into her effort that she was sick shortly after finishing. "I think it's to do with nerves," she said, "as I've been sick before after a big race when I've felt I've got a chance of doing well."
Beth Cook's parents, Glenn and Sarah, were both international triathletes who won multiple European titles in the past and now the Sussex youngster is showing a similar talent for endurance as she won the intermediate girls' title from Inter-Counties champion Bea Wood of Wiltshire after a close duel for much of the distance.
With blustery winds and undulating ground adding to the challenge, it was not a day for fair-weather runners. Olly Smart trains on Dartmoor and it meant the Devon runner had an ideal preparation as he surged to intermediate boys' glory ahead of Will Barnicoat of Surrey, Louis Small of Kent and Mo Ali of Middlesex.
In the youngest age group, a mud-splattered Lewis Sullivan took junior boys' gold for Suffolk, while Kiya Dee won the junior girls' title for Gloucestershire.
» See the March 21 issue of AW magazine for full English Schools coverage from Temple Newsam