European finalist moves to third on the British indoor all-time list, while Morgan Lake and Katarina Johnson-Thompson also win field event golds and Amber Anning runs record
The women's shot put opened the Sunday programme at the British Athletics Indoor Championships in Birmingham and saw a superb performance from Sophie McKinna who found it was a case of lucky 13th as she won her first national title after 12 previous losses.
She opened with an indoor PB 17.64m but followed with a 17.97m which moved her up to third all-time in the UK indoor rankings. It is an outright PB and the furthest a British shot putter has achieved since the year 2000. She threw 17.59m in round three but then had three no throws.
Amelia Strickler was also in good form. She set 17.25m and then 17.28m PBs to also confirm her selection for the European Indoors as she again surpassed the Glasgow standard.
Adele Nicoll was third with 15.58m while world under-20 heptathlon champion Niamh Emerson was eighth with 13.16m.
"I have been wanting this British title for a long, long time," said McKinna. "Last year I lost by just 3cm which was the best and worst competition in my life all at once.
"This time it was the best competition I have had and I put together a good series. Unfortunately, at the end the circle was getting a bit slippery due to chalk so I couldn't improve on it."
The women's 400m was a cracking race. Laviai Nielsen blasted the first 200m in 24.11 and held off the challenge of Zoey Clark at the bell.
Clark attacked again in the last 100m and went past before Amber Anning squeezed by a fading Nielsen whose second lap of 28.9 was almost five seconds down on her first.
Clark's winning time of 52.85 was down on her semi-final mark but Anning's 53.00 gave her a European Indoors qualifier and a British under-20 record. It broke Marilyn Neufville's time from 1970 which at the time was a world indoor record and won a Euro Indoors gold medal.
"I'm so shocked," said Anning. "I did not expect that at all. I had a race plan but I don't know what happened.
"I'm the youngest in the field and I just wanted to go out there and do my best and I've gone above and beyond. I've got that record now and it's a massively successful weekend for me."
Nielsen was third in 53.03 just ahead of world indoor medallist Eilidh Doyle, who got slower in all three races after a 52.75 heat though prospects look good for Britain's 4x400m squad as Meghan Beesley was not far back in fifth in 53.31.
Katarina Johnson-Thompson completed a good weekend as after a season's best in finishing second in the 60m hurdles, she won the long jump with another season's best – a 6.46m leap in round four.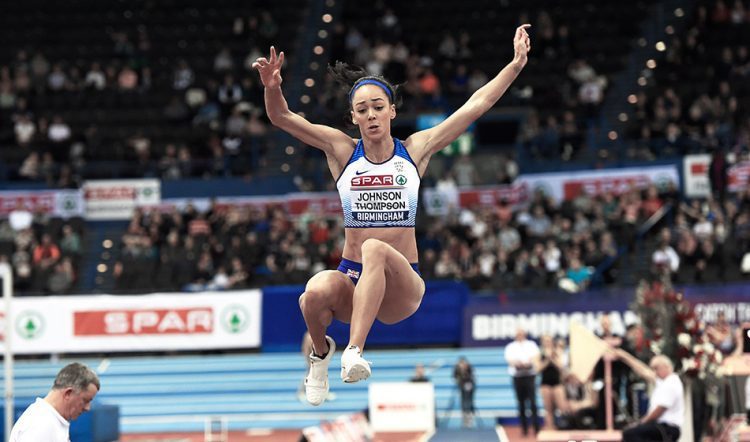 Jahisha Thomas (6.36m) and Abigail Irozuru (6.35m) won the other medals in a tight competition that saw 25 centimetres between the top six who were completed by Jazmin Sawyers in sixth (6.21m).
Shelayna Oskan-Clarke showed her tactical acumen to win the 800m. After a slow first 200m in 31.17, the 400m mark was passed in a very, very slow 65.46. Lynsey Sharp tried to get past Oskan-Clarke along the back straight with 300m to go but the leader responded and held her off and completed the third 200m in a far more respectable 29.36.
Running the shortest distance paid off as the world and European medallist won in 2:05.04.
There was a great burn up for second and Mari Smith (2:05.68) came from well back to catch Adelle Tracey (2:05.84) while Isabelle Boffey also finished fast to be a metre back in 2:05.84 to pass Sharp, who ran 2:06.23.
Despite the slow pace, the final 400m of 59.5 did not compare that favourably with Muir's 56.9 in the 3000m and the 1500m also paled into comparison though again the winner was mightily impressive.
The early pace was again slow – 72.73 at 400m and 2:22.32 at 800m – and the pace stayed steady but unspectacular through 1200m in 3:31.85 with the race only coming to life in that last 300m.
Katie Snowden made the early move followed by Sarah McDonald but both were powerless to respond to European under-20 champion Jemma Reekie's back straight kick.
She completed the last 200m in around 28.5 though the final 400m was a more modest 62 seconds as she won in 4:17.08.
Her Kilbarchan team-mate Kerry MacAngus had led most of the race and ended up a fine fourth.
McDonald, who has the necessary qualifying mark from outdoors, was second in 4:18.10 and Snowden third in 4:19.34.
Heather Lewis won the 5000m walk with ease and to go third all-time indoors for an event that has been rarely contested indoors.
She followed Bethan Davies through 1000m in 4:23.52 and 2000m in 8:53.32 before pushing on around halfway. Going through 3000m in 13:28.32, she eased back in the last 2000m (4:43 for both those kilometres) but still set an indoor PB and won by well over two minutes as Davies was disqualified.
There were also PBs for Madeline Shott (25:15.88) and Pagen Spooner (26:43.74) in second and third though both were making their indoor debuts.
Morgan Lake won the high jump easily. She cleared 1.94m at the second attempt to take the gold and then attempted a British record 1.99m.
Bethan Partridge took the silver medal with 1.87m and Nikki Manson won bronze with 1.80m.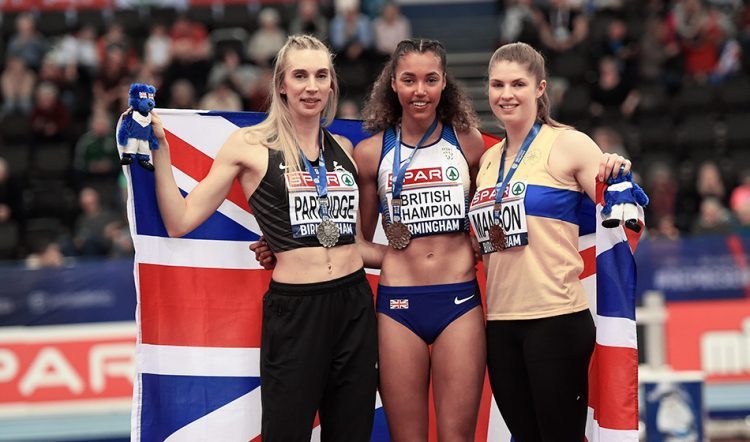 "The main aim was to become British champion and I'm happy with how I worked up," said Lake. "Obviously 1.99m would have been nice but it's always good to consolidate what I've been doing in training and 1.94m is still a good jump, but I definitely want more."
The women's 200m, which is no longer contested in international championships, was won in a big PB of 23.59 by Hayley Mills.
Kiah Dubarry-Gay (24.01) and Melissa Roberts (24.28) took the other medals.
A men's events report is here.
Full results can be found here.
» For more on the latest athletics news, athletics events coverage and athletics updates, check out the AW homepage and our social media channels on Twitter, Facebook and Instagram