Hellen Obiri runs world-leading 5000m as Sifan Hassan breaks European record at Anniversary Games
Shelly-Ann Fraser-Pryce is close to being in the form of her life as the two-time Olympic champion won the Müller Anniversary Games women's 100m easily in 10.78 to just miss her six-year-old meeting record of 10.77.
Her reaction time was a modest 0.155 but her pick up was sensational and the Jamaican won by a well over a metre from Dina Asher-Smith.
The Briton ran 10.92 to maintain her consistent sub-11 form, while Marie-Josee Ta Lou was third in 10.98.
World 200m champion Dafne Schippers was disqualified with a reaction time five-thousandths outside the limit.
In the heats, Asher-Smith was mightily impressive, winning her race in 10.91 for her equal second fastest ever time in comfortably repelling the challenge of Ta Lou's 10.96.
Daryll Neita was a non-qualifying fifth in 11.24.
In the opening heat, Fraser-Pryce won into a light headwind in 10.95 with Imani Lansiquot the leading Briton in a non-qualifying sixth in 11.24.
"At first I was a bit put off by the false start but I was glad I was able to go back and reset myself," said Fraser-Pryce.
"I am definitely happy. It's a long season and I've been training and training. To come out here and run 10.78 is a fabulous time."
Asher-Smith said: "I wanted to go 10.8 today, so seeing that time in the final was a bit frustrating. But I really can't be disappointed with two 10.9s and I'll definitely look to push to faster times as the season progresses. "
Also on the track, all eyes were on the women's 5000m to see if Sifan Hassan could add to her record-breaking 2019.
She did as she set an European record but she was well beaten by world champion Hellen Obiri.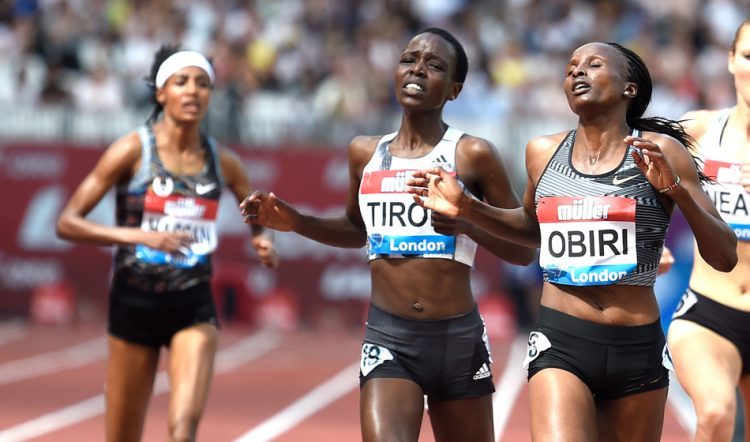 The pace was never really fast enough for a world record. Natalie Rule led through 1000m in 2:53.90 and Winnie Nanyondo passed 2000m in 5:48.44. Gloriah Kite led at 3000m in 8:46.22 as the pace slowed and the world record now looked impossible.
Hassan had sat at the back of the leading group of 10 but she powered past 4000m in 11:39.09 and her laps of 66.94 and 65.48 meant she had just Obiri and Tirop for company.
Obiri kicked past down the back straight and Hassan stayed close but she could not produce her usual kick and she was picked off by Tirop down the straight.
Obiri won in a world-leading and meeting record 14:20.36, with Tirop second in a PB 14:20.68.
"I am so happy because this is my favourite track and I have done my best and I ran the way I wanted to," said Obiri. "In the last lap I was thinking 'work hard' and I said to myself when I went past Hassan: 'let me go and see if you can catch me'."
Hassan struggled across the line in 14:22.12 which marginally improved her European record of 14:22.34.
"I went out fast but I'm still very tired from the mile in Monaco last week, both physically and emotionally," Hassan said following her world record there. "But I still ran a PB, so I'm happy."
Laura Weightman set a PB of 14:51.78 in 12th to go sixth all-time in the UK.
Just behind her Eilish McColgan was 13th in 14:51.89, despite suffering from a cold.
Jessica Judd and Rosie Clarke set PBs of 15:16.47 and 15:19.75 to gain Doha World Championships qualifiers back in 17th and 18th but Melissa Courtney dropped out.
Lynsey Sharp won the 800m in her fastest time for two years as she confirmed her good form from Monaco.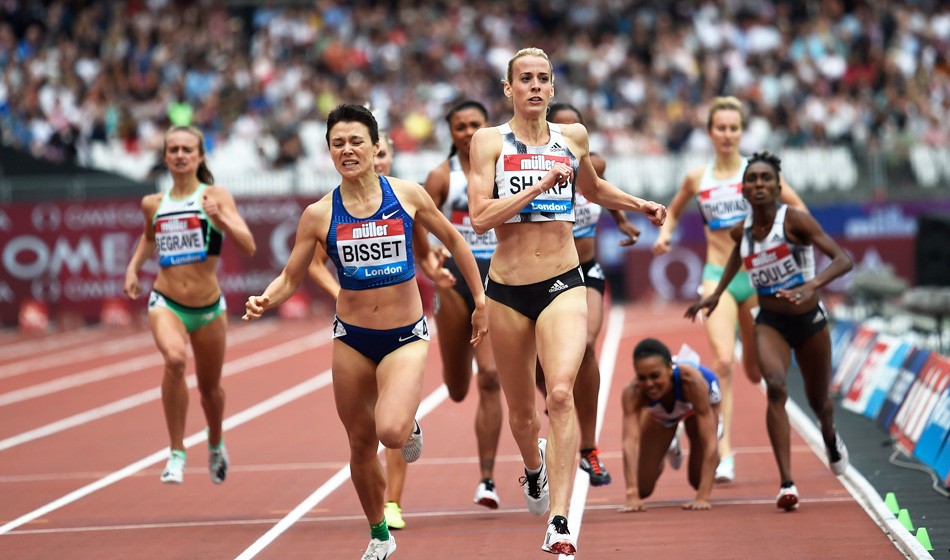 The early pace was fast – probably too much so as Aneta Lemiesz led through 400m in 56.91 with Sharp third in 57.3.
Natoya Goule was ahead at 500m in 72.5 and 600m in 87.7.
The Jamaican, who ran 1:57.90 in Monaco, surprisingly faded in the closing stages and Sharp kicked ahead with 100m to go.
She lost a little momentum in a painful 15.4 last 100m but her reward was a fine 1:58.61 which might have been even quicker but for the fast early pace.
The Scot said: "It was a good race. It's so nice to be in this stadium in London. Everyone has been saying how fast the track is so it was good to make the most of it today with a season's best. I'm happy with my time. Last week was good but it was so nice to back myself up here as well."
Behind her, Catriona Bisset was just over a metre back in an Australian record 1:58.78.
In third, Alex Bell improved her PB to 1:59.82 just ahead of European indoor champion Shelyana Oskan-Clarke who improved her season's best from 2:01.47 to 1:59.83.
In sixth, Hannh Segrave, who paced the 1500m on Saturday, took over two seconds off her PB with 2:00.18.
While Goule was a rare Jamaican disappointment on the weekend, there was success in the 400m hurdles.
Rushell Clayton won in a huge PB of 54.16 to defeat double world champion Zuzana Hejnova, who ran 54.33.
In sixth, European bronze medallist Meghan Beesley strengthened her Doha claim with a UK lead and world qualifying 55.20.
The women's long jump was a high-quality affair. World leader Malaika Mihambo won in a meeting record 7.02m and had further jumps of 6.96m and 6.93m to underline her superiority.
Brittney Reese finished strongly to jump 6.82m and finish second.
Lorraine Ugen was fifth in 6.62m with Katarina Johnson-Thompson not at her very best this weekend finishing seventh in 6.47m.
The highlight of the women's para events was Sophie Hahn's T35-38 100m victory in 12.45 to go close to her world record of 12.43.
World champion Stef Reid won the T44-T64 long jump with a 5.36m leap.
The Club Connect relay saw wins for Shaftesbury Barnet's under-20 women in 46.31 to go third all-time, Blackheath and Bromley's under-17 team in 47.61, Croydon's under-15s in 48.67 and Reading's under-13 team in 52.06.
Results can be found here, while a men's events report is here.
» See the July 25 issue of AW magazine for full coverage from London
» For more on the latest athletics news, athletics events coverage and athletics updates, check out the AW homepage and our social media channels on Twitter, Facebook and Instagram