South London and Wolverhampton also among clubs to take titles at Mansfield's Berry Hill Park
Leeds City retained their senior men's title while Aldershot's senior women were back on winning form at the Saucony English Cross Country Relays, as the morning and lunchtime rain gave way to rainbows and some wintery sun.
Leeds won at Mansfield's Berry Hill Park despite an early setback, when opening stage runner, Phil Sesemann, who was third fastest on the longer stages last year, took a tumble when first leg eventual 'winner' Sam Stabler slowed on a downhill section.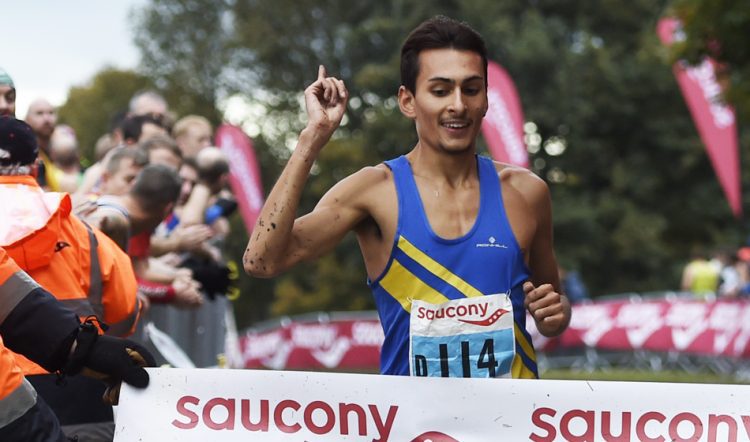 They recovered, thanks to Matthew Grieve and Graham Rush, before Emile Cairess saw off a potential challenge by the in-form Marc Scott to given them a comfortable victory.
His Cambridge & Coleridge took silver as Bedford & County held off Aldershot, whose A team only disposed of their B outfit on the final stage.
In contrast, Aldershot's women were ahead from near the end of the first lap when Emily Hosker-Thornhill finally shook off the attentions of Lincoln's Abbie Donnelly to repeat her first leg 'win' of last winter.
Niamh Brown and Lauren Hall then completed the job and secured victory over Leeds and Cambridge.
Once again, Jess Judd was quickest over the longer later legs.
Vale Royal retained their under-15 girls' title, thanks to Holly Weedall's fastest split over the longer stages, but Ipswich Harriers' Ruby Vinton, the Inter-Counties champion, was intrinsically quicker on the opening stage.
Will Barnicoat ensured that Windsor repeated their road relay victory in the under-17 men's event with the fastest of the longer stages.
South London Harriers won the two youngest boys age groups, as Wolverhampton & Bilston matched their tally in the girls' events, with under-13 and under-20 victories.
There, Amelia Samuels gave them a good start with perhaps the best run of their age group as Bracknell's Amelia Quirk was best over the longer second and third circuits.
St Mary's Joe Wigfield was the quickest of all in the under-17 men's race, which was won by Shaftesbury.
Aldershot's women also took the under-17 race as Pippa Roessler was the best of the longer stage runners after Sale's Lara Crawford was much quicker over the shorter opener.
» See the November 7 edition of AW magazine for further coverage
» For more on the latest athletics news, athletics events coverage and athletics updates, check out the AW homepage and our social media channels on Twitter, Facebook and Instagram