After a winter of selection uncertainty, British Athletics confirm they will be in Aarhus in force for the IAAF World Cross Country Championships
British Athletics' promise to send full teams to the IAAF World Cross Country Championships will delight domestic distance runners, mud-loving coaches, the innovative organisers in Aarhus, plus global governing body officials like Seb Coe who are keen to get the once proud event back on its feet.
I believe British Athletics always intended to take complete squads to the Danish city on March 30 but a selection policy that only guaranteed selection for the first two senior athletes in the trials – at Prestwold Hall on March 9 – was lacking in commitment and led to uncertainty and widespread criticism from, among others, British cross-country greats like Tim Hutchings and Jon Brown.
Britain is a harrier nation, steeped in cross-country tradition, with many fondly remembering the days when nine senior men from each of the home nations – England, Scotland, Wales and Northern Ireland – would compete in the World Cross in the 1970s and 1980s.
The participation of the home nations ended in 1988 when a unified British team competed in the World Cross for the first time. Since then, the European Cross Country Championships – first staged in 1994 – has increasingly turned into a focal point for leading British runners during the winter.
The World Cross, meanwhile, has been flooded by African runners from not only Kenya and Ethiopia, but Uganda, Eritrea, Qatar, Turkey and Bahrain. At the 2009 event in Jordan, for example, British Athletics was criticised for sending too many athletes after its senior men's team failed to place anyone in the top 70, while the top British junior man was back in 58th.
With the IAAF struggling to find many venues actually willing to stage the event, the 2013 championships went to the Polish city of Bydgoszcz for the second time in three years and despite Britain sending five senior men and six senior women, the pages of AW carried stories of "athlete apathy" as spring road races and 10,000m track events together with altitude training camps began to take priority.
At the 2015 event in Guiyang, China, Britain sent only two senior women and four senior men. In 2017 in Kampala, Uganda, there were four British senior women but no men at all as everyone from Olympic and world champion Mo Farah to cross-country stalwart Andy Vernon declared disinterest in travelling to such a far-flung destination at that time of year.
This year's event in Denmark is different, though. When I went to check out the course late last year, the flight from London to Aarhus cost a mere £19.99, while the organisers have created a course that sees runners negotiate mud, sand and water, with a steep climb up the grass-covered roof of a museum and sections where competitors run the gauntlet through dozens of noisy fans, some set to be dressed as Vikings.
Many see Aarhus as being a potential turning point in the fortunes of the World Cross. The course, some feel, will be a "leveller", but whether British athletes win or lose it promises to be the experience of a lifetime regardless.
Recent years have seen British Athletics base selection on an athlete's ability to finish inside the top 30 or, this time, to be part of a team that has potential to make the top six. But the strategy is short-sighted and fails to recognise the history and heritage of this great event, not to mention the importance cross-country running plays in an athlete's development.
Let's not forget Mo Farah placed a mere 59th in the junior men's race in 2001. He then went on to finish 74th and 40th in the short-course senior race and 37th in the long-course race before improving to 11th in 2007 and 20th in 2010.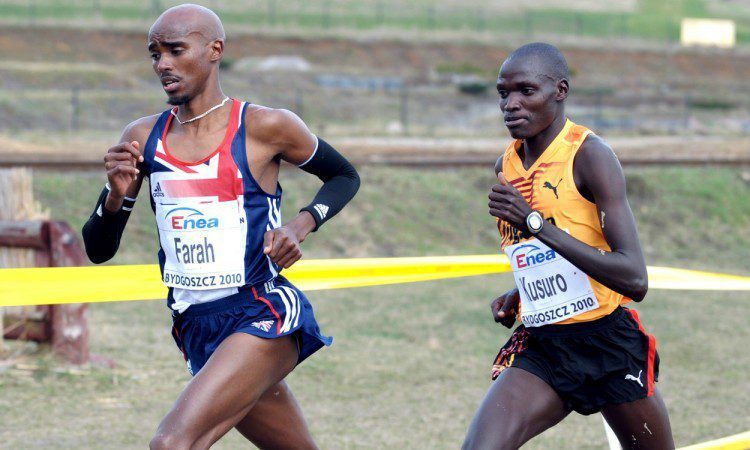 Steve Jones finished 103rd in the World Cross in 1977 aged 22 before going on to break a world marathon record seven years later. Eamonn Martin was 43rd and 93rd at his first two World Cross events before going on to place in a top 20 a couple of times, followed by London Marathon victory and a UK 10,000m record. Paula Radcliffe only just crept into the top 20 at her first three world cross races from 1993-96 before eventually winning senior gold followed by marathon world records.
Thankfully British Athletics has confirmed this week its commitment to the event. Also, to be fair, their original selection strategy did not actually say it was sending incomplete teams. In addition, over the years, Britain has been one of the strongest supporters of the World Cross as multiple other European nations have failed to send athletes to it and have preferred to stay at home rather than challenge the best in the world.
In future, it will help if the World Cross is eventually brought forward to a date in early February. If so, it will become more appetising to potential competitors and could, in theory, alternate every year with the European Championships.
The quest to get cross-country into the Winter Olympics will also help. Once that happens, it will become eligible for Lottery funding and more likely to be a priority target for governing bodies.
That is for another day, though. For now, Britain is set to send full teams to the World Cross in Aarhus. So all we have to deal with is the headache of a Brexit deadline that falls 36 hours before the first race begins.
» For more on the latest athletics news, check out the AW homepage and our social media channels on Twitter, Facebook and Instagram