The race to break the two-hour barrier for the marathon cranks up a gear this weekend and adidas athlete Wilson Kipsang is ready for the challenge
Wilson Kipsang cuts a cool, calm and quietly confident figure ahead of Sunday's BMW Berlin Marathon. As he prepares to face Eliud Kipchoge and Kenenisa Bekele in one of the most hotly-anticipated races of the year, the 35-year-old aims to draw on his vast experience and endurance in a quest to win the race and, possibly, to break Dennis Kimetto's world record of 2:02:57. What's more, he hopes a new shoe created by adidas will give him a crucial edge.
"There is much expectation with a tough field and expectation of a possible world record," he says. "I have prepared well and am ready to face the battle."
Speaking exclusively to AW at the adidas Runbase centre in Berlin, Kipsang added that not only does he have the confidence from having won major marathons in the past in London (twice), New York City and Berlin – the latter in a world record of 2:03:23 in 2013 – but he is armed with a new shoe which he used to win the Tokyo Marathon in February in a course record of 2:03:58.
"It is important for the shoe to be light, fast and comfortable – and it is," he says, describing the new adidas adizero Sub2. "I improved the course record in Tokyo by almost two minutes so I can say it is definitely the best shoe I have seen."
Ironically, these limited edition marathon racing shoes were inspired by the exploits of a fellow Kenyan who specialises over the much shorter distance of 800m. Five years ago at the London Olympics, David Rudisha smashed the world record over two laps of the track and it coincided with the early efforts among adidas designers to create a shoe which would help their marathon men attack the two-hour barrier for 26.2 miles.
Matthias Amm, product category director at adidas Running, explains: "It all started around 2012 and at the London Marathon and then, soon after, when we saw David Rudisha running from the front to a world record in the 800m in the Olympic final. That was the inspiration for us.
"People thought it was impossible to run in an Olympic final – in the lead – and break a world record. But he did it and we found that really inspiring for us. It is similar to when Roger Bannister broke the four-minute barrier for the mile. People thought it was impossible, but Bannister and Rudisha showed what athletes are capable of and it gave us the inspiration to work on this shoe and it's when the whole project began to take off."
Earlier this year rival shoe company Nike released their own shoe aimed at helping runners attack the two-hour barrier for the marathon. Wearing the Zoom Vaporfly Elite and helped by a rolling conveyor belt of pacemakers on a motor-racing circuit in Monza, Italy, in May, the Olympic champion Kipchoge ran an amazing 2:00:25 at the Breaking2 event.
Due to the conditions of the run, it was not ratified as a world record, though, so this weekend the big three of Kipchoge, Kipsang and world 5000m and 10,000m record-holder Bekele will be hoping their footwear will propel them to an official world record on a German course that has incredibly staged the last six men's world marathon records on its flat, fast roads.
Adidas has a great history in Berlin and their new adizero Sub2 was created primarily at their headquarters near Nuremberg. "We have a long history with Haile Gebrselassie setting a world record here in Berlin 10 years ago and from then onwards (adidas) owning the world record," says Amm. "So this weekend is perfect timing for us and it's a great honour to help an athlete like Wilson Kipsang to make the impossible possible."
Kipsang has been with adidas since 2007 and involved in the creation of the adizero Sub2 since the beginning along with world record-holder Kimetto and fellow marathoners Geoffrey Mutai and Emmanuel Mutai. "The athletes," says Amm, "have been involved at every turn as we have developed the shoe in Germany and during visits to Iten in Kenya."
The runners gave regular feedback on the shoe's comfort and performance and Amm says the footwear's strength lies in the fact it manages to retain excellent cushioning despite its incredibly light weight due to its BOOST midsole. Independent studies have shown that the BOOST technology can provide a 1% improvement in running economy, while, similarly, an overall weight reduction of 100g delivers an additional 1% improvement in economy.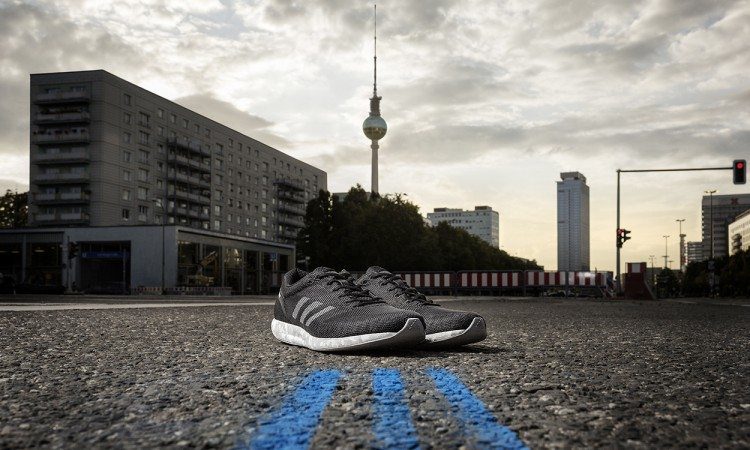 In addition, the Continental outsole prevents the foot slipping by an estimated 1mm every stride, which sounds tiny but adds up to roughly 22 metres in the course of the race. "When we looked into the aggregation of marginal gains," says Amm, "we thought each and everything was minor but when you combine them it was really, really big."
Amm also reveals that Kipsang was initially dubious about the likelihood of the two-hour barrier being broken. "Wilson was looking at us at the start and saying, 'hmm, let's see'," he remembers. "But after Beijing 2015 he began to say 'yes, this is possible'. Then Eliud (Kipchoge) made a great effort earlier this year and now everyone's mindset seems to be changing."
» The September 28 issue of AW magazine will have in-depth coverage from Berlin, plus Wilson Kipsang's thoughts on Mo Farah's return to the marathon