Mel Watman pays tribute to the Olympic relay medallist and former British and world record-holder
June Foulds, a prodigiously talented sprinter who won Olympic relay medals and held British and world records in the 1950s, died on November 6 aged 86.
Foulds was born in London on June 13, 1934, and in 1950 she established herself as Britain's fastest female sprinter when she clocked 11.00 a total of three times to equal the long-standing British record. The first occasion was three days before her 16th birthday, too.
After winning the Women's AAA senior title (main photograph, above) she finished third in the 100m and was a member of the winning 4x100m relay team – just holding off the legendary Fanny Blankers-Koen on the anchor – at the European Championships in Brussels and she concluded her first season as an international by winning the 100m in the match against France.
Foulds had a complicated family life. She was brought up in London by her grandparents, believing they were actually her parents and that her real mother, Edie, was her sister. She wasn't aware of the true situation until her grandmother died when Foulds was 11. Her birth mother had died three years earlier.
Foulds began serious training late in 1948, aged 14, and in 1949 her talent was becoming evident as she ranked equal fifth on the UK senior list at 100 yards with 11.4.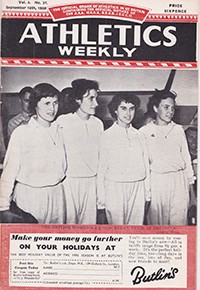 She retained the WAAA 100m title in 1951, improving her 100m best from 12.2 to 12.0 … and even, at 17, became a world record-holder! She was a member of the Spartan Ladies teams which set new figures for the 4×220 yards relay with times of 1:43.9 and 1:43.4 although they were far inferior to a Soviet club team's 4x200m record of 1:40.6. More significantly, Foulds (pictured on the 1951 AW cover, far right) helped a Southern Counties team to a 4x200m world record of 1:39.7 in 1952, equalling the mark held by a Soviet combination.
Also in 1952 she became an Olympic bronze medallist in the 4x100m in Helsinki, later equalling the UK 100m record of 11.9. She did start to race over 200m, which would eventually prove to be her best distance, but managed only sixth place at the WAAA Champs and a best time of 25.3.
Suddenly she was lost to the sport. Working on assignment for the newly launched Eagle comic, she had met fencer Raymond Paul – who would win Commonwealth Games gold medals in 1958 – they became engaged at the Helsinki Olympics and married later that year.
It wasn't until 1956, two years after having given birth to her first son Steven (who became an Olympic fencer), that she returned to the track as June Paul. "I was bigger and stronger second time round," she said. "And a more developed person."
Running better than ever, she tied the UK 100 yards record of 10.8, took three tenths of a second off the national 100m record with 11.6 and proved a revelation at the longer sprint. At the WAAA Champs she scored a brilliant double with a 10.6w 100y and a UK 220y record of 23.8 and was regarded as a potential Olympic medallist at both 100m and 200m.
However, she fell well short of expectations in Melbourne, narrowly failing to make the 100m final with a 12.1 semi and after a promising heat win in a UK record 23.8 and a semi-final win in 24.2 she faded to fifth in the final in 24.3, five metres away from a medal.
Fortunately there was some redemption for her in the relay as an inspired British team finished inside the previous world record to take the silver medals in 44.70 so tantalisingly close to Australia's winning 44.65.
Her final season of 1958 yielded mixed fortunes. At the Commonwealth Games in Cardiff she opened her account with a 100y heat win in a UK record 10.7 but a time of 10.8 in the final was good only for fifth, while in the 220y she placed fourth in 24.0. Again it was the relay, 4×110 yards this time, which salvaged the Games for her as the England team of Madeleine Weston, Dorothy Hyman, June and Heather Young beat Australia by a big margin in a world record-breaking 45.3.
She signed off at the European Champs in Stockholm. She was not selected for the 100m, won by Heather Young in 11.7, but looked a probable winner of the 200m after clocking the swiftest semi-final time of 24.0. Alas, she was limping before the start of the final with an Achilles tendon injury, broke down at the start of the straight and had to be stretchered off as the title went in 24.1. That, of course, cost her a place in the silver medal winning relay team. Incidentally, the Polish winner of that 200m title, Barbara Janiszewska, visited Foulds in her hospital bed with her gold medal and told her "this is really yours".
The rest of Foulds' life proved equally eventful. Having previously worked as a journalist and TV presenter, a BOAC air stewardess and even as a clown in Cottles circus, she settled down to give birth to four more children, two with Raymond Paul before the marriage ended in 1970, and two to her second husband, the well-known Northern Irish pop singer Ronnie Carroll. That too ended in divorce and she then became an independent businesswoman.
First she ran a food stall at London's Camden Lock, then she opened various restaurants (marrying briefly, for a third time, to Eric Reynolds) and for a while owned Hampstead's iconic Everyman Cinema before returning to catering.
Interviewed by Hunter Davies for The Independent in 1993, she said: "I think money has corrupted athletics. We ran for the joy of it, and to win, of course. Chariots of Fire just about sums up how we ran. When I first ran for England at 16, we didn't have blocks. We all carried trowels in our bags and dug little holes in the cinders. I can remember the trowels, and the cinders, but I can't remember me. I look at my old photographs, but I don't know the person."
Other oldies, like myself, do still recall with pleasure the sight of her as a dynamic sprinter in action. Thanks for the memories.
» For more on the latest athletics news, athletics events coverage and athletics updates, check out the AW homepage and our social media channels on Twitter, Facebook and Instagram