South-west London venue was picked ahead of Manchester, Dorney Lake and options in Europe due to its flat, sheltered course and the huge degree of certainty it provided
In the search to find a venue for the British Olympic marathon trials for the rescheduled Tokyo Games, ideas included staging the race as part of the Manchester Marathon, using Dorney Lake near Windsor, or various horse racing and motor-racing tracks. There was even a suggestion to send the British Olympic hopefuls into Europe to take part in an established race on the continent. Ultimately, though, Kew Gardens in Richmond, south-west London, was selected and on Friday March 26 around 60 athletes in total will battle for selection over 26.2 miles.
Several factors gave Richmond the edge. The area is flat, sheltered from the elements with tree-lined roads and Kew Gardens itself is a contained, gated area that has remained open during the pandemic. With the Richmond Runfest already taking place on the same weekend, it means the trials can be incorporated into an existing infrastructure. Most of all, the venue carries a large degree of certainty and is unlikely to be cancelled.
When Manchester Marathon was moved from its traditional April date to next October, it ruled out the prospect of the trial being in the north-west of England. Horse and motor-racing courses were too exposed to the elements. As for racing in Europe, it was considered too much of a risk.
"This is going ahead," says Tom Bedford, race director of the trials race and also the Richmond Runfest. "It's going to make the athletes all sleep better at night and ensure they can bring their A game on the day.
"British athletics wanted the event to be fast and flat and to definitely go ahead during a Covid pandemic. The priority is that every athlete has had the opportunity to go to Tokyo, even in this crazy year, and they're going to get that opportunity in Kew Gardens."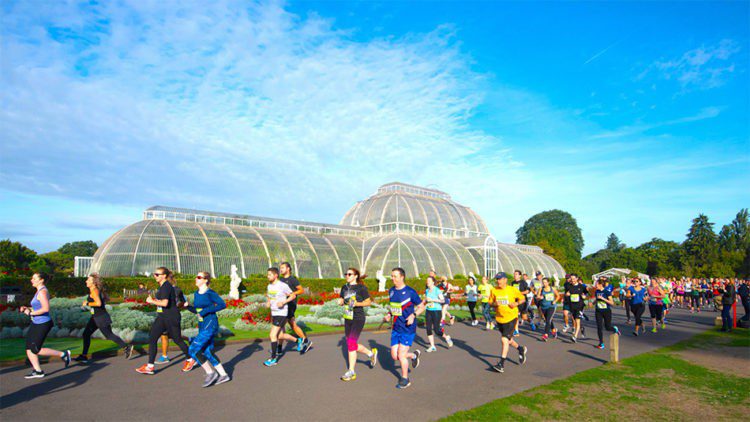 It will be the first time for 40 years that a British Olympic marathon trial has been staged as a standalone race in a similar style to the US Olympic trials. In 1980 the AAA Championships and trial for the Moscow Olympics took place in Milton Keynes. It was won by Ian Thompson in 2:14:00 from Dave Black and Andy Holden as 195 men finished. Yet from 1983 onwards the national championships and trials have been part of the London Marathon and the battle for selection is often a 'race within a race' with television struggling to capture the action.
"In an ideal world this would be a US style trial with Night of 10,000m PBs type atmosphere," says Bedford. "But at this stage sadly I can't see any spectators being allowed."
However Bedford confirms the event will be streamed live and adds: "Each runner will have a helper or a 'water carrier'. So they will have a bit of support. We'll also be putting on some performance-enhancing entertainment in the form of music. But there certainly won't be any beer tents, though, which goes against my personal beliefs, but that's the way it has to be!"
Get set for fast times
There have been concerns from athletes and coaches over whether the course will be fast enough. Bedford admits it is not as quick as the INEOS 1:59 event that saw Eliud Kipchoge break two hours in Vienna last year. But he believes the Olympic qualifying standards of 2:11:30 (men) and 2:29:30 (women) will. be very achievable.
An original proposed course was analysed by course measurement specialist Hugh Jones and refined during the past month to make it as fast as possible. There will also be pacemakers on the day and organisers plan to invite athletes in the coming months to test the route and offer feedback.
"We've lost 31 turns from the original course," says Bedford, "and we're not talking right angles here but moreso just changing direction slightly. With the course we've got at the moment we'd have to knock down some walls or a 600-year-old tree to improve it any further.
"It's one third flatter than the St James's Park London Marathon. It's 20% flatter than the normal London Marathon. It's laps of 5.5km so eight laps in total. There are eight turns every 5.5km and most are very easy."
Certainly it sounds like being quicker than the last standalone British Olympic marathon trials. The AW report of the race at Milton Keynes in 1980 described it as "a narrow, twisting, zig-zag course in very windy conditions".
The winner, Thompson (above right, at the 1980 trials race), said at the time: "It wasn't a course for fast times. It wasn't a nice course at all really. It was too narrow and there was too much chopping and changing of rhythm."
Tony Simmons, one of the main contenders, even ran into a bollard which was hidden from his view by runners ahead of him. After badly grazing his arm and leg he was forced to drop out, his Olympic dreams over.
In comparison, Kew Gardens is certain to be much safer and quicker. "One of the massive benefits from this course is that athletes will have shelter by trees, walls and bushes the whole way around," says Bedford. "The athletes just need to get themselves ready to run some fast times there."
READ MORE: Kew Gardens to host British Olympic marathon trials
At the London Marathon in October, Jonny Mellor and Ben Connor finished as the top two Brits and both beat the qualifying time for Tokyo. But they will have to do it all again on March 26.
"Ben and Jonny should be worried a little because they're going to have to turn up and bring their A game against after already running so well in London," says Bedford. "Get ready for a fast course. With the shoes they have nowadays and assuming the weather is good, it'll be fast.
"The athletes know the race is going ahead. The date has been out there for a while. So they've been able to get their heads down to train hard toward it."
There are concerns the British Olympic trials course at Kew Gardens won't be quick enough for Tokyo qualifying marks. But race director @Tom_Bedford insists it is flat and fast. pic.twitter.com/AY3u1HrYGz

— AW (@AthleticsWeekly) November 23, 2020
» For more on the latest athletics news, athletics events coverage and athletics updates, check out the AW homepage and our social media channels on Twitter, Facebook and Instagram