Olympic champion Ruth Jebet is among those named as new transparency measures are unveiled
Steeplechase world record-holder and Olympic champion Ruth Jebet is among more than 100 athletes and coaches facing disciplinary proceedings for alleged doping offences, the Athletics Integrity Unit (AIU) has announced.
It comes as the AIU unveiled new transparency measures, including the introduction of a new public disclosure policy.
Central to the policy is the decision to publish details of cases through five key phases of the disciplinary process: Provisional suspensions, cases pending a hearing at first instance, first instance decisions, appeals from first instance decisions and appeal decisions
Previously, the AIU only disclosed cases after their final determination – once all appeal rights had been exhausted.
As a result, from Friday (July 20), the AIU website will be updated with the relevant details of each case so that the public can track the flow of cases through the relevant phases of the disciplinary process. Hearing decisions will also be published.
"Transparency and integrity go hand in hand," said AIU chair David Howman.
"The Athletics Integrity Unit believes that the transparency measures unveiled today signal best practice in sport and will help instil greater public confidence in the integrity of athletics and the operations of the AIU."
Information released on Friday includes details of the number of disciplinary proceedings investigated, instigated and implemented by the AIU in the first 12 months of its operation.
Under the new policy, the details of 109 disciplinary proceedings, from a total of 120 disciplinary proceedings that have come under the AIU's direct jurisdiction since April 2017, have been disclosed.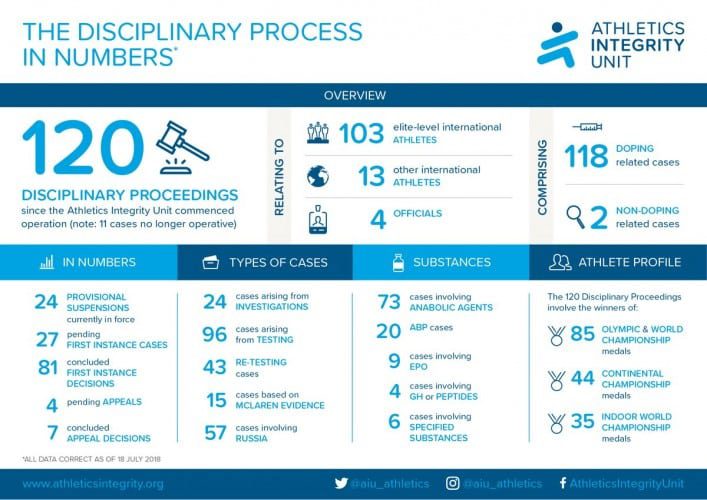 According to the AIU, the total number of cases relate to 103 elite level international athletes (collectively the winners of 85 medals at the Olympics and World Championships), 14 other athletes competing internationally and four officials. All but two of the cases relate to doping.
Jebet appears on a list of provisional suspensions currently in force.
In March, the Guardian reported that Jebet had tested positive for a performance-enhancing drug, believed to be the blood booster EPO.
The 21-year-old Kenya-born athlete represents Bahrain and broke the world 3000m steeplechase record with her time of 8:52.78 at the Paris Diamond League in 2016, 12 days after she won the Olympic title in Rio.
Also on the list of athletes subject to disciplinary proceedings is Kenya's Violah Jepchumba, who ran a 65:22 half-marathon last year, and Kenya's three-time world 1500m champion Asbel Kiprop.
Agent Robert Wagner is also being investigated. Last year he was accused of offering performance-enhancing drugs to undercover reporters from The Daily Telegraph.