New 'athletics unified' strategy hopes to see GB athletes in every discipline at major champs by 2032
At the Olympic Games in 12 years' time imagine a Great Britain team that is so strong in-depth that it has athletes in every single track and field event. At the Paralympics, 95% of Brits will reach their final. Back home, nine million people are regularly participating in the sport and all of this is underpinned by a clubs and coaching system which is the envy of the world.
This is the vision of British Athletics and the home country athletics associations. The plan is called 'athletics unified' and it has been announced today (Nov 2) as a long-term plan and mission statement.
Joanna Coates, the new chief executive of UK Athletics, says she has been "living and breathing this for eight months" and it has been created "so the sport survives". This is not purely a UKA strategy, though. Moreso it is for British athletics in totality, as it will see UKA working in synchrony with England Athletics, Scottish Athletics, Welsh Athletics and Athletics Northern Ireland to deliver the ambitious ideas.
"This is the first time it's been done," says Coates. "There have been wish lists before but this is the first time it's been a proper strategy that really ties all five organisations together."
She adds: "It's the first time there is a shared purpose. And that is to inspire more athletes and runners of all abilities and backgrounds to fulfil their potential and to have a lifelong love of the sport."
There are three key goals.
» By 2032 the Great Britain and Northern Ireland team will have a representative in every discipline at all senior international events. In para-athletics, the target is for 95% of athletes to reach the final.
» Creation of a world-renowned infrastructure of athletics and running clubs, competitions, coaches and officials with the goal of attaining 250,000 registered athletes across the UK.
» For athletics, running and pushing to be the nation's No.1 choice to stay active with nine million participants by 2032.
"We need a continuous supply of athletes coming up through the system," says Coates. "This (elite athletics success) will give us a commercial return and then that will go back into the sport to build our infrastructure and into delivering more finance for our athletes.
"Cynics will say how will you do it? But I believe it's very different to what people have previously tried to do. We have a shared purpose and three shared goals but also a governance framework and a contractual obligation to deliver this. We'll be held accountable by the UKA board and the home country boards."
Coates (below) says 'performance dashboards' will be visible to everyone in the sport and key performance indicators used as targets. She warns: "If this does not work then the sports councils will take our money off us. It's as simple as that. So there is a big old stick that says 'if you don't do this right, you will be penalised'."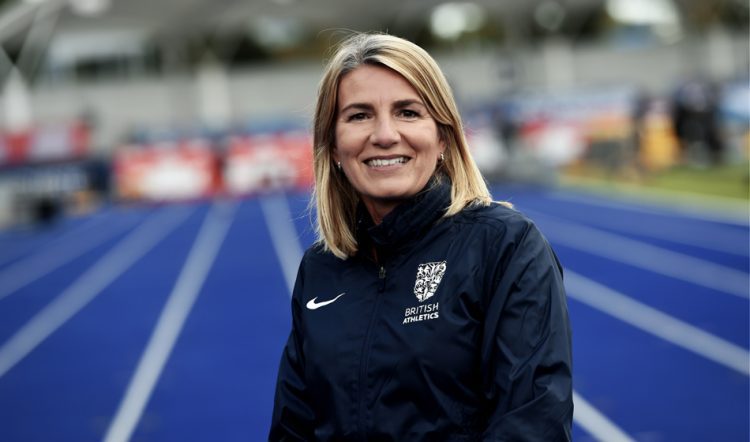 Six working groups will be formed in areas of development, coaching, officiating, performance, competition and commercial. The working group for performance, for example, will include UKA's new performance director Sara Symington together with coaching heads from the home countries – Martin Rush, Stephen Maguire, Chris Jones and Jackie Newton – plus independent members such as Hannah England from the UKA Athlete Commission.
Coates will also be part of a 'CEO forum' along with Kerry Woods of Athletics Northern Ireland, Chris Jones of England Athletics, Mark Munro of Scottish Athletics and James Williams of Welsh Athletics.
Coates firmly believes money made from staging televised events should be ploughed back into the grassroots. "The talent pathway will look much better," she says. "It should be seamless. When we put on major events it should drive participation as well as giving (current) competitive athletes what they want."
She also says the sport's strategy should not revolve around lottery funding and four-year Olympic cycles. "You don't write a strategy for the sport based around funding," she says. "You write a strategy for the sport and the bit that UK Sport or Sport England fund you for is the bit that they find attractive within your strategy. I'm writing a 12-year strategy so that the sport survives. It's a different mindset."
When it comes to participation, there will continue to be much reliance on the healthy and ever-growing area of recreational running. But there is a desire to boost numbers in grassroots track and field. In addition, the governing body want to increase the number of people "pushing" which, Coates explains, "is the term that our para-athletes use and, even though many people don't know what it means, it's our responsibility to educate them".
The 'athletics unified' strategy – which can be read in full here – has been developed in the light of the review into UKA done by Dame Sue Street earlier this year, plus consultation with an estimated 5000 athletes, coaches and officials.
The emerging plans were then tested at around 300 clubs and UKA say: "Over 85% of respondents agreed with the guiding principles of being athlete centred, encouraging high standards, enhancing experiences and working in partnership."
» Is the 'athletics unified' 12-year plan do-able or dreamland? Read AW editor Jason Henderson's opinion piece here
» For more on the latest athletics news, athletics events coverage and athletics updates, check out the AW homepage and our social media channels on Twitter, Facebook and Instagram