British athletics' new 12-year plan has admirable ambition but just how realistic is it?
At the turn of the millennium the national governing body, UK Athletics, suggested they would love to have British athletes in every single track and field discipline at future major championships. From 100m to hammer and from sprint hurdles to 50km race walk, there would be no gaps in the squad. It would be the complete track and field team.
Almost a dozen years later and despite having the ultimate motivational target of a home Games in London, there were still gaps in the events. Ultimately, the GB team at London 2012 had no competitors from the host nation in the women's high jump, discus, shot put, 4x100m or men's 20km walk.
The most recent global championships, meanwhile, in Doha last year, had no British athletes in the men's high jump, long jump, shot, discus or javelin plus women's triple jump, discus, hammer and javelin.
This week UKA has resurrected the plan as part of an 'athletics unified' strategy formed in conjunction with the home country athletics federations. The ambition is to have athletes in every discipline at major events by 2032. But if they could not manage it in the run-up to London 2012 then how will it be achieved now?
READ MORE: Ambitious 12-year plan for athletics in Britain launched
To be fair to Joanna Coates, the chief executive of UKA says: "It's pretty aspirational. And we are some way away from it, but it's our aspiration."
Still, it is going to be a tough task for a harrier nation which is traditionally strong on the track but not so much in the field.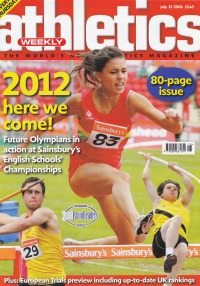 The momentum is not with British athletes either. Last year only 11 Brits were ranked in the world's top 10 in their event compared to 17 in 2016 and 2017 and 15 in 2018. It was the worst showing since 2006 and, while results have been promising in 2020, many of the world's top athletes have not competed widely.
The sport has also endured a pandemic-hit semi-season with young athletes' competitions obliterated. Traditional breeding grounds for talent like the English Schools' Championships did not even take place this summer. Although of course virtually every sport in every country has been similarly affected by the coronavirus.
As athletes get stuck into the winter's training right now, athletics facilities across the nation are increasingly inaccessible due to Government lockdown measures. Clubs are struggling to stage any kind of competitive events and even group training sessions are a challenge, with lockdown restrictions making a difficult situation even tougher.
Cross-country competition – from domestic leagues to the European and world championships – has been cancelled this winter. With tracks and gyms closed, field eventers in particular will have to improvise. None of which bodes well for developing the athletes of tomorrow.
Added to this, Coates will enthuse this week about the 'athletics unified' 12-year plan but in the next breath she will make a number of redundancies, including several experienced staff at UKA.
While the former England Netball CEO has used the relatively quiet and competition-free 2020 period as a unique opportunity to restructure domestic athletics and plan for the future, she has not had the chance to see how the sport operates – from club level to elite – due to the coronavirus. Instead she has relied on recommendations from Dame Sue Street's review of the governing body, plus questionnaires and surveys that have gone out to clubs in recent months.
On the back foot from day one
Even the 'athletics unified' strategy lists multiple problems in the domestic athletics which need to be overcome before the sport can think about filling the Olympic and Paralympic team in 2032. They include: "An unclear and complicated structure to the sport that creates confusion, inefficiency and disjointed communication" and "a negatively pervasive culture caused by a lack of collaboration that has caused distrust and disengagement across the sport".
The strategy goes on to admit to "decreasing track and field participation levels, large numbers of young people dropping out the sport, a decline in performance levels in some events, lack of high-quality coaches, competition format that do not meet the needs of athletes and major events that do not attract the best athletes, fully engage fans or deliver a good enough commercial return".
It is a damning appraisal in a strategy document which is otherwise full of hope and ambition. At the very least you cannot accuse Coates and her fellow chief executives across the home country federations of avoiding the ugly truths.
The coronavirus-related problems are beyond Coates' control, of course. But if the pandemic eases and the sport returns to "normal" in 2021 then how can the goal of creating a truly complete track and field team by 2032 be achieved?
The vision outlined in 'athletics unified' aside, here are some further ideas.
Cinderella events need attention
Some event areas such as sprints are healthy and it will be hard to resist the temptation to plough even more resources in that direction in order to turn potential finalists into medallists. Instead, more money and manpower needs to be spent on nurturing so-called Cinderella events, especially the throws.
Lessons can be learned from the success of British endurance running. Exactly 12 years ago AW ran an eight-page feature headlined "British endurance running in crisis" due to alarmingly declining standards. But helped by bodies like London Marathon and the British Milers' Club, athletes such as Laura Muir, Jake Wightman and many others now show Britain is awash with talent in middle and long distance running.
Athletics in schools and clubs
One long-standing problem that no governing body in recent history has managed to solve is how to get athletics fully back into the schools. Some of the British Olympians of 2032 are likely to be only 10-12 years old now, or even younger, but what if they go through 2021 barely being taught basic principles of athleticism?
As well as the chaos caused by coronavirus, UKA and the home country associations have the likelihood of less funding in coming years. There is much expected of the new talent hubs in Leeds and Birmingham, but the traditional clubs system must also rise to the challenge, working with schools to discover and develop talent and then, crucially, helping to retain it.
Coaching and leadership
Figureheads such as Coates, her new performance director Sara Symington and head coach Christian Malcolm need to inspire and cajole grassroots coaches and athletes into raising their game. In short, they must show the leadership that the sport has been missing in the last couple of years.
Lessons can be learned from the past and they must try to emulate what Geoff Dyson and the 'national coaches' achieved in the 1950s and 1960s. Then, if maverick coaches emerge with strong opinions and radical methods, they need to embrace them instead of sidelining them. It goes without saying that the knowledge and experience of Britain's previous Olympic medallists and world record-holders could be used more as well.
Coates and her team should take advantage of their current honeymoon period they have with the media and the sport in general and they need to hit the ground running, because history tells us they will probably have left their posts and handed the baton to various successors long before the 12-year plan reaches its endgame in 2032.
» What do you think? Is it possible to build a British team that has athletes in every single track and field event? Give us your views via our social media channels
» For more on the latest athletics news, athletics events coverage and athletics updates, check out the AW homepage and our social media channels on Twitter, Facebook and Instagram