Hurdler claims full points for France in dramatic race where Andrew Pozzi falls, while USA team leads cup standings overnight
Pascal Martinot-Lagarde helped the French team to second in the standings behind USA at the end of the first day of Athletics World Cup action, powering to 110m hurdles victory in a dramatic race at the London Stadium.
Clocking a season's best of 13.22 (+1.0m/s), the 26-year-old was one of four athletes to dip inside 13.40 and was pleased with his performance as another strong step toward the European Championships in Berlin, but there was disappointment for Britain's Andrew Pozzi who crashed out after a good start.
Jamaica's Ronald Levy was second in 13.30, while USA's Devon Allen was third in 13.36 and South Africa's Antonio Alkana fourth in 13.38.
"I feel very good because I got eight points for the French team," said Martinot-Lagarde. "I did my best and it is special. You have to do the best performance for the team.
"It is is a good step for my season. I did a season's best today so I'm really happy. I improve meeting after meeting and today is a little step in a good way for Berlin."
Racing in lane three, the Frenchman was alongside world indoor champion Pozzi, who hit the third hurdle hard and couldn't recover.
"My event is very dangerous, you have seen it with Andrew," added Martinot-Lagarde. "He strongly touched the hurdle and it killed his race. I had to stay in my line and forget everything around me."
While Pozzi was unable to add to Britain's points tally, Elliot Giles was the highest-scoring male GB athlete on the first day of competition as he bagged bronze in the 800m behind USA's Clayton Murphy and Poland's Adam Kszczot.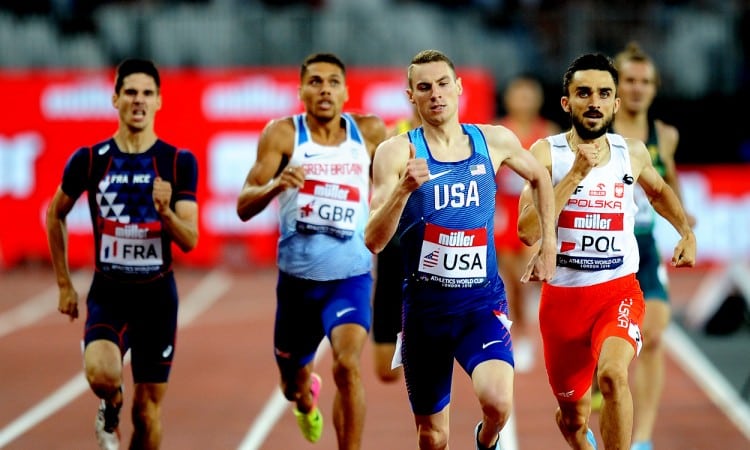 The paced picked up as the race went on and after a 54.51 first lap Murphy crossed the finish line in a time of 1:46.52 and Kszczot secured second in 1:46.98.
Viewing his time of 1:47.40 for third as part of a process, Giles said: "I have just got to keep working hard because I am going to get there it is just a matter of time. I have just got to keep sticking at it."
USA topped the cup standings overnight with 109 points ahead of France's 85, with American athletes also claiming full points in the 4x100m and high jump in terms of men's events.
Jeff Demps, Kendall Williams, Obi Igbokwe and Cameron Burrell combined to clock 38.42 ahead of Jamaica and South Africa, with the GB quartet of Reuben Arthur, Sam Gordon, Andy Robertson and Confidence Lawson placing eighth in 38.97.
Jeron Robinson's high jump win came after a clearance of 2.30m, as China's Wang Yu was second with a best of 2.27m and Tobias Potye of Germany third with 2.24m. Britain's Chris Baker was fifth with 2.21m.
Chinese record-holder Xie Zhenye won the 200m in 20.25 (-1.1m/s), surging away to triumph ahead of South Africa's Luxolo Adams with 20.45 and USA's Ameer Webb with 20.51.
Racing for GB in an individual event for the first time since 2013, Delano Williams was happy to be back concentrating on the 200m after focusing on the 400m last year and he ran 20.97 for sixth.
Michal Haratyk claimed maximum points for Poland in the shot put, throwing 21.95m to beat USA's Darrell Hill and Jamaica's O'Dayne Richards as GB's Scott Lincoln threw a season's best 19.24 in seventh, while the discus was won by Jamaica's Fedrick Dacres with a mark of 65.32m as British champion Brett Morse threw 59.72m in seventh.
A season's best leap of 16.74m claimed Karol Hoffmann victory for Poland in the triple jump as he won by just a single centimetre ahead of USA's Donald Scott, while Britain's Nathan Douglas was sixth with 16.24m.
A report on women's events action can be found here.
» Full results can be found here and the July 19 edition of AW will include further coverage