Kenyan out-kicks Jakob Ingebrigtsen as Jake Heyward is fourth, while Niamh Emerson leads heptathlon on day three of World U20 Champs
The men's 1500m was billed as one of the events of the IAAF World Under-20 Championships and it did not disappoint as George Manangoi won a thriller.
After a leisurely early pace as the runners passed 800m in 2:05.9, things began to hot up at the bell with Samuel Tefera of Ethiopia – the reigning world indoor senior 1500m champion – pushing hard for home.
Norway's Jakob Ingebrigtsen was fifth with 300m to go but moved up ominously and was in a great position on the final bend, but it was Justus Soget of Kenya who hit the front coming into the home straight.
The final 100m was thrilling as Soget pushed for gold ahead of Ingebrigtsen, but then Manangoi of Kenya unleashed a strong final burst to pass them both to take the gold in 3:41.71 after a 53.6 last lap as Ingebrigtsen took silver with Soget third.
Behind, Britain's Jake Heyward finished a fine fourth in 3:43.76 as he demonstrated his strength and speed to overtake Tefera in the closing stages.
Managoi's brother, Elijah, is already world senior 1500m champion, so the family is enjoying a phenomenal dominance of the event right now.
Jamaica beats USA at 100m
Briana Williams is aged just 16 but the Jamaican sprinter caused an upset in the women's 100m as she ran 11.16 to beat American Twanisha Terry by three hundredths of a second as Kristal Awuah of Britain took a brilliant bronze in 11.37.
Earlier, Terry had run an 11.03 championship record in the semi-finals, too, but she could not quite manage to become the United States' first gold medallist of Tampere so far as Williams, who is coached by 1997 world 200m champion Ato Boldon, was too fast.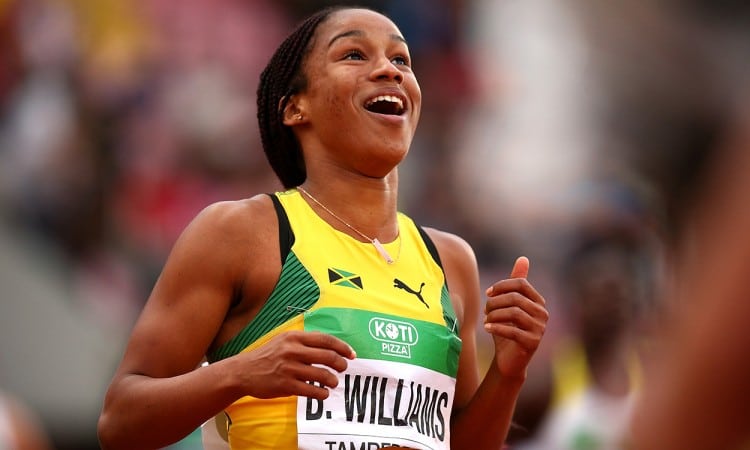 In the men's sprint hurdles, meanwhile, there was another good performance by a British athlete. Damion Thomas and Orlando Bennett made it a Jamaican one-two with Thomas clocking 13.16, while GB's Jason Nicholson finished fifth in 13.62.
Das the way to do it
History was made in the women's 400m when Hima Das became India's first-ever female medallist at the World Under-20 Championships as she came from behind with a powerful final effort to win gold in 51.46.
Andreas Miklos of Romania took silver in a PB of 52.07, while bronze went to Taylor Manson of the United States in 52.28.
Sub-2 in women's 800m
Diribe Welteji of Ethiopia ran a championship record with a supreme demonstration of front running as she clocked 1:59.75 to take an emphatic gold.
Welteji led through 400m in 58.98 and maintained her lead as Carley Thomas of Australia clocked a big PB of 2:01.13 for silver and Delia Sclabas of Switzerland 2:01.29 for third as GB's Katy-Ann McDonald was seventh in 2:04.08 to cap what has been a fine comeback season for the teenager.
Svabikova and Emilianov impress in the field
Amálie Svabikova won the women's pole vault convincingly with a best of 4.51m, but there was disappointment for British junior record-holder Molly Caudery as she left the event in tears after failing at her second height of 4.20m.
The discus, meanwhile, saw Alexandra Emilianov of Moldova (below) take the gold with 57.89m ahead of Finland's Helena Leveelahti, who threw 56.80m.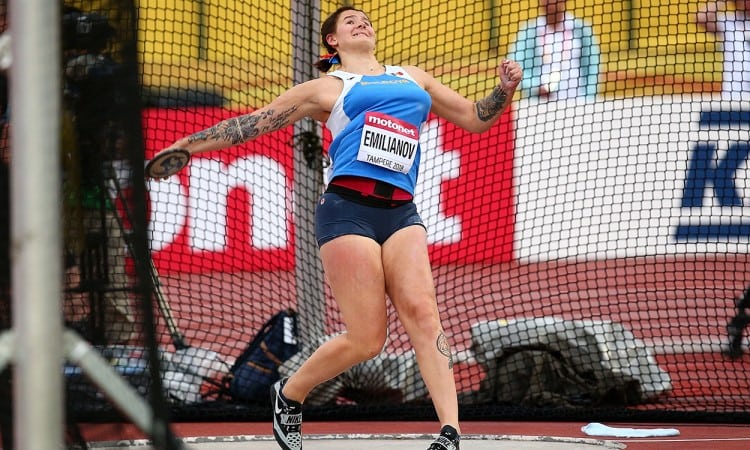 Emerson in control
Britain's Niamh Emerson ended day one of the heptathlon in first place – 56 points ahead of Adriana Rodriguez of Cuba with defending champion Sarah Lagger of Austria close behind in third.
Emerson, who won Commonwealth Games bronze in April, began with a 13.76 (0.5) sprint hurdles PB before equalling her high jump PB with 1.89m, throwing the shot 12.27m and running a 24.80 200m.
"I'm really happy with the PBs on the first day," she said. "I want to stay composed and get an overall PB and we'll see if that's good enough."
Emerson's team-mate, Jade O'Dowda, is in 10th overnight after a 100m hurdles in 14.04 (0.5), 1.71m high jump, 12.33m PB shot put and 25.03 200m PB.
Qualifying news
In the men's 200m rounds, British duo Charlie Dobson and Jona Efoloko both clocked PBs of 20.65 to win their races before Dobson improved to an impressive 20.53 to win his semi-final as Efoloko won his semi in 20.74.
Britain's Alastair Chalmers and Alex Knibbs both progressed to the 400m hurdles semi-finals, with Chalmers winning his heat in 51.16, while Knibbs clocked 51.29 for second in his heat. Quickest overall was Kenya's Moitalel Mpoke Naadokila with a PB of 50.87.
GB's Lucy Hadaway booked her place in the long jump final with a leap of 6.19m, but her team-mate Holly Mills missed out after a best of 5.92m. USA's Tara Davis went furthest overall with 6.40m.
Uganda's Albert Chemutai and Ethiopia's Getnet Wale were the two 3000m steeplechase heat winners, clocking 8:49.47 and 8:39.15 respectively, while Canada's Camryn Rogers, Tatsiana Ramanovich of Belarus and Cuba's Yaritza Martinez achieved the qualifying mark of 62.00m to make the women's hammer final. Britain's Katie Head had a best of 56.97m which wasn't enough to see her progress.
» See the July 19 issue of AW magazine for full coverage