Its origins date back more than half a century but Neuff Athletic Equipment is embracing the age of social media to help the latest generation of athletes
For more than half a century, Neuff has been supplying the nation's athletes with the very best track and field equipment. The company has become part of the fabric of athletics in Britain. Not only does it sell items and implements to runners, jumpers, throwers and officials but it also prides itself on providing expert advice, too.
"Neuff have been the athletics equipment brand for generations in the UK," says jumps coach, former athlete and AW contributor John Shepherd.
"Even if you don't think you know them, you will! For example, just take a look as you walk around any athletics meeting and you'll see their branded starting block bags."
The origins of Neuff date back to 1966 when Dr Alan Neuff, a former sprinter, chemistry teacher, AAA senior coach and official, began developing and selling fibreglass vaulting poles in the UK. Such was his drive and passion, the AAA once noted in one of its newsletters that Dr Neuff's "perseverance and determination helped him surmount all many obstacles".
In his early years it was commonplace for top athletes like Steve Backley and John Regis to visit Dr Neuff's home in south-east London, but in the mid-1990s he moved to North Yorkshire. During this time he was a well-known character at dozens of different domestic athletics events. He also took out regular adverts in AW to promote his services.
Sadly he died in 2019 shortly before his 80th birthday but by then the Neuff family had already started plans to hand over the business to his daughter, Sara and her husband Matt. "The company was dad's passion," says Sara, "now it's mine and I will continue to run it with the same ethos he did."
Late last year AW visited the new Neuff warehouse and headquarters in Ivybridge, Devon. Situated a short distance from Plymouth, it is a small, family-run business but ships throwing implements, hurdles, starting blocks, starter pistols and much more to individuals, schools and clubs in the UK and beyond.
The warehouse is an Aladdin's cave of track and field equipment and I learned more in the space of one hour from Sara about the size, shape and designs of throws implements and vaulting poles than I have done during my previous 20-odd years writing for AW.
Like many businesses, Neuff has endured its share of challenges in recent years due to the pandemic, Brexit and the ongoing economic instability. Brexit has hugely affected the cost of some imports and exports, for instance, whereas during the height of the pandemic many schools, clubs and sports centres simply stopped buying equipment.
But Neuff has ridden the storm, improvising with lockdown competitions and making smart use of the internet and social media to bring their services to a wider audience than ever before.
In tandem with this, Neuff has brought in a number of bloggers such as former British pole vault record-holder Kate Rooney (née Dennison) and javelin thrower Bekah Walton, plus young athlete ambassadors like combined eventer Frances Hogg, distance runner Megan Harris and para thrower Fabio Zamparelli – to name just a few.
In addition, the company continues to pride itself on an ethos that Dr Neuff himself began years ago. That is, the company does not merely sell goods to athletes, but offers the best possible advice to make sure they receive "the right" javelin, shot or pole, for example.
"Neuff is such a great brand which not only offers amazing equipment but also great guides on what is best for you, making it super personalised, aiming to help you as much as they can," says Hogg.
"It's really clear to see that Neuff aren't just a brand out there to grab at your money but actually really want to help and see you improve as an athlete as much as they can! I've used their equipment [starting blocks, shot, javelin] for years and think they're great."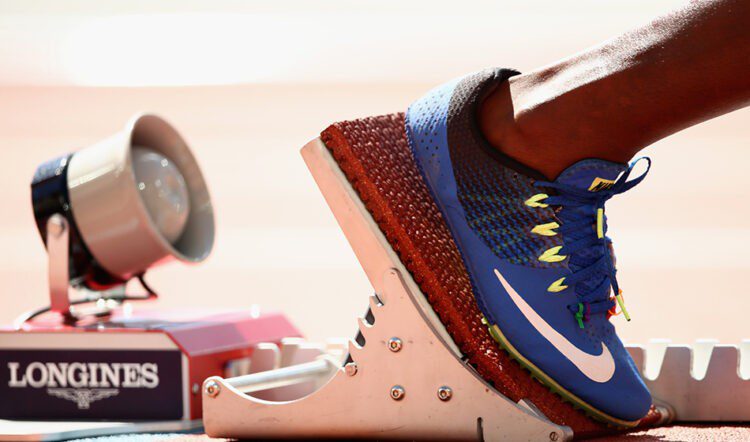 Neuff blogger and Commonwealth pole vault finalist Owen Heard adds: "Neuff is the one place to go where you can find any kind of athletics equipment you might need. It's difficult to get your hands on athletics-specific items sometimes, but Neuff usually has what you're looking for. Barely anywhere supplies pole vault poles in the UK, but Neuff actually has stock of Pacer. It's valuable for young athletes to read the tips and advice written by elite athletes."
Harris says: "Although Neuff's main target market is aimed at throwers, as a distance runner they have provided me with an abundance of support and engagement that I appreciate very much. In terms of Neuff's products for my training group, I have promoted their spike pins and various pieces of equipment to aid training.
"The athletics world is completely different to the everyday world and therefore it is important to support as many athletes working to achieve their dreams, which Neuff do consistently. As an ambassador for Neuff Athletic, I believe it is extremely important to build relationships with the set-ups within athletics, to help make my own and other athletics careers possible."
Neuff has definitely created a feel-good factor for its brand. During its long history it has earned trust and respect as well. 
"Neuff values its customers and is using initiatives to develop its business and the sport," says Shepherd. "One of the athletes I coach is an ambassador for Neuff and she will be promoting her training and competition journey, along with others, with assistance from Neuff. This family-run business is helping and selling to a huge athletics family." 
» For more, see neuff.co.uk
» This article first appeared in the January issue of AW magazine
» For more AW news, CLICK HERE