British middle-distance runner Bobby Clay is struggling with osteoporosis but wants her experience to act as a lesson for fellow young athletes
I am 20 years old and I have never had a period. I'm 20 years old and I have osteoporosis. I'm 20 years old and I have become "that girl". The girl who over-trained. The girl who under fuelled. The girl who we are all told about, yet we all just believe "it won't happen to me".
But let's rewind. Let me tell you how I have managed to get to this point. By the age of 15 I had run myself into the GB team, competed at my first world cross country championships and life seemed great.
Every target I was set in training, I was reaching at ease. I wanted to do more – whatever training I was set, I refused to believe it was enough. I had decided that rather than racing in my age group, I wanted to bump myself up to the under-20s and from there I could gain that GB vest I was so determined to achieve. I wanted to race at internationals and I wanted to prove my capabilities.
My coach, however, although incredibly proud of what I was achieving, was wary and didn't want me to be pushing training further. Rather than listening, I reached the conclusion that I needed more intensity in my training (if I was racing with the under-20s, I needed to be doing at least the amount they would be doing). So I moved from my grass-based training group to the track-based group. This is the turning point where things started to go down a damaging path.
Here is where fuelling became an issue – one of the three components of the female athlete triad we all know so well (now re- named RED-S, or relative energy deficiency in sport, as male athletes also can suffer the same fate). My new training set up was stimulating, the training was more intense due to the track-based work and I although was still pushing to do more, I was feeling much more stretched in training.
"Like all athletes, I am obsessive. I am obsessed by athletics, with training and with being the best. Looking back now, no amount of training would have ever been enough to satisfy my hunger to do more"
However, under-fuelling became prominent within our training group and within the top females, food was becoming the enemy. Although I have repeatedly been questioned, I still swear to this day that I have never had an eating disorder. I'm not saying that to shame anyone who is suffering, in fact I know that those suffering shouldn't be shamed but need to feel supported throughout, and I urge anyone struggling to speak out and get help. Nevertheless, poor fuelling habits did influence me to some extent.
I was constantly around those who unfortunately were in the grasp of a frightful relationship with food and, ultimately, I also began to under-fuel my body. My under-fuelled body was also being forced into over-training. Like all athletes, I am obsessive. I am obsessed by athletics, with training and with being the best. Looking back now, no amount of training would have ever been enough to satisfy my hunger to do more.
The other issue was that although I wasn't fuelling correctly, I was having no problem in meeting targets that were set for me in training. At this point my body was not giving me any signs that it was not coping. Target times became quicker, Sunday runs became longer and I without realising was slowly damaging my body more and more.
Did I only do what I was set? No. I would always have to round up my runs. Do an extra mile or so – was that really going to hurt? Add this overtraining to my under-fuelled body and the answer to the equation was amenorrhea.
By the age of 16 my parents were hugely concerned that I had never had a period. I, on the other hand, viewed it as an athletic advantage. I knew a low body fat meant you wouldn't have periods, therefore I was at a performance advantage in my eyes. But regardless of my opinion on the matter, I got dragged to the doctors (pretty much kicking and screaming) to try to sort out what my parents feared where fertility issues.
After blood tests, the docs said all was okay. I was clearly a late developer physically and so internally I was probably the same, I'd develop with time. After my 17th birthday this process was repeated and again my parents were assured that although I was very late, there was nothing to worry about.
No periods meant I was incredibly low on the hormones required to be functioning as a healthy female. These hormones are critical for bone health. So I had every piece of the osteoporosis puzzle; over-training, under-fuelling and absence of periods – a full house.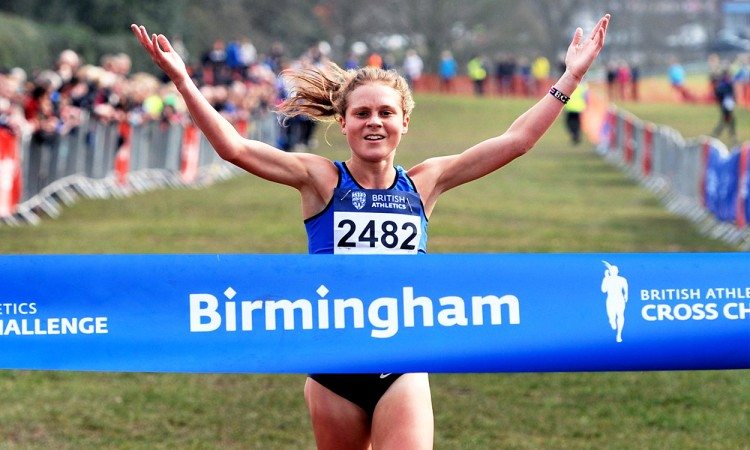 I had no idea that I had already sealed my fate. Moving to university my training set up changed, my training volume reduced and I had greater input. My compulsive character was instantly recognised and so precautions were taken with me. I swore I would be honest and, for the first time, I actually have an honest relationship with my coach.
I was among mature athletes and their mature attitudes rubbed off on me. I took huge steps that year in developing physically and mentally. Finally, I was learning about training smart.
I had a great summer season, but it appeared this new smart training hadn't come quite soon enough. I was about to find out the worst news of my life.
My injury-free summer came to an end. During my end-of-season break, I managed to break my foot while swimming. This was flagged up as a potential problem. After all, who on earth manages to break their foot swimming? I was sent for a DEXA scan (a dual energy X-ray absorptiometry scan measuring bone mineral density) and from that day onwards my perfect little life took a dramatic turn. I still feel that drop in my stomach when I think about that day I opened my results.
Osteoporosis. All I could see was that word.
I've never felt so alone in all my life. I had people telling me it was going to be okay, but I didn't want to listen. I realised there and then that this was my fault.
Since then my body has certainly lived up to this diagnosis. For over a year now I have been stress fracture (or full fracture) free for about four weeks in total.
Each time something breaks, I feel another part of who I am disappear. I wouldn't wish this feeling upon my worst enemy.
But we haven't given up. I say we, because I realise now that I am not alone. My coach has been unbelievable, my doctor is incredible and the physios have worked so hard with my impossible body. Then there's my parents. I can see the pain that this has caused them, I can see that they are also hurting.
"Let's free ourselves from this 'it won't happen to me' attitude and start to do what is right for our bodies"
I have been on HRT (hormone replacement treatment) for just under five months, which means I have had four periods. We are hoping that by providing my body with these essential hormones and by forcing it into a monthly cycle, these will start to build up my bone density.
I didn't write this article for sympathy, or as a scientist, nor to gain anything for myself. I wrote this piece as that 12-year-old girl who has a dream, a girl with an overwhelming passion for running, a girl who doesn't want any other athlete to go through this physical and emotional torture.
So please, let's free ourselves from this "it won't happen to me" attitude and start to do what is right for our bodies. Let's be the best athletes we can be without damaging our athletic future. Let's make sure I am the last athlete to be "that girl".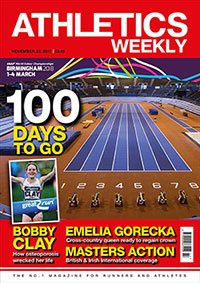 » In 2013 Bobby Clay was fourth in the world youth 1500m before taking European junior 1500m gold in 2015 and finishing seventh in the world juniors 1500m in 2016. She has also won multiple national titles on the track and cross country
» This is an abridged version of an article which was published in the November 23 edition of AW magazine, which can be ordered here or downloaded here