British 1500m runner looks back on her finest moment when she won silver behind Jenny Simpson at the 2011 World Championships in Daegu
I went to the European Indoor Championships that spring and under-performed so I over-trained because I was so upset about how badly I'd done. I picked up quite a big Achilles injury and missed the first five or six weeks of the outdoor season. 
I had five weeks totally off, from the end of April and all of May, which is quite significant for chasing qualification times. It was quite hairy but I very much felt that, if I could get to a race, then I should make the most out of it. That was quite refreshing as I'd struggled with nerves an awful lot up until that point in my career.
The week before the British Championships, I was trying to just run the qualification time, and I ended up running what is still my personal best, knocking three seconds off my fastest time. It was a shock – going from "am I even going to make a championships?" to being ranked pretty highly.
I'd finally made a senior team the year before at the Commonwealth Games and Europeans and I loved it so I really wanted to get back. I wanted to prove that I could do it for more than one year. There was just that desperation. 
I was trying to make up for a disappointing indoor season as well and I felt like all the odds were against me, so it was quite motivating. But I hadn't ever thought I could get a medal. We had Lisa Dobriskey on the team who'd got a medal in Berlin two years before. I thought if I could get on the team, I stood a decent chance of making the final but just making the team was my main focus.
Daegu was super-hot and humid and I always preferred a more complicated competition environment. Whether it was time difference or climate, that gave me more to focus on and then I wouldn't get nervous to start competing. 
I'd worked really hard with a sports psychologist in 2011, so I had my race plan and it was very much about trying to execute that. I was at that stage of my career where I'd probably beaten everybody at the Diamond Leagues. It felt familiar. I hadn't won that many races but, on any given day, I knew all those people were beatable in the first round and the second round. I knew I could do enough to progress but I very much saw it as one race at a time.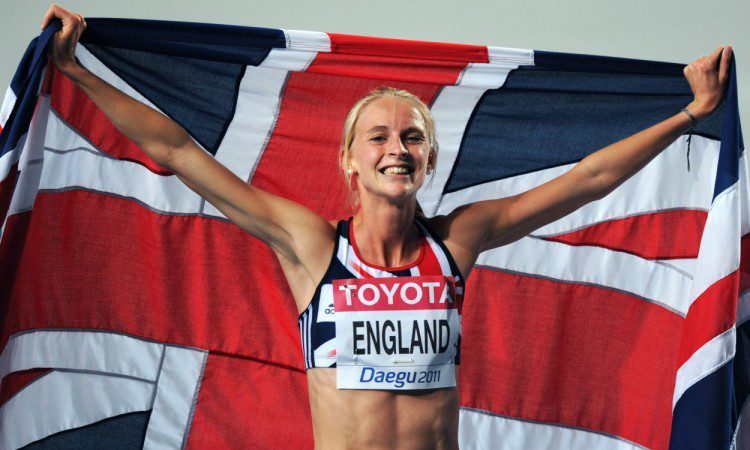 I was always much better in a sit-and-kick race. I won my heat but almost by accident. I was just trying to finish as high as possible but I put my foot down with 100m to go and just ran away from everybody. I thought: "That was way easier than your first round at the world champs should be". But it was a slower race – it played to my strengths – and that set the tone. I took so much confidence from winning the heat. 
Lisa went out. She was really struggling with injury. She tried to front run the next heat to make it faster but still didn't get through. That was hard to watch. You don't want to take confidence from doing better than someone else but I suddenly realised I had achieved something that was not a given. For a team-mate to not achieve it made me realise how special it was. 
In the semi-final, I ran really badly and went really wide. I wasted so much energy. I bumped into Usain Bolt in the lift afterwards and he told me my run had been awful. I only qualified as a fastest loser and didn't quite execute my race plan.
But, going into the final, I didn't feel any pressure. There were so many women in that race who thought they could win. I went in relaxed.
In 2011, nobody broke four minutes. Every race on the circuit had been very physical, so I was on high alert for it. There was a big move from Spain's Natalia Rodríguez and you could see the domino effect. Everyone was panicking and moving. Hellen Obiri and Morgan Uceny fell in front of me and that was stressful. I could see it happening. 
Morgan is actually a very good friend. I was thinking: "No, not Morgan". I kicked Hellen's arm and thought: "Blimey, that was close. I've done really well here to not fall over." I didn't see it as an opportunity, with two fast people gone, but it reshaped the race. 
With 200m to go. I was thinking "I've had a good run". All I'd wanted was to give a good representation of myself and I'd done that. "I'm seventh, I've done okay". I was just totally relaxed.
Finishing the last 100m strongly was something I always practised in training. Coming into the home straight, we were still a group of seven and, apart from Jenny Simpson, you could see everyone was thinking: "medal!" Jenny was thinking: "I'm going to win this thing." I was just thinking: "I'll sprint as hard as I can and see what happens."
Everybody else seemed to tense up. It's not the most efficient way to sprint – when you let that emotion take over with that bit of desperation. I just went on to autopilot and that was incredibly useful for me. If I'd thought: "I'm going to get a medal or I could win this", I wouldn't have stayed as relaxed and it wouldn't have worked.
About 30m out, I was going through the technical cues I'd worked on. It felt like something I'd done 1000 times on the track with my training partners and then, suddenly, I thought: "Where's everyone else gone? Why is no one else sprinting?" Everyone else had melted away. I could see Jenny ahead of me but everyone else was gone. 
From that point to the finish, it was probably less than a second. There's a picture of Jenny and me coming across the line and you've never seen two people look so shocked. We didn't really have time to celebrate or get a punch-in-the-air moment. It happened very fast. 
» This feature first appeared in the April issue of AW, which you can read here