European 5000m medallist to step up at Simplyhealth Great South Run alongside defending champion Gemma Steel, Steph Twell and Jo Pavey
Eilish McColgan admits she'll be pushing herself out of her comfort zone when she makes her 10-mile debut at the Simplyhealth Great South Run on Sunday but believes it's an important next step in her road racing career.
So far the European 5000m silver medallist has not raced any distance further than 10km but she's keen to test herself as she eyes a step up to the marathon at some point in the future.
"Obviously it's not my distance, it's not what I do – I'm so used to being on the track, but it's the experience of it," says the 27-year-old.
"I feel like this is where I want my career to eventually go. Maybe not quite right now – I still feel like I've got a good 5km and 10km in me on the track – but this is certainly where I see my future lying, on the roads and towards the half-marathon and the marathon.
"This is almost like the first little step on that just to give me the experience of being in a big road race like this and 10 miles bridges the gap between 10km and half-marathon."
Despite never having raced the event before, McColgan is no stranger to the popular Portsmouth and Southsea 10-miler. Her mum and coach – 1991 world 10,000m champion and Olympic medallist Liz – is a two-time winner, having triumphed in 1995 and 1997.
"I've been to the Great South Run so many years with my mum," she says. "Not just when she was running it competitively – I've been down even when she was running it for charity, she used to run for Leukaemia Research. So it's a race I've been to probably about 10 times and I watch it on TV every year as well and see all the British girls running it.
"I always thought I'd love to do it. It's one of those iconic races. But every year I'd talk myself out of it – I'd get too scared, thinking 'I don't know if I'll actually last the whole 10 miles!' But I want to push myself out of my comfort zone. I think, if I don't do it now, when will I do it?
"I'm pretty scared going into it because I have no expectations. I'm only just back from my break so I'm not in the best shape of my life either but it's an opportunity I can't really miss. I am excited and looking forward to it."
"I want to push myself out of my comfort zone. This is certainly where I see my future lying, on the roads and towards the half-marathon and the marathon"
The Scottish star, who won European indoor 3000m bronze in Belgrade last year, also believes the endurance work will help her further on the track.
"If I want to start winning more medals on the track, I need to improve my endurance," says the Dundee Hawkhill runner, who is targeting the next edition of the European Indoors on home soil in Glasgow in March.
"I think my speed is good – I've run 4:01 for 1500m, I feel like I'm capable of breaking four minutes – and that's good enough for what I need to do, but certainly my endurance is something that we haven't looked at, we haven't worked on, because of my previous injuries.
"So now is the time to start building the endurance and racing the longer distances and seeing how much of that can help me improve on the track as well.
"I want to try and see what I can do on the track before moving towards the roads but there's no reason why you can't do both as well. This is almost like the first little stepping stone. Dipping my toes in the water to see what my future career will be on the roads."
Among those joining McColgan in racing on the south coast is defending champion Gemma Steel, two-time winner Jo Pavey and European and Commonwealth medallist Steph Twell.
Steel, who is also coached by Liz McColgan Nuttall, continues to work towards full fitness after some health issues and is keen to add to her recent win at the Great Scottish Run 10km and team medal at the Commonwealth Half Marathon Championships in Cardiff.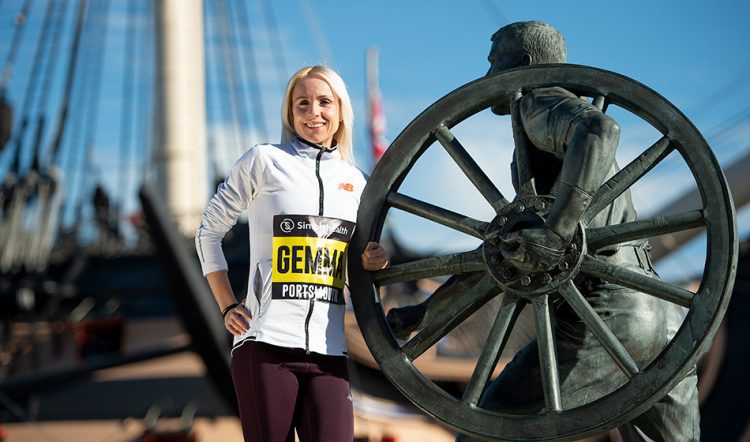 "I'm getting there," says the 32-year-old. "I'm getting back to a reasonable amount of fitness after being a bit ill and run-down in the last two months.
"I've had low blood sugar and low glycogen levels. Gilbert's Syndrome (a genetic liver condition) is what showed up on my blood test results. It has been a long process really.
"It was a nice confidence boost in Cardiff to win the bronze medal with the England team at the Commonwealth Half."
On her aims for Sunday, she adds: "I'm keeping an open mind really, I'm not putting too much expectation on myself. There are some good runners running but I'll be in with a fighting chance, hopefully, and can draw on my experience of the course."
Pavey and Twell will also be using the advantage of having raced – and for Pavey, twice won – the event in the past.
European 10,000m gold medallist Pavey won in 2006 and 2012, while Twell competed in 2010 when she placed sixth, one place behind Steel in her breakthrough race.
Full elite start lists can be found here, while the action will be televised on Channel 5 on Sunday from 10am with full coverage in the October 25 issue of AW.