The world 100m and 200m record-holder has six Olympic and 11 world gold medals to his name and here we take a look at his top 10 races
When it comes to wrapping up his great career, Usain Bolt has the finish line in sight. But he has no plans to coast through the closing stages. Instead, in typical style, he intends to finish with a flourish, defending his titles at the Olympic Games in Rio this summer followed by the IAAF World Championships in London next year.
The Jamaican turns 30 on August 21 – the day of the closing ceremony in Rio – and the world record-holder has little intention of carrying on into his mid-30s. Retirement beckons. But first he will tackle two of his biggest challenges in Rio 2016 and London 2017.
Here we take a look at the top 10 races of his career so far.
10
London 2012: 4x100m relay
Running the anchor of the 4x100m, Bolt took the baton from Jamaican team-mate Yohan Blake and was level with Ryan Bailey going into the final leg. He blasted away from the American to come home in a world record of 36.84. In second, United States ran a national record but Bolt was unstoppable and then celebrated by pinching Mo Farah's 'mobot' pose.
9
London 2012: 100m
An Olympic record of 9.63 brought Bolt gold in the blue ribbon event at the London Games as he successfully defended his title from Beijing. Not even a bottle thrown at the athlete by a spectator just before the start could put him off as he scorched away from Yohan Blake and USA's Justin Gatlin to take gold.
8
London 2012: 200m
Bolt became the first man in Olympic history to retain the men's 200m title with a fierce exhibition of sprinting. Out in lane six, he came into the home straight just ahead of Yohan Blake on his inside, but Bolt held his form to equal Michael Johnson's 19.32 winning time from Atlanta 1996.
7
New York 2008: 100m
Largely unknown to the general public, Bolt lined up in only his fifth senior 100m race in New York on May 31 in 2008 and set a world record of 9.72. It was the young Jamaican's breakthrough performance and set the scene for the Beijing Olympics just a few weeks later.
6
Beijing 2008: 200m
After having already taken the 100m title in a world record at the Games, Bolt came into the 200m determined to win in a fast time. There was no showboating as he ran the bend hard, came into the home straight with a lead and then made world-class sprinters like Churandy Martina, Wallace Spearmon and Shawn Crawford look ordinary as he surged away to win by more than half a second, smashing Michael Johnson's 19.32 world record with 19.30.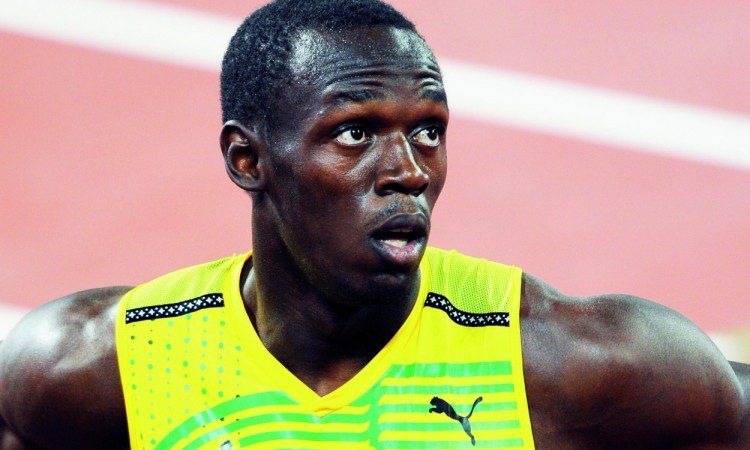 5
Manchester 2009: 150m
When clocking 14.35 for 150m down a straight track in the Great CityGames in Manchester, Bolt produced statistically the fastest piece of running ever seen. With no bend to slow him down, the Jamaican reached unfathomable speeds as he blasted down Deansgate in the English city as several thousand onlookers had the privilege of watching him for free.
4
Berlin 2009: 200m
Probably in the greatest form of his life, Bolt sped down Berlin's blue track to set an incredible 200m record of 19.19. Runner-up Alonso Edward of Panama clocked an area record of 19.81 but was well over half a second behind as Bolt showed he was in a different class.
3
Beijing 2015: 100m
Huge pressure faced Bolt before his much-anticipated showdown with Justin Gatlin at the World Championships. Gatlin was enjoying a huge streak of victories, but the Jamaican showed he is the man for the big occasion by winning a battle of nerves by one hundredth of a second – in 9.79 to Gatlin's 9.80 – as the American lost his form in the closing stages and desperately dipped for the line.
2
Berlin 2009: 100m
Racing in super-fast conditions and in amazing form, Bolt shot away from Tyson Gay to beat the American by two metres in a phenomenal world record of 9.58. Improving the world record by more than a tenth of a second, it took Bolt most of the bend to slow down after he crossed the finish line. This was Bolt at his best and it's hard to see any other sprinter taking this record down any time soon.
1
Beijing 2008: 100m
The Jamaican's 9.69 at the Beijing Olympics is not his fastest ever 100m, but this was the moment he truly introduced himself to the world as he improved his world record and soundly defeated a world-class field. Plus, the manner of his victory was incredible as he spread his arms out and showboated the final 20 metres, appearing to slow down in the process. After the race, people even spotted his shoelace had been undone!
» This top 10 list was first published in the May 5 edition of AW magazine as part of a spotlight feature on Usain Bolt. The May 5 magazine, featuring Bolt as cover star, can be ordered here or read digitally here