On the eve of the 2015 World Champs in Beijing, we choose our favourite moments from the previous 14 editions of the event
1. USAIN BOLT'S SPRINT DOUBLE – BERLIN 2009
Usain Bolt had achieved a world record double in the 2008 Olympics, but now as the sport's biggest star, he surpassed his Beijing efforts.
In the 100m, the Jamaican didn't ease back as he had the year before and improved his record from 9.69 to 9.58. Tyson Gay was a distant runner-up despite clocking 9.71.
In the 200m, despite Bolt thinking he wasn't as fit as he was in China, he went for it. An unprecedented 9.92 on the bend put him up on schedule and he held on magnificently for a 19.19 to take 0.11 off his record. His 50m splits were 5.60, 4.32, 4.52, and 4.75.
2. POWELL V LEWIS – TOKYO 1991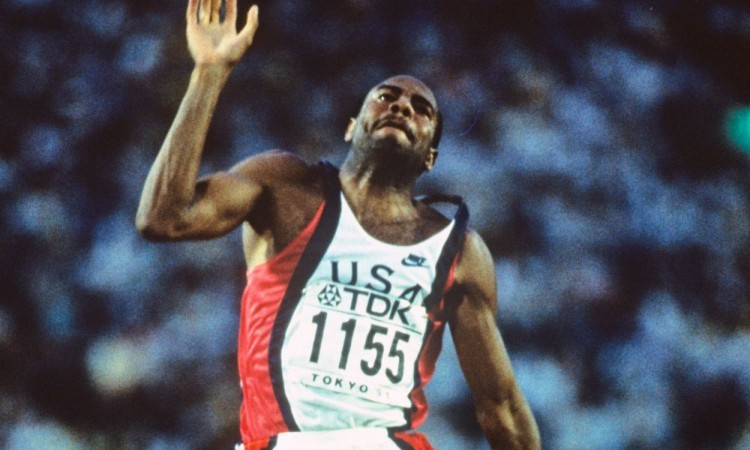 Bob Beamon's historic 8.90m long jump in Mexico 1968 was finally broken in an astonishing contest in Tokyo.
Carl Lewis, the 100m champion, who ultimately won four Olympic long jump golds himself, surpassed that mark with a windy 8.91m and had three jumps between 8.83m and 8.87m and five of the six best jumps but lost to Mike Powell, who jumped a world record 8.95m in the fifth round.
3. SERGEY BUBKA'S SIXTH WORLD GOLD – ATHENS 1997
Over a 14-year period, pole vaulter Sergey Bubka won every world championship and it might have been two more had there been the now two-year gap and titles available in 1985 and 1989.
His first gold was as an unknown teenager in 1983 and his sixth was as a 33-year-old, when his 6.01m was the highest ever in a major championships.
4. JONATHAN EDWARDS' WORLD RECORD – GOTHENBURG 1995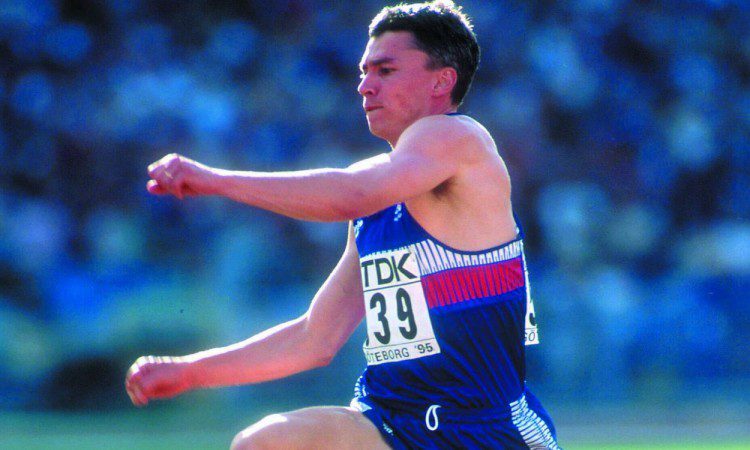 The British jumper had jumped a windy 18.43m, but his recently-acquired world record was a mere 17.98m when he lined up as favourite to win his first major title in Sweden.
The world record went in the first round with 18.16m, but there was more to come and his second round 18.29m – history's first 60 footer – still stands as the record 20 years later.
5. GB 4X400 GOLD – TOKYO 1991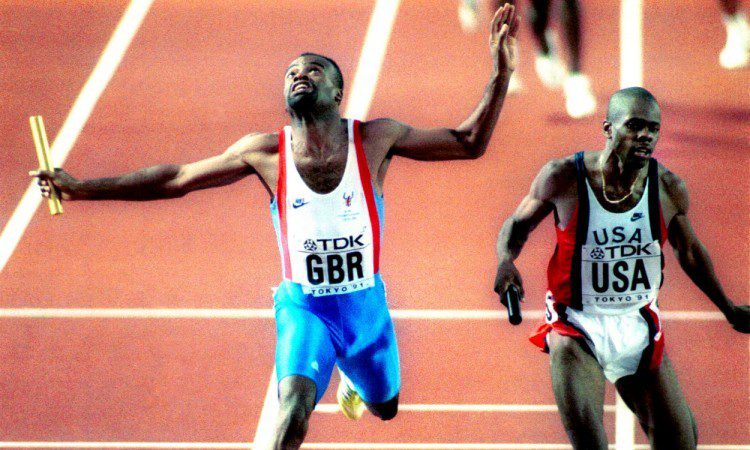 The USA had dominated the 4x400m in Olympic and world competition and Britain caused a big shock that they haven't been able to repeat since.
Roger Black, the 400m silver medallist (44.7) gave them a good start, but despite good legs from Derek Redmond (44.0) and John Regis (44.22), they started the last leg behind individual champion Antonio Pettigrew.
Kriss Akabusi, the 400m hurdles bronze medallist, wasn't favoured to overhaul the much faster American on paper, but he stayed behind and then edged by in the last 30 metres for victory by four hundredths in 2:57.53.
6. MICHAEL JOHNSON'S 43.18 – SEVILLE 1999
The American had won the three previous one-lap titles but saved his greatest 400m for Spain. After a relaxed 43.95 semi-final, he powered through 200m of the final in 21.22, but it was his 21.96 second half that was the more remarkable stat and he took 11 hundredths off Butch Reynolds' previous mark.
7. MO FARAH'S FIRST 5000M WORLD GOLD – DAEGU 2011
The Briton had been sixth and seventh in the previous two world championships over 5000m but was in the form of his life in 2011. He had kicked too hard too soon in the earlier 10,000m and had to settle for silver behind Ibrahim Jeilan, but here he ran the perfect race by holding the lead in the closing laps but saving something for the final sprint.
8. SALLY GUNNELL HOLDS ON – STUTTGART 1993
Olympic 400m hurdles champion Gunnell had to fight hard all the way to catch fast-starting Sandra Farmer-Patrick. The American fought hard even when she was caught and at the finish there was just 0.05 seconds between them. Gunnell's time was a world record 52.74 and she had not run faster than 53.16 in any of her other races before nor since.
9. COLIN JACKSON'S WORLD MARK – STUTTGART 1993
The British hurdler had been a big favourite in the 1992 Olympics but succumbed to the pressure. But here made no mistake in Stuttgart as he ran a near-perfect race to win in 12.91 and take 0.01 off Roger Kingdom's four-year old world record. There was a shock in second as team-mate Tony Jarrett improved from 13.13 to 13.00.
10. BRITISH 400M ONE-TWO – OSAKA 2007
Christine Ohuruogu was returning from a suspension for missed tests and her form was unknown prior to Daegu. Third into the home straight, she finished strongly to win in 49.61 and narrowly beat British team-mate Nicola Sanders as the pair was separated by just four hundredths of a second with Novlene Williams of Jamaica in third. The Briton regained her title six years later in an equally exciting race in Moscow and finally broke Kathy Cook's long-standing British record.
» There have been so many top moments in World Championships history – see the August 13 edition of Athletics Weekly magazine, which is available to order here or read digitally here – for our full feature including 20 favourite moments