British middle-distance great beats Sergey Bubka to succeed Lamine Diack and step into the top role at the sport's world governing body
Seb Coe has been elected as president of the International Association of Athletics Federations (IAAF) following a vote at the 50th IAAF Congress in Beijing ahead of the World Championships.
The British middle-distance great beat his fellow IAAF vice president Sergey Bubka to the top role at the sport's world governing body, Coe receiving 115 votes to Bubka's 92 as 207 member federations cast votes.
The two men had gone head-to-head in the hope of succeeding Lamine Diack, who steps down after having been IAAF president since 1999, with Coe becoming the sixth president of the international governing body. He will initially serve a four-year term which starts after the World Championships on August 31.
"I am deeply honoured that our sport has placed its trust in me," said Coe. "There is no job I want to do more – nor with greater commitment."
He also took to Twitter to say: "Delighted and humbled by the confidence shown in me by the IAAF family – thank you, now the hard work begins."
Coe, who led London's successful 2012 Olympic and Paralympic bid and chaired the London 2012 organising committee, won two Olympic 1500m gold medals in 1980 and 1984 and set 12 world records over middle distances during his athletics career before he retired from competitive track and field action in 1990. His election as IAAF president comes 34 years to the day after he broke the mile world record in Zurich.
Ukraine's Bubka, who was also a world record-breaker and set a total of 35 world pole vault records in his athletics career, has been re-elected as an IAAF vice president, having been an IAAF council member since 2001 and held a vice president role since 2007.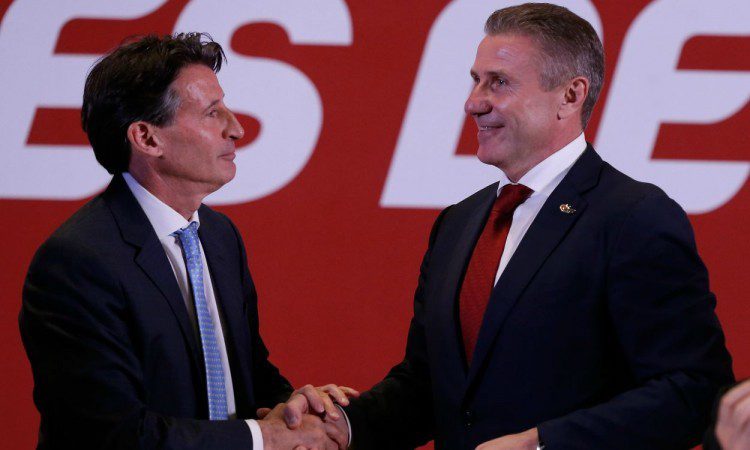 Other elected IAAF vice presidents are Dahlan Al Hamad, Hamad Kalkaba Malboum and Alberto Juantorena. Britain's two-time senior world cross-country champion and world marathon record-holder Paula Radcliffe has been elected on to the IAAF Cross Country Committee, while 2004 Olympic and 2007 world heptathlon bronze medallist Kelly Sotherton is among those on the IAAF Women's Committee.
Keith Davies, who is one of Britain's most experienced technical officials, takes up a role on the Technical Committee and Peter Marlow has been elected to the Race Walking Committee for a tenth time.
Coe, who had also been an IAAF vice president since 2007, initially outlined his vision for athletics in his presidential campaign manifesto entitled Growing Athletics in a New Age. In his manifesto, the 58-year-old detailed an action plan that promised to breathe fresh life into the sport and outlined four "key pillars": 'Embracing change to secure a better future', 'Decentralisation and empowerment', 'Maximising commercial growth' and 'Ensuring integrity and trust in everything we do'.
He followed this by unveiling a 100-day plan to be actioned immediately should he be elected as president. The establishment of a fully independent anti-doping agency was among the eight specific pledges revealed by Coe in June.
Commenting on Coe's election, UK Athletics chairman Ed Warner said: "It's momentous for the sport. The challenges facing athletics are such that we need a great president right now and I do believe Seb's got the range of skills and the character that's required to really pull us forward."
» Seb Coe wrote an exclusive column for the August 13 edition of Athletics Weekly magazine, which can be ordered here or read digitally here