The coaching great and Loughborough University stalwart tells of his route into coaching and a life which has been dedicated to the sport
The roots go back a long way. I can remember my childhood years, growing up and having to be inventive about our own games. You had to be a bit imaginative. I used to have football divisions going on and also included all of the names of people who were successful in things like cross country championships, I would have a course marked out in our sitting room and I'd have bits of paper with names on them – I'd flick them around and get my own result.
We even organised and competed in every event in our own Olympic Games on the estate where I grew up.
I studied to be a PE teacher at St Mary's. While there I became cross-country and athletics captain and I think that was the first time I got into telling other people what to do and how to do it. I gained a variety of coaching awards and in my final year at St Mary's I was a member of the British Milers' Club as a runner. They knew I was going back to the North East to teach. Somebody got in touch with me and asked if I would make contact with two young lads in South Shields with a view to continue to coach them when I went back there, so I did that. That was probably the beginning of it for me.
When I arrived at Loughborough in 1971 there were just eight members of the cross country club. There's one of these who's still around now (Steve Mitchell, British 1500m steeplechase record-holder until 2016), living just outside the town, and somebody asked him what his main memory was of me and he said: "I suddenly found out what it was like to work hard!"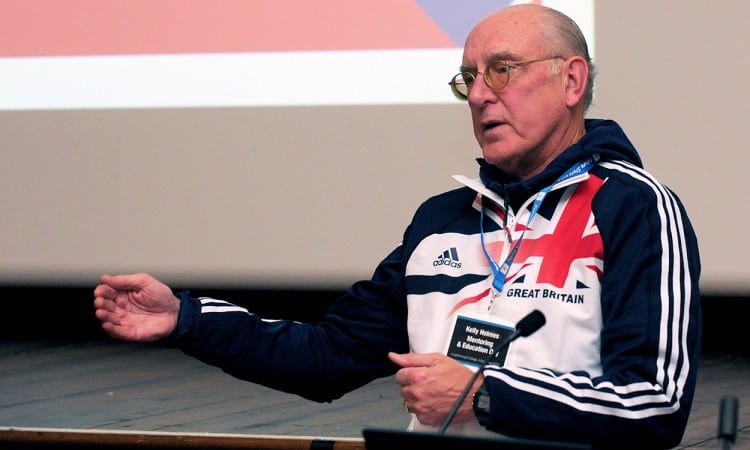 Our numbers grew to the extent where during the 1980s our record all-time numbers were 168 in a single circuit training session, and that was in a standard school-type gym. People kept opening the windows because it was too steamy and I kept closing them again with the justification that I was trying to make the atmosphere more humid so they were kind of getting a double advantage, getting ready for possibly competing somewhere in hot and humid conditions!
There was a lot of sweat on the polished wooden floor and I remember joining in with one of the circuit sessions and doing these lunges. The heel of my leading foot started sliding and I involuntarily did the splits! I don't think my hamstrings have recovered from that, even now.
For the most part, I don't think coaches get enough recognition. For instance, at the London Olympics, the volunteers were amazing and they were lauded to the rooftops. But probably more than half the successes in the British team were actually coached by volunteer coaches, so they were volunteers as well. And who got the glory for the successes? The British team hierarchy took it but at least half of the praise should have been going out to individual coaches on the basis that it wasn't their full-time occupation and in nearly all the cases they weren't earning any money for what they were doing.
I believe in inspiration. I have drawn inspiration, almost daily, from a lot of people in a lot of walks of life. You sometimes find it in the most unexpected places. That fuels me, my own commitment and enthusiasm, it helps to prolong and enhance it.
» This is an extract from a three-page feature published in the June 7 edition of AW in which George Gandy shares insight into his life as a coach and his successes. A digital edition is available here