UK, Road, November 13-14, 2021
Heaton 10km, November 14
Calum Johnson, the reigning English National champion from his win in Nottingham in 2020, was a clear winner in a course record and big PB of 28:28.
Adrian Bailes was two minutes back in second in 30:23.
Sonia Samuels, who won her English National title – at junior level – in 1999 – was an easy women's winner in 33:32 and she also set a course record.
Second place in 35:54 went to the 1994 National Under-15 winner Justina Heslop, who is also now in the W40 age group.
Sonia Samuels (David Hewitson)
Overall:
1 Calum Johnson (Gate) 28:28 (28:26 chip)
2 Adrian Bailes (Birt) 30:23
3 Jarlath McKenna (B&W, M40) 30:24
4 Sam Hancox (Morp) 30:26
Women:
1 Sonia Samuels (Sale, W40) 33:32 (33:29)
2 Justina Heslop (Els, W40) 35:54
3 Alexandra Sneddon (J&H) 36:18
Essex Remembrance Runs, Saffron Walden, November 13
Former European Junior 800m champion Khahisa Mhlanga won the overall 5km in a chip time of 16:55 just ahead of leading men James Lawler (17:00) and Alex Weatherill (17:04).
W70 marathon breaker Yuko Gordon was timed at 22:25 in her 5km to equal her UK age group lead and it was 17 seconds short of Angela Copson's UK mark.
Alex Hardy won the men's half-marathon by seven minutes in 75:48.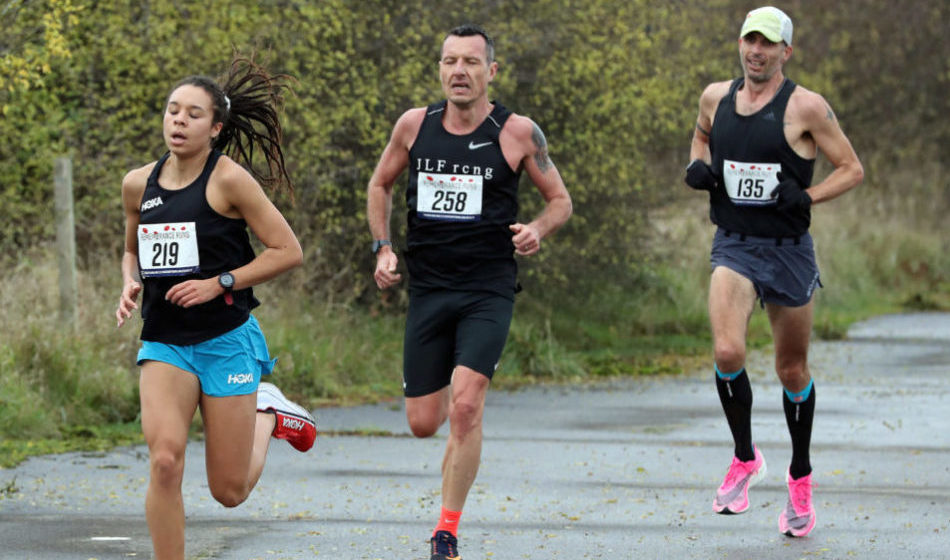 Khahisa Mhlanga (Mark Easton)
Overall (26.2km):
1 J Bethell 1:41:01; 2 M Shaw 1:46:51; 3 R Dyer (Gt B, M40) 2:03:00
Women:
1 S Gurung 2:10:47; 2 M Breeze (Pits, W60) 2:54:51; 3 K Knight (Reig, W55) 4:38:49
Overall (5km):
1 K Mhlanga (Herts P, W) 16:58; 2 J Lawler (EMAC, M45) 17:05; 3 A Weatherill (M40) 17:07
U15: 1 C Minnette (Haver) 17:45
Women:
1 Mhlanga 16:58 (16:55 chip); 2 C Thurgood (C&C, W35) 17:45; 3 O Baker (C&C) 19:38
W70: 1 Y Gordon (FVS) 22:32
Overall (10km):
1 P Roberts (Royst) 36:24; 2 D Carter (Royst) 37:52; 3 D Hall 37:54
Women:
1 A Philp 38:23; 2 I Klavina (Hunts, W40) 41:36; 3 R Featherstone 42:26
Overall (HM):
1 A Hardy (Orion) 75:48; 2 C Wartnaby (C&C, M50) 82:44; 3 R Hearn 85:49
Women:
1 A Eddery` (Walden Tri, W35) 95:44; 2 K Madej (W35) 96:04; 3 I Egerton 98:33
Regents Park 10km, November 14
Overall:
1 S Williams 36:27; 2 C Louloudis 37:57; 3 H Heatherwick-Lammers 38:23
Women:
1 A Arnold 39:02; 2 J Glover 41:24; 3 A McGraw (Woking, W35) 41:55
Poppy 10km, Boston, November 14
Overall:
1 O James (K'worth, M40) 34:56; 2 J Jones 36:34; 3 S Dowse 38:28
Women:
1 L Astley (W50) 44:23; 2 E Penson (Bost, W40) 48:50; 3 K Hindle (W40) 53:15
Stebbing 10, November 14
Overall:
1 S Cousins (Spring S) 51:12; 2 C Burgoyne (Spring S, M40) 55:23; 3 M Mckeown (Col H, M40) 56:56
M55: 1 C Ridley (Col H) 58:59

M60: 1 P Mingay (Col H) 58:26; 2 T Knightley (Ilf) 62:55; 3 N Rankin (Ben) 63:32; 4 P Tullett (Chelm) 63:55; 5 I Macdougall (Saff) 65:16
Women:
1 H Hogan-Steele (Col H) 62:27; 2 L Colman (S'end, W40) 64:03; 3 T English (Col H, W40) 64:54
W45: 1 K Chapman (Bish S) 66:00
EDF Lydd 10km, November 13
Overall:
1 M Smith (Ashf) 31:07; 2 C Gibbens (Inv EK) 31:23; 3 M Dumbrell 31:28
M70: 1 M Davies (Ashf D) 44:19; 2 J Wigley (Inv EK) 44:41
Women: 1 J Levett (Hast, W35) 40:49; 2 N Morris (Tun W, W50) 45:35; 3 C Harvey (Crow, W45) 45:38
Elan Valley 10, November 13
Overall:
1 M Jones (M40) 57:56; 2 O Graham 58:53; 3 E Land (Aberys, M40) 59:13
Women:
1 D Morris (BAD RC) 64:03; 2 F Price (Maldwyn) 65:26; 3 C Davies (Sarn H) 73:28

W65: 1 A Worthing (Aberys) 80:34
Glen Cova Half-Marathon, Kirriemuir, November 13
Overall:
1 R Harrison (Monifieth Triathlon Club, M40) 76:22; 2 J Bowden (W'lands) 78:55; 3 S Robertson (Perth RR, M50) 78:58
M65: 1 T Martin (Fife) 94:32
M70: 1 T Kirk (K&S) 1:40:15
Women:
1 E Watt (JSKRC) 87:15; 2 S Attwood (Skye&L, W35) 88:44; 3 A McNeilly (Dund RR, W40) 91:18
W65: 1 M Martin (Fife) 1:45:52
Pavilion Gardens 5km, Buxton, November 13
Overall:
1 L Parker (Stock H, U20) 16:59; 2 D Finch (Bux, M45) 17:51; 3 D Reeves (Bux, M45) 19:19
Women:
1 C Jenneson (Bux, U15) 22:07; 2 J Taylor (Bux, W55) 23:28; 3 K Brown (Bux, W45) 24:37
Borders League 5, Capenhurst, November 14
Individual results still provisional
MEN:
TEAM – Div.1:
1 Buck 251
2 W'sey 264
3 Wrex 302
4 W Ches 403
5 Wirr 404
6 Elles P 944
7 Eryri 4380
Div.2: Hels 478
VETS TEAM:
1 W Ches 481
2 Wirr 496
3 W'sey 576
Women:
TEAM – Div.1:
1 W Ches 19
2 Wirr 25
3 Buck 80
4 Hels 139
5 W'sey 141
6 Elles P 145
7 Ches TC 211
Div.2: Dees 45
VETS TEAM:
1 W Ches 9
2 Buck 59
3 Deestr 73
Supernova Kelpies 5km Sunday, November 14
Overall:
1 H Pagett 16:54
2 R Myers 17:24
3 V Mueller 17:39
Women:
1 N McGregor 20:46
2 A Strickland 20:59
3 K Holm (W40) 21:03
Colin Shields 4.5-Mile Time Trial, Greenock, November 13
Overall (all G'nock):
1 N Lafferty (M40) 24:45
2 O Reilly 26:03
3 K Wilson 26:05
Women:
1 M Monk 31:56
2 L Hunter 32:29
3 F McFarlane (W35) 33:27
Supernova Kelpies 5km Saturday, Falkirk, November 13
Overall:
1 J Grant 16:15
2 A Grant 17:41
3 S O'Neill 19:21
Women:
1 G Christie (W35) 21:18
2 V Munday 21:38
3 C Elliot 22:30
Marden 10km, Kent, November 14
Overall:
1 N Chapman (Ton) 34:20
2 D Lilley (Orp) 34:34
3 L Jestico (Horsh J, M40) 36;12
Women:
1 B Morrish (Padd W) 39:09
2 M Gerbaud 44:56
3 S Smith (W35) 46:48
Tamworth 10km, Staffordshire, November 14
Overall:
1 J Bennett (Bir) 31:28
2 W Beeston (Ton) 32;46
3 J Pickering (Lich) 34;50
Women:
1 A Halcarz (Ivanhoe) 35:54
2 R Burchell (W35) 37:39
3 N King 38:23
4 E Watters (Bir) 38:43
W40: 1 L Hill 40:39
W55: 1 L Beesley 43:05
Supernova 5km Kelpies Friday, Falkirk, November 12
Overall:
1 A Malvern 18:27
2 S Hill (M55) 19:55
3 E McLoone 20:06
Women:
1 M Smith 20:10
2 L Christy 20:21
3 K Alexander 20:31
Metro Aberdeen Proms 3km, Aberdeen, November 12
Overall:
1 M Edwards (TVH) 8:39; 2 M Abernethy (Fraser) 8:52; 3 M Mueller (Metro) 9:36
Women:
1 J Bannerman (I'ness) 10:26; 2 H Taylor (A'deen, U17) 10:44; 3 J Hoyle (JSKRC, W40) 11:07