High jumper soars to 2.40m at Müller Grand Prix on Sunday
Mutaz Barshim is set to be Qatar's big gold medal hope when the Middle East country stages the next IAAF World Championships in 2019. In Birmingham on Sunday he showed why when he cleared a meeting and stadium record and a world-leading mark of 2.40m to win the high jump in style.
The 26-year-old, who won the world title in London this month, saw off the challenge of Majed Aldin Ghazal – the Syrian clearing a best of 2.31m – as the Qatari athlete cleared 2.33m and 2.35m at his first attempts before failing at 2.39m and then raising the bar to 2.40m, which he soared over to the delight of the Alexander Stadium crowd.
"I'm going to work with my agent to take that bar home," Barshim laughed, as he beat his own world lead of 2.38m, not to mention his own stadium and meet records. "I'm serious, I'm taking that bar home with me!"
He added: "I knew I had that jump in me but I needed that pressure on my shoulders. It was a strong competition which really tested me and that made me perform at my best. I love it here, I had the meeting record here from 2014 and I also won in Birmingham last year so it is a lucky place for me. I got so much support from the fans and my fellow competitors which really helped me to perform to my best."
In third, English Schools champion Tom Gale showed his potential although his best of 2.24m was short of his 2.30m PB. Robbie Grabarz was also below his best, finishing seventh with 2.20m.
Tom Walsh showed his world shot put title win in London was no fluke as the New Zealander won a thrilling contest against Olympic champion Ryan Crouser.
Crouser held the lead from round one after equalling the stadium record of 21.55m – a distance that he threw twice – but Walsh hit back with 21.75m in the fifth round and then a 21.83m sixth round effort to take victory as the stadium record – held by Dylan Armstrong and Carl Myerscough – fell.
"My biggest worry was not performing like a world champion," said Walsh. "I wanted to prove I deserved to be world champion and I'm pleased that I did that."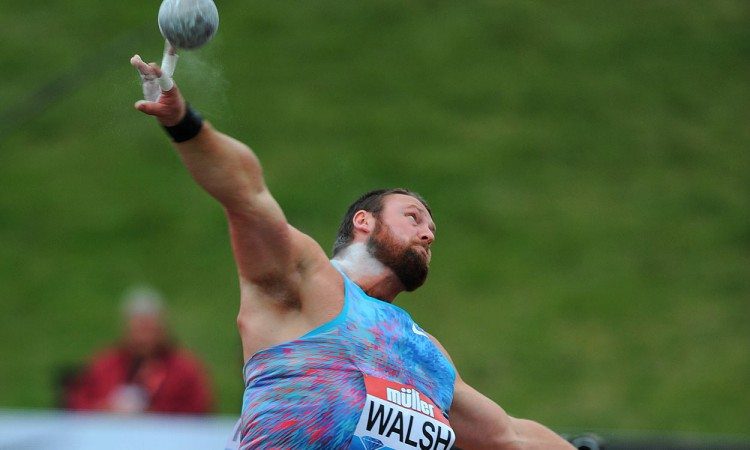 A week after his disastrous DQ in the 20km walk at the World Championships, Tom Bosworth was smiling again when he held off Adam Clarke in a novel walk vs run race. With the duo setting off at the same time, Bosworth race-walked 1000m while Clarke, a 3:38 1500m man, ran 1400m – and Bosworth prevailed by a few metres in 3:28.30.
"I found that absolutely great fun – that's how athletics and sport should be," said Bosworth. "It's been a difficult week and I didn't know how it would go here. I made a mistake last week but it is a lesson learned."
Another unusual event saw Poland defeat Britain in a mixed hammer competition. Pawel Fadjek, who won his third world title in London this month, came close to the stadium record with 78.51m as fellow Pole Joanna Fiodorow threw 71.14m to beat Nick Miller and Sophie Hitchon, who threw 71.69m and 70.96m respectively. For many athletes the season is almost over, but Fadjek flies straight to the World University Games in Taipei this week where he is going for his fourth global student title.
Elsewhere, Jarrion Lawson took the men's long jump with 8.19m, while Aries Merritt ran 13.29 to beat Sergey Shubenkov in the men's 110m hurdles.
In para-athletics events, South African teenager Ntando Mahlangu beat Richard Whitehead in the T42 200m in 23.16 (Whitehead finished runner-up but was later disqualified) while another British blade runner, Jonnie Peacock, ran 11.03 to beat Jarryd Wallace of the United States in a T44 100m shoot-out.
"I'm happy because it's the first time I've put my leg on since the Paras final," said Peacock, who has suffered from a sickness bug and a cold since the World Para Athletics Championships.
A report on further men's events action in Birmingham can be found here, while a women's events report is here.
» Find full coverage from the Müller Grand Prix in Birmingham in the August 24 issue of Athletics Weekly