British sprinter finishes almost half a second ahead of Olympic champion Elaine Thompson in Diamond League 200m
Cool temperatures and blustery winds led to a number of upsets at the Diamond League in Stockholm on Thursday (May 30) but the testing conditions did not bother Dina Asher-Smith.
The British athlete is used to this kind of weather and scorched away from a world-class field to win in 22.18 (1.3m/sec).
Olympic champion Elaine Thompson of Jamaica was almost half a second behind in 22.66 with world champion Dafne Schippers of the Netherlands a further 12 hundredths of a second back.
Asher-Smith also had a pleasant surprise by discovering her mum, Julie, had decided to visit the Swedish capital to watch. I didn't know my mum would be here," said the 23-year-old. "She tends to just turn up so when I saw her I was so happy."
Asher-Smith handed her victory bouquet of flowers to her mum after the race and added: "Next week is Rome Diamond League then I will be back to solid training. I am happy with that. My aim was to come, win and run my own race which is very important in a race of that calibre."
The European champion added: "I was very happy to win but I didn't expect to run that kind of time as it is quite cold out and late at night."
Thompson said: "Dina is a great athlete. She's been doing great last season, and to come here and get a win is very good."
On a good night for British athletes, Laura Muir also returned to winning ways after finishing third behind winner Melissa Courtney in the Vitality Westminster Mile four days earlier.
Muir was not at her best in the London event due to hay fever and after having just finished a tough block of training but in Stockholm she cruised away from her rivals in a non-Diamond League 1500m with a 61.7 last lap to clock 4:05.39 – three seconds ahead of runner-up Malika Akkaoui of Morocco.
In fourth came Muir's training partner Jemma Reekie in 4:10.16 while Sarah McDonald, who beat Muir in the Westminster Mile, was fifth in 4:11.01 and Amy Griffiths eighth in 4:13.80.
"I feel very happy with that," said Muir. "It is much more representative of where I am at.
"I was quite disappointed after last weekend's race. Today was about the win rather than the time with the conditions as they are. I am happy that I executed the race well and got the win.
"I knew from training I was in really good shape last weekend so it is frustrating when you know your race and can't do what you want but I had heavy legs from a full week of training. I had much fresher legs today."
"I knew I was in good shape, I just wanted to show it today and I'm glad I could do that…" @lauramuiruns speaks with @stuartweir after her 1500m win at @BAUHAUSGALAN. Meet report ➡️ https://t.co/X9M6XR8F7I @scotathletics pic.twitter.com/z35n3V4dya

— Athletics Weekly (@AthleticsWeekly) May 31, 2019
The chilly and gusty weather played havoc with some of the results. Competing on home soil, Swedish athlete Thobias Montler handled it better than his high-profile rivals to produce a surprise win in the long jump with an 8.22m (1.5) PB.
The previous year Juan Miguel Echevarria almost jumped out the pit with a massive 8.83m (2.1) and since then the organisers had extended the pit at the 1912 Olympic Stadium. But this time Echevarria could only manage 8.12m to finish runner-up as Olympic champion Jeff Henderson was third, Luvo Manyonga fourth and Miltiadis Tentoglou – who beat Montler to the European and outdoor titles in the past 12 months – sixth.
The home fans in Sweden were also delighted to see a victory in the men's discus as Daniel Stahl threw a fine 69.57m to beat Jamaican Fedrick Dacres' 68.96m.
But there was a turn-up in the women's discus as Sandra Perkovic, the Olympic and world champion from Croatia, finished fifth with 63.71m as Denia Caballero threw 65.10m to beat fellow Cuban Yaime Perez by one centimetre.
Agnes Tirop of Kenya took the win in the women's 5000m in 14:50.82 after fellow Kenyans Lilian Rengeruk and Hellen Obiri fell earlier in the race.
Not only did Britain's Eilish McColgan and Melissa Courtney manage to stay upright but they both ran well. Only a day after discovering her house in England had been burgled, McColgan finished a close seventh in 14:52.40 while Melissa Courtney was eighth in a Welsh record of 14:53.82.
"I'm really happy with that. It's the first time I've felt like myself in probably about six months…" @EilishMccolgan reflects on a strong @BAUHAUSGALAN 5000m run (14:52.40 for 7th) which came after a stressful build up as she had medals & more stolen in a burglary back home. pic.twitter.com/IYDl5MfTJW

— Athletics Weekly (@AthleticsWeekly) May 31, 2019
A much-anticipated men's 1500m was a bit of an anti-climax as Timothy Cheruiyot won in 3:35.79 after erratic pacemaking that saw the rabbits go through 200m in 25 seconds. Ayanleh Souleiman finished second as Jakob Ingebrigtsen – underpar after a recent bout of illness – went from sixth to third in the final 150m as big names floundered with Samuel Tefera fifth and George and Eiljah Manangoi eighth and tenth.
Norwegian Karsten Warholm did not let the conditions bother him, though, as he won the 400m hurdles in typically aggressive style in a fine 47.85 as Brits Sebastian Rodger (50.50) and Jacob Paul (51.29) placed fourth and sixth.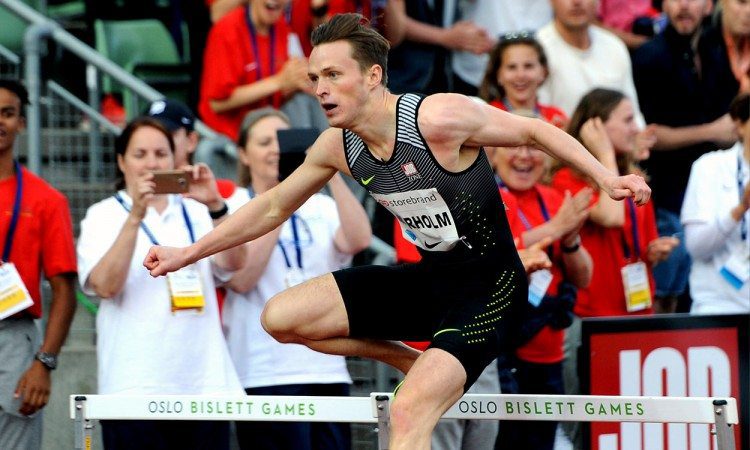 "I had no problems with the cold or wind but I won in London (2017 world title) in the rain and I have to learn to run in all conditions," said Warholm. "It is an outdoor sport so whether it is cold or warm I have to run."
Mike Norman's 400m of 44.53 was also good in the conditions as he comfortably beat fellow American Rai Benjamin (45.13).
.@Mike_Norman22 stormed to 400m victory in his first Diamond League race at @BAUHAUSGALAN last night and afterwards he spoke with @stuartweir. Next up, @goldengala_roma.
Stockholm meet report ➡️ https://t.co/X9M6XR8F7I @usatf pic.twitter.com/ae8OIZvuS1

— Athletics Weekly (@AthleticsWeekly) May 31, 2019
The cold weather also did not seem to affect Keni Harrison as she ran a quick 12.52 (1.3) to win the women's 100m hurdles in style from fellow American Sharika Nelvis.
World record-holder Harrison said: "I have raced in a lot colder conditions so I just had to come out here and focus on my lane and get the job done which I did."
Post-race reaction from 100mH winner @Ken_AYE_ (12.52) at a chilly @BAUHAUSGALAN. Meet report ➡️ https://t.co/X9M6XR8F7I @usatf @stuartweir pic.twitter.com/zXT25SGx15

— Athletics Weekly (@AthleticsWeekly) May 31, 2019
Wearing arm warmers, Mariya Lasitskene took the women's high jump for the fourth time with 1.92m from Yuliya Levchenko and Erika Kinsey (1.90m).
Aaron Brown of Canada ran 20.06 (1.0) to beat world champion Ramil Guliyev of Turkey (20.40) in the men's 200m, whereas one of the most entertaining races of the night was a men's 800m that saw Amel Tuka surging from seventh place with 100m to go to pip Ryan Sanchez on the line to win in 1:46.68.
Due to the absence of Caster Semenya and Francine Niyonsaba, the women's 800m was one of the most talked about events as Ajee Wilson of the US cruised to victory in 2:00.87 from a field that included Lynsey Sharp, the Briton clocking 2:03.52 in seventh.
In the earlier non-Diamond League events, Rabah Yousif beat fellow Brit Cameron Chalmers by three hundredths of a second to win the 400m in 46.67.
Final event of the evening saw a fast 10,000m played out in front of a near empty stadium. Rhonex Kipruto of Kenya ran a world lead of 26:50.16 as he beat Richard Chelimo's 1993 meet record as Hagos Gebrhiwet was runner-up 11 seconds behind.
» See the June 6 issue of AW for more