Sprinter Amy Hunt comfortably wins 200m as 800m runner Isabelle Boffey and hurdler Josh Zeller also take titles on Saturday at European U20 Champs
Three gold medals for British athletes highlighted the third day of action at the European Athletics Under-20 Championships in Borås, Sweden.
Isabelle Boffey (800m), Amy Hunt (200m) and Josh Zeller (110m hurdles) were crowned European champions on a day when the team collected four other medals: Amber Anning (silver, 400m), Josh Lay (bronze, 1500m), Keely Hodgkinson (bronze, 800m) and Lucy-Jane Matthews (bronze, 110m hurdles).
It was difficult to see beyond Hunt when looking for a potential winner of the 200m. The recent-setter of a world under-18 record of 22.42, she came into the championships more than three quarters of a second quicker than anyone else in her age group on the continent this year. She duly delivered with a winning time of 22.94 into a 1.7m/sec headwind.
The 17-year-old had only a slight lead coming off the bend but powered away for victory by a massive margin of 0.66 seconds. France's Gemima Joseph came in next and Belgium's Lucie Ferauge clocked 23.63 for bronze.
Hunt, who all being well will be part of Britain's quartet in the 4x100m on the final day of the championships on Sunday, said: "I had an amazing start for once, really powered around the first bit of the bend and tried to maintain it in the second half and I really went for it down the home straight. I could hear my name being screamed, which is really special – it was really awesome.
"It is incredible. It has been a quick turnaround but a great learning curve. I have learnt a lot about myself and how my recovery works and the team that support me."
The other Brit in the final, Georgina Adam, was fifth in 23.75. Hannah Kelly went out in the semi-final earlier in the day after clocking 23.76 for sixth.
In the women's 800m Boffey was a convincing winner in a PB by nearly a second of 2:02.92. After Switzerland's Delia Sclabas took them through the bell in 60.93 and held a decent lead at 500m, Boffey reeled her in and went away to add to her European under-18 title in 2016.
Boffey's team-mate, Keely Hodgkinson, also came back at Sclabas but, after a tense battle, was unable to pass her in the home straight. Sclabas was just four hundredths in front as Hodgkinson could nevertheless be happy with a PB of 2:03.40 and bronze. The European youth champion is still an under-18 and has two years in the junior age group after this.
Britain's Sarah Calvert was seventh in a PB of 2:05.68.
Reacting to her win, Boffey said: "I am buzzing. It was such a good race and I am so happy with myself that I went for it in the last 250m because it paid off. I knew someone was going to go for it and she (Sclabas) did but I knew if I ran my own race I could challenge with my kick."
Zeller completed a great display of hurdling as he clocked 13.39 to come home well clear. Netherlands' Mark Heiden was second with a PB of 13.58 and France's Paul Chabauty was third in 13.64. Zeller (below) said: "I feel great. I came here for that gold medal and it feels so amazing to have gone and done what I have been thinking about for however many months. It feels amazing.
"Yesterday my race was technically better but it doesn't matter because everything I put out on the track there did the job. At a championships like this it isn't always about times but who crosses that line first. I did that today and I am going to be going home with a gold around my neck."
Neutral athlete Polina Miller, the pre-race favourite, took gold in the 400m in 51.72 as GB's Anning impressively took silver. After her strong finish, her 52.18 lifted her to third on the UK all-time under-20 list. Not since 1982 has a British junior run as quick. Britain's Louise Evans (54.06) was seventh.
In the 1500m, Lay agonisingly missed out on gold after having what appeared to be a winning lead with 100m to go. He was in front at the bell and powered away over the next 200m, but Portugal's Nuno Pereira led the chase and passed him with 10m remaining.
The winning time was 3:55.85 as Netherlands' Robin van Riel came by on the Brit's inside for silver in 3:56.03. Lay, who was fastest on this season's times held on for the medal in 3:56.20.
Matthews had the race of her life as she claimed bronze in the 100m hurdles in a UK under-18 best of 13.38. The youngest athlete in the field was 0.13 under her previous PB.
Sweden's Tilde Johansson was a clear winner, taking more than two tenths from her PB with 13.16. The home nation favourite could leave the stadium on Sunday with a second gold as she lines up in the long jump as favourite.
In the hammer, Britain's Charlotte Williams held a medal position until round four, but eventually placed fourth behind winner Valeriya Ivanenko of Ukraine (65.83m). Williams threw 61.24m in the first round but ultimately could not match Germany's Samantha Borutta (63.53m) and Hungary's Zsannett Nemeth (61.99m) for the final medals. Her team-mate Charlotte Payne was seventh with 59.61m.
Britain had high hopes in the men's 200m, but Joe Ferguson, who was second on the season rankings, could not take his place in the semi-final on Saturaday morning due to a calf injury he sustained in his heat on Friday. Ireland's Aaron Sexton thus went into the final as favourite but was marginally run out of the medals in fourth in 21.18. Gold went to Netherlands' Onyema Adigida in 21.08 as Germany's Elias Goer (21.16) took silver. Third was Italy's Mattia Donola in 21.18 while Britain's Praise Olatoke was fifth in 21.21.
Germany's Paula Schneiders upstaged her team-mate and the pre-race favourite to win the women's 3000m steeplechase. She ran a PB of 10:08.66 as Claire Palou set a French junior record of 10:12.31 in coming through strongly for silver. Germany's Josia Papenfuss, the fastest junior in Europe this year, was third in 10:12.42. Britain's Holly Page was ninth in 10:29.98.
In the 3000m, Germany's Elias Schrebl took victory after leading a group of four who were together at the bell, clocking 8:16.07. Serbia's Milos Malesevic was second in 8:16.68 and Turkey's Omer Amactan was third 8:17.51 as the first four set PBs. Britain's Max Heyden was fifth with 8:18.73 and team-mate Ben West was 12th in 8:26.03.
Italy's Edoardo Scotti, who was fourth at last year's World Under-20 Championships, clocked 45.85 to win the 400m. Britain's Ethan Brown finished strongly but had to be content with fifth in 46.45, just one hundredth outside his PB.
Long-time decathlon leader Simon Ehammer wrapped up the title, ending with a Swiss junior record of 7851. That put him 151 points ahead of Netherlands' Leon Mak, while Britain's Joel McFarlane (7203) and Jack Turner (7040) were 14th and 18th respectively. McFarlane added to his two PBs from yesterday with another in the hurdles, running 15.12.
Ukraine's Yaroslava Mahuchikh (below) took high jump gold with 1.92m. After adding to golds in the world and European under-18 championships over the past two years, she had three tries at a world junior record height to 2.02m and was close on one attempt. Neutral athlete Adelina Khalikova took silver with 1.90m, the best by a European under-18 athlete this year. Another neutral athlete, Natalya Spiridonova, filled the bronze medal position with 1.87m.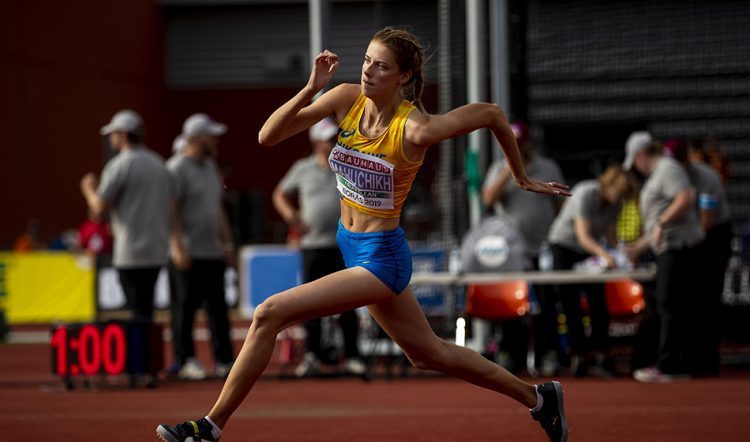 Norway's Pal Haugen Lillefosse cleared a best of 5.41m to take pole vault gold. With silver going to Ukraine's Ilya Kravchenko (5.31m), France's Robin Emig (5.31m) won bronze. Rankings leader Matthias Orban of France was just fifth with a clearance of 5.11m.
On the triple jump runway, Spiridoula Karidi went out to a Greek record 14.00m in the first round, adding 36cm to her PB and was not caught. Bulgaria's Aleksandra Nacheva took silver on 13.81m and Latvia's Ruta Lasmane the bronze with 13.48m.
There was massive disappointment for the British team in the 400m hurdles for men as Alistair Chalmers, by far the quickest in Europe in the age group this year, was disqualified at the semi-final stage for running outside of his lane. Britain's Seamus Derbyshire did win his heat, however, as he clocked 51.30, but Sweden's Carl Bengtstrom won the other semi in 50.71 and will go into the final as favourite.
Britain's Marcey Winter safely progressed through to the final of the women's 400m hurdles, qualifying automatically in second in her heat with 58.67.
GB's Sarah Omoregie made it through to the final of the shot put, seventh best in qualifying with 15.10m. However, team-mate Serena Vincent, with a best of 14.21m, didn't make the cut.
After finishing fourth in the heptathlon on Friday, Holly Mills safely progressed to the final of the long jump, registering a best of 6.28m. That put her fourth best as Italy's Larissa Iapichino led the qualifiers with 6.50m. Fellow Brit Josie Oliarnyk went through as 10th best with 6.12m.
Britain's 4x400m relay squads had mixed results in the semi-finals. The women's quartet of Natasha Harrison, Maisey Snaith, Nayanna Dubarry-Gay and Hannah Foster were second in their heat behind Poland with 3:39.84
The GB men's quartet, after runs from Lewis Davey, Callum Dodds and Ben Hawkes, led on the final leg of their heat. However, their campaign came to an end as Michael Fagbenie pulled up injured after 70m. France were quickest overall with 3:09.96.
» See the July 25 issue of AW magazine for full coverage from Borås