Aldershot dedicate women's gold to Stacey Burrows and Lucy Pygott, while Tonbridge take first senior men's title in Mansfield
As Aldershot, Farnham & District's anchor leg runner, Emily Hosker, crossed the finish line in first place in the senior women's race in Berry Hill Park on Saturday, she had a lump in her throat and a tear in her eye. Twelve months earlier, Stacey Burrows and Lucy Pygott had raced in the same event but were tragically killed three days later when a car knocked them over while they were training. "We were determined to win for them today," said Hosker.
The annual Saucony English Cross Country Relay Championships on the popular Mansfield course featured record entries this year as dozens of clubs parked their tents at the side of the course to cheer on their teams. Aldershot traditionally enjoy success in this event – in 2017 they won five of the ten races – but there was extra motivation to succeed this year and in the women's race they faced tough opposition from a Leeds City trio of Claire Duck, Stevie Stockton and Lucy Crookes, plus the ultra-experienced Charnwood squad of Anne Holyland, Juliet and Jane Potter.
Katie Bingle got Aldershot off to a solid start in third place before Emelia Gorecka showed she is putting her injury problems behind her by scorching into an insurmountable lead on stage two. Then Hosker held the lead to give Aldershot the win by 54 seconds from Leeds, with Charnwood third.
"We were so desperate for the win today because we just wanted to do it for the girls," said Hosker. "It was the only thought we had. Whenever we were tired in the race, we thought 'they wouldn't give up, so we can't either'.
"It meant so much. I was choking up as I crossed the line. We won't ever forget them. We think about them the whole time at training. It was so special to win here today."
The Aldershot athletes were wearing ribbons in memory of Burrows and Pygott, whose killer, the soldier Michael Casey, was jailed for six years in April for causing their death by dangerous driving.
Gorecka added: "It's a great team event, particularly for Aldershot at this time of the year with Stacey and Lucy passing away. Every Aldershot athlete was going to have them in their mind on the start line."
In the men's race Kent club Tonbridge created history by winning their first senior title. The squad has improved from bronze in 2015 and silver in 2016 to gold in 2017 and George Duggan, Charlie Joslin-Allen, Ryan Driscoll and Chris Olley combined to edge out Aldershot by three seconds as Olley out-kicked Jonny Hay in the final leg.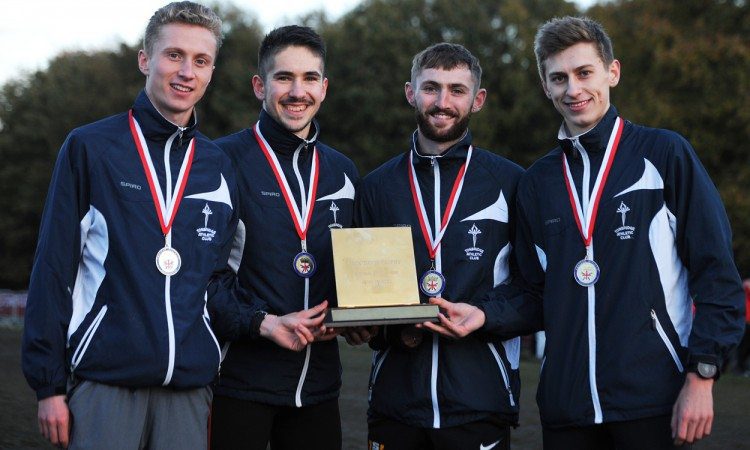 "Charlie, George and Ryan have won medals here (in Mansfield) as under-15s so it shows how well they've come through," said a proud Tonbridge team manager Mark Hookway. "Currently we hold the national cross country title, this (relays) title and the six-stage, although we've not won the national 12-stage yet."
Tonbridge also enjoyed success in the junior men's race. Loughborough Students narrowly 'won' the race but were ineligible for gold as university teams are no longer allowed medals unless all their runners are first-claim members of the team. So this left Tonbridge as the champions courtesy of strong running from Alasdair Kinloch, Jamie Goodge and James Puxty.
Warrington, meanwhile, won the junior women's race after Katie Lowery and Lauren Ferris teed up Harriet Knowles-Jones for one of the most impressive anchor runs of the day.
The under-17 titles went to Aldershot's men and Liverpool Harriers' women. The latter race also drew the biggest cheer of the day as host club Mansfield made the podium in third behind Liverpool and Vale Royal.
The under-15 boys title went to Woodford Green with Essex Ladies, while Blackheath & Bromley enjoyed a one-two when their A team beat their B team. Remarkably, this reversed the 2016 result which saw Blackheath's B team ahead of their A team.
Hallamshire Harriers' strong squad of talented young runners took the under-13 girls' title, while Kendal AC narrowly defeated Aldershot in a thrilling finish to the under-13 boys' race. In a north versus south battle, it meant the day ended with clubs from the south prevailing 6-4.
» See the November 9 issue of AW magazine for 10 pages of reports, photographs and results from Mansfield