World record-holder is favourite to triumph over a strong field on Sunday as we look at the female contenders for the 2020 Virgin Money London Marathon
The elite women's race in London features reigning world champion Ruth Chepngetich and four-time world track champion and former London Marathon winner Vivian Cheruiyot. But the favourite is another Kenyan, Brigid Kosgei, courtesy of her stunning world record achievement in Chicago almost a year ago to the day.
Set your alarm clocks early on Sunday because the race kicks off at 7.15am. It also includes a race within a race with athletes chasing the Olympic standard of 2:29:30.
Then, from 1.10pm on Sunday, the wheelchair races begin and you can read about all the contenders below.
READ MORE: Men's race contenders
Brigid Kosgei (Kenya) – No.101
PB: 2:14:04
Defends her title in London in her first marathon since breaking Paula Radcliffe's world record with 2:14:04 in Chicago 12 months ago. The 26-year-old began her marathon career relatively quietly with victories in Honolulu, Milan and Porto in 2015-16 but she became the youngest women's winner in London when she beat Vivian Cheruiyot in April 2019 and six months later took 81 seconds off Radcliffe's previously untouchable mark.
Ruth Chepngetich (Kenya) – No.102
PB: 2:17:08
The 26-year-old endured the torrid heat and high humidity in Doha last year to capture the world title. The race in the Qatari capital was a survival of the fittest and in the gruelling conditions on the city's Corniche promenade Chepngetich prevailed in 2:32:43, although her best time is more than 15 minutes quicker from Dubai 2019.
Vivian Cheruiyot (Kenya) – No.103
PB: 2:18:31
Olympic 5000m champion in 2016, four-time world champion on the track, former world cross-country champion and Kenyan record-holder at 5000m and 10,000m, Cheruiyot (below) moved to the marathon in 2017 aged 33 and placed fourth in London. But she won London 12 months later in 2:18:31, finished second to Kosgei in 2019 and has also won Frankfurt and finished runner-up to Mary Keitany in New York.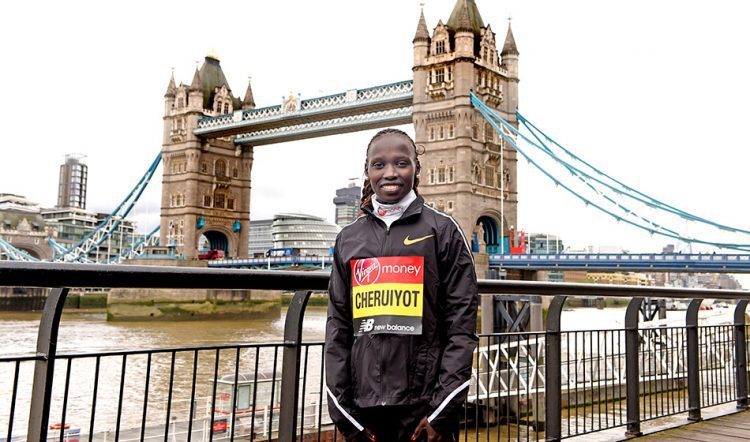 Valary Jemeli (Kenya) – No.104
PB: 2:19:10
The 29-year-old set a course record of 2:19:10 in Frankfurt last year. A seasoned marathoner she has also enjoyed victories in Barcelona, Valencia, Prague and Beijing.
Ashete Bekere (Ethiopia) – No.106
PB: 2:20:14
After a series of near-misses in marathons, Bekere has won her last three races in Valencia, Rotterdam and Berlin last year. Ultra-consistent, she has never placed outside the top 10 in her 20 marathons.
Alemu Megertu (Ethiopia) – No.107
PB: 2:21:10
The 23-year-old took nearly six minutes off her best when she won the Rome Marathon in April last year in 2:22:52. She then improved further when finishing runner-up to Valary Jemeli in Frankfurt 12 months ago.
Sara Hall (United States) – No.108
PB: 2:22:16
The 37-year-old became the sixth fastest American woman in history after her fifth place in Berlin last year. Previously she represented the US at world indoor and world cross-country championships and is married to 2:04:58 marathoner Ryan Hall.
Sinead Diver (Australia) – No.109
PB: 2:24:11
The Irish-born Aussie (pictured below) is now aged 43 and a mother of two, but she has been on an upward curve in recent years. In London last year she was rewarded for her bold running by clocking 2:24:11 to finish seventh.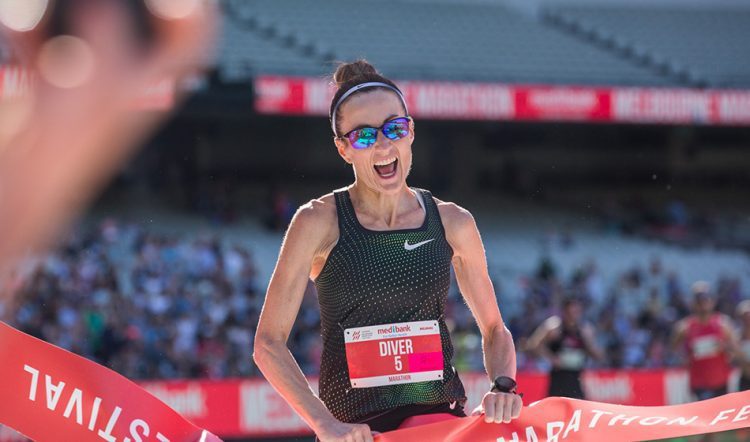 Carla Rocha (Portugal) – No.110
PB: 2:24:47
The 30-year-old ran her best time when eighth in London last year. A few months later she endured the tough World Championships marathon in Doha and her 28th place finish in 2:58:19 showed she does not know when to quit.
Ellie Pashley (Australia) – No.111
PB: 2:26:21
A physiotherapist from Victoria, Australia, she has improved by 20 minutes from her first marathon of 2:46 in Melbourne four years ago. Her best time came in Nagoya last year, whereas she has also represented her country on the track at the World Championships.
Sara Ribeiro (Portugal) – No.112
PB: 2:26:39
After smashing through the 2:30 barrier in the Valencia Marathon last year, the 30-year-old will be looking for further improvement in London with the ultimate target for any Portuguese marathon runner being Rosa Mota's national record of 2:23:29.
Steph Twell (Great Britain) – No.113
PB: 2:26:40
After winning world junior 1500m gold and three European under-20 cross-country titles, the Aldershot athlete (below, with Lily Partridge) suffered a career-threatening ankle injury in 2011 but has bounced back to become one of Britain's top marathoners and last year she ran 2:26:40 in Frankfurt to go No.6 on the UK all-time lists.
Molly Seidel (United States) – No.115
PB: 2:27:31
On her debut marathon she finished runner-up at the US Olympic Trials earlier this year in Atlanta. At that stage she thought her second marathon would be in Tokyo but instead it is in London after a build-up affected by coronavirus restrictions and reaction to her much-publicised eating disorders.
Gerda Steyn (South Africa) – No.116
PB: 2:27:48
As well as clocking well inside 2:30 for the marathon in New York City last year, she is an accomplished ultra-marathon runner and set a record for the 89km Comrades Marathon 'up-run' in 2019 – becoming the first woman to break six hours in the event. More recently she spent part of her build-up to London in strict lockdown in an apartment in Dubai with an exercise bike but no treadmill.
Lindsay Flanagan (United States) – No.117
PB: 2:28:08
Ran her PB in Chicago last year but has also broken 2:30 in Frankfurt twice and finished 37th in the World Champs marathon in 2017.
Darya Mykhaylova (Ukraine) – No.118
PB: 2:28:15
Has experience of the roads of London as she was 44th at the World Championships marathon in 2017. Placed 24th in the World Cross Country Champs last year and her marathon best was set in Ukraine.
Lily Partridge (Great Britain) – No.120
PB: 2:29:24
The 2018 British marathon champion and sits 21st on the UK all-time rankings. The daughter of former UK 3000m champion Ruth Smeeth, she has shown good form lately with victory in the Big Half earlier this year and last month's Antrim Coast Half.
Tracy Barlow (Great Britain) – No.121
PB: 2:30:42
A late starter to running, Barlow (below) ran 3:52:59 in 2011 and 2:59:53 in 2013 before coach Nick Anderson helped her trim her PB down to just outside 2:30 while combining training with work as a nurse.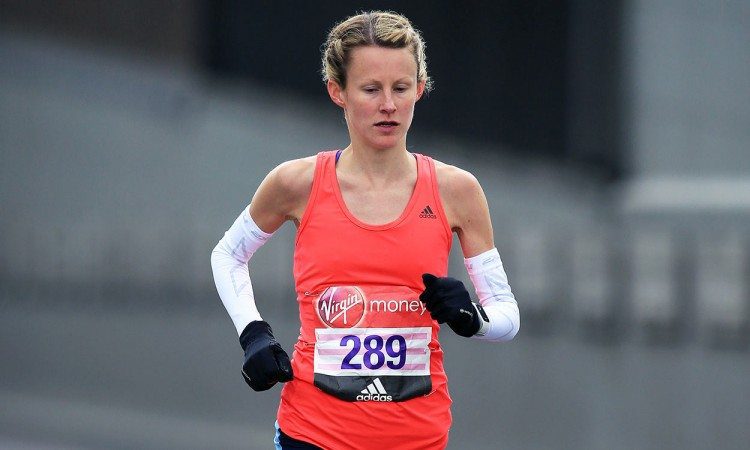 Natasha Cockram (Great Britain) – No.122
PB: 2:30:49
Broke Susan Tooby's long-standing Welsh record in Dublin last year despite a badly bruised leg after being kicked by a horse a few days earlier. Like all Brits this weekend she hopes to compete in the Tokyo Olympics although the official trial race will be spring next year.
Tish Jones (Great Britain) – No.124
PB: 2:31:00
Overcame an injury-hit build-up in 2019 to run a PB in London as she qualified for the British team for the World Champs in Doha, although she was later forced to withdraw. Based in South Africa for much of the year the 35-year-old Belgrave athlete bolsters her running training with plenty of miles on a bike every week.
Helen Davies (Great Britain) – No.127
PB: 2:34:06
Winner of the last three editions of the Brighton Marathon, with the most recent in 2019 being in a PB for the Ipswich Jaffa runner.
Naomi Mitchell (Great Britain) – No.128
PB: 2:37:51
The 26-year-old Reading AC runner has run the last four marathons in London in times ranging from 2:48:01 to 3:01:09 but she ran much quicker to clock her PB in Frankfurt last year.
Edith Chelimo (Kenya) – No.129
A pacemaker in London last year, she is making her marathon debut on Sunday. At half-marathon she has a best of 65:52 from three years ago when winning in Cardiff.
Pacemakers include: Pauline Kamulu with fellow Kenyans Lydia Njeri, Sandra Tuei and Nancy Rotich
Wheelchair race contenders
Manuela Schär (Switzerland)
PB: 1:28:17
Defending champion in London and course record holder in addition to being unbeaten since finishing fourth in London two years ago.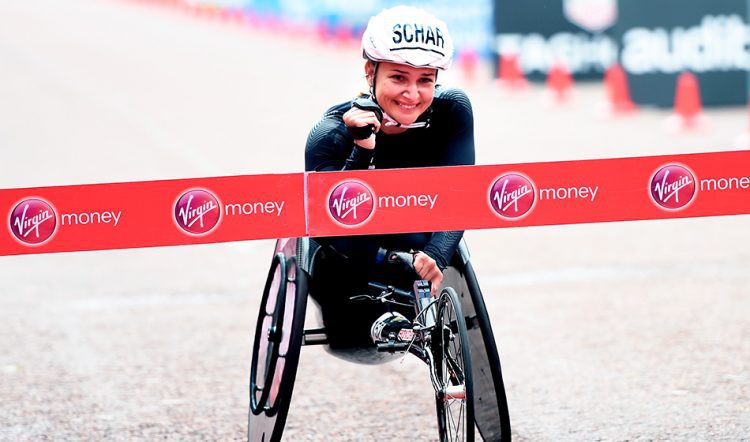 Shelly Woods (Great Britain)
PB: 1:37:44
The 34-year-old from Blackpool won in London in 2007 and 2012 but is on the comeback trail after a baby break following the birth of her son, Leo.
Margriet van den Broek (Netherlands)
PB: 1:38:33
Aged 46 she is one of the veterans of race day but she is a late comer to wheelchair racing after previously playing wheelchair basketball.
Jenna Fesemeyer (United States)
PB: 1:37:02
Former discus thrower and basketball player makes her London Marathon debut on Sunday.
» For more on the latest athletics news, athletics events coverage and athletics updates, check out the AW homepage and our social media channels on Twitter, Facebook and Instagram