Another first for the off-road ultra running superstar as he switches his focus to the Phantasm 24 challenge
Kilian Jornet is no stranger to extreme challenges but his next test will take him out of his comfort zone in another way as he takes to the track, for 24 hours.
The trail running superstar is better known for his mountain feats but 2020 has seen him try new things and after making his 10km road race debut last month he now turns his attention to seeing how far he can run during a day at the Salomon-organised 'Phantasm 24' in Måndalen, Norway.
After muscle injury niggles following his 29:59 10km at the Hytteplanmila forced a delay of the 24-hour attempt, it was scheduled to take place this weekend (November 21-22) but because of the weather Jornet now looks set to take to the track on Friday November 27.
A live stream of Phantasm 24 will be available for fans to watch below and at salomon.com/phantasm24 from 10:30 CET (9:30 UK) on Friday.
"The motivation is to go outside of my comfort zone, to try different things and see what I am able to do, whether that is climbing at high altitude or, in this case, running on flat ground," says Jornet.
"It's fun to discover different things I can do, and training on the flat is a good test and an opportunity to learn in terms of nutrition and pacing, and then try to apply those things to different activities, like even mountaineering projects."
The record for the longest distance run on the track in 24 hours is 188.590 miles (303.506km) set by ultra running legend Yiannis Kouros in 1997. A feat described by Jornet as "absolutely wild".
That sort of distance requires an average of 7:38 per mile (4:44 per kilometre). For 188 miles. Over 24 hours.
"It's so many kilometres that I cannot even visualise it," says Jornet . "I've seen Yiannis' splits so I want to keep up with that as long as I can.
"I know the speed I need to keep every hour, so then I know the pace for every kilometre and every lap.
"Of course, the first 10 hours will be a bit faster and then slowing every hour after, so I have a plan and I know what I want to run every hour. The big thing is to not have any muscle problems and be able to eat without having big down periods."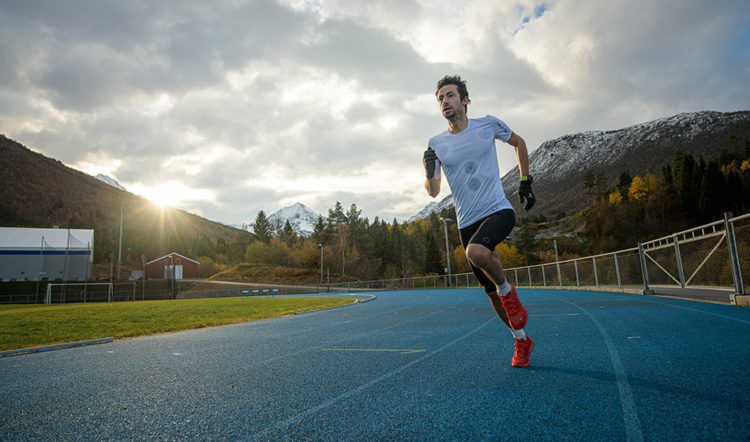 In order to make the race official, a number of Norwegian ultra runners will also take part. Jornet will switch direction every four hours on the track and he expects temperatures to get as low as zero degrees Celsius at night and range from 8-15 degrees during the day.
"For mountain athletes, we have a big motor, so it's easy in terms of cardio and endurance," Jornet adds.
"It's mostly working on the speed because my legs aren't used to moving this fast.
"To prepare, I've been doing three days of speed work each week at the track or on roads. But the form you run with on the flat is very different from how you run in the mountains, where you run higher because you pass over obstacles and put your feet in different places as the terrain changes.
"I think the biggest challenge is to be able to train consistently and not have injuries because the transition to flat ground is very hard for the muscles. The training has been a bit frustrating the last few months going from injury to injury to injury. I have had good blocks of training and then I would have an injury and have to rest.
"After the 10km race, I had to stop training and rest an injury."
In his 24-hour attempt, Jornet will wear Salomon's S/LAB Phantasm, a new lightweight road racing shoe that will be released in the spring of 2021.
"I tested the prototypes of the S/LAB Phantasm a year ago and now I'm using the same shoe that will be available in spring to the public," Jornet says. "It's great for road running. It's a light, very reactive and well-balanced shoe with good cushioning, which is important when you are doing longer training on hard surfaces. And the grip is really good, even in wet conditions, which is important."
» This post was updated on November 25 to state the new challenge date of November 27
» For more on the latest athletics news, athletics events coverage and athletics updates, check out the AW homepage and our social media channels on Twitter, Facebook and Instagram