Olympic 400m champion smashes Games record for half-lap win on Gold Coast, while Asher-Smith, Eilidh Doyle and Sophie Hahn are among Brits to win medals
Shaunae Miller-Uibo added the Commonwealth 200m title to her Olympic 400m gold and world medals over both distances, smashing the Games record for the shorter event in the process on Thursday night.
Clocking 22.09 the 23-year-old improved a record mark which had been set by her fellow Bahamian Debbie Ferguson in 2002, while Jamaica's Shericka Jackson also dipped inside the old record mark of 22.20 with her PB of 22.18 for silver. After a strong start, England's Dina Asher-Smith held on for the bronze, dipping to secure a podium place ahead of Jamaica's double Olympic champion Elaine Thompson – 22.29 to 22.30.
"I'm happy with the performance, that was a great group of girls out there," said Miller-Uibo.
"200m isn't my key event, the 400m is and so I'm doing some 200m just to get a bit of speedwork in. I'm pretty happy with where I'm at right now."
Thompson missed out on a medal despite clocking a time which only three athletes in Commonwealth Games history have bettered. It is quicker than any previous silver medallists have run.
Asher-Smith's team-mate Bianca Williams finished sixth in 23.06.
"I'm really happy. To run 22.2 in April – I'm honestly over the moon," said Asher-Smith.
"It was a bit of a whirlwind, I can't tell you what was happening. I saw two people and I was like, 'if I see three people I'm going to be really annoyed so you've got to run faster, Dina!'"
For the third successive Games, Eilidh Doyle won silver for Scotland in the 400m hurdles.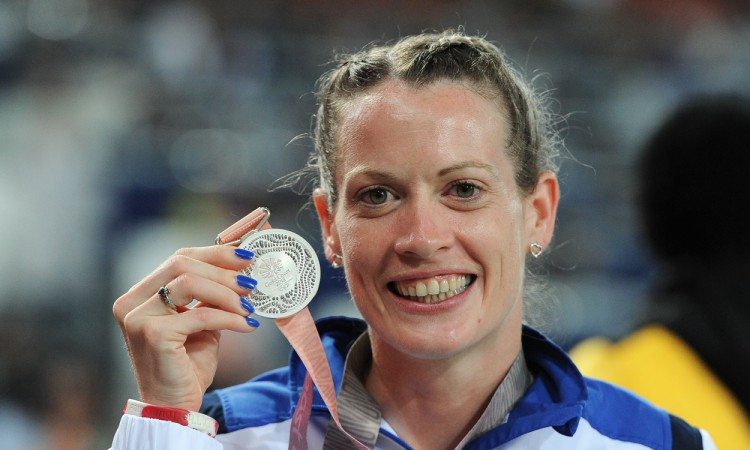 Janieve Russell of Jamaica and Wenda Nel of South Africa came into the home straight battling for gold, but while Russell blasted away to gold in 54.33, Nel faded as Doyle powered past her to clock 54.80 for second place.
"I think it was definitely the strongest field I have faced in the Commonwealths in terms of the quality of athletes and I was a bit anxious – you want so much to do well," said Doyle.
"I've been lucky to win a number of medals in my career and they mean a lot to me – I will treasure them for the rest of my life."
In the long jump, Glasgow 2014 bronze medallist Christabel Nettey soared out to 6.84m in the first round and it was a mark neither she, nor any of her rivals, could better.
The Canadian backed it up with four other jumps over 6.60m and while her winning mark came in the first round, silver medallist Brooke Stratton of Australia saved her best until last and leapt 6.77m to consolidate her silver medal position. England's Shara Proctor had been tied with Stratton on a best of 6.75m until that final round, with the Australian placed ahead on count back, but she passed her final two jumps with a niggle and so bagged the bronze.
Her team-mate Lorraine Ugen was one place behind her with a best of 6.69m, while Jazmin Sawyers was seventh with 6.35m.
"I'm a little bit disappointed with today. I came out here and my only goal was to get the gold medal," said Proctor. "Unfortunately I tweaked my quad in the fourth round. I was lucky to get a medal but I am disappointed. It's bittersweet.
"It's very small," she added on her injury. "It's nothing serious but I have a whole season ahead of me so I have to be smart."
There was yet another British medallist on the track as Sophie Hahn gained England's first track title on the Gold Coast, breaking the T38 100m Games record with 12.46 to just miss her own world record.
It was a dominant victory and behind her Australia's Rhiannon Clarke claimed silver in a 13.17 area record. Back in action after winning the T38 long jump, Olivia Breen secured a second medal for Wales, clocking 13.35 to bag bronze. England's Katrina Hart was sixth in 14.82.
"It's absolutely amazing," said Hahn, who ran her best of 12.44 in London last July. "I've always wanted to be Commonwealth champion and to do that here in Australia is great.
"I've not raced the Aussie (Clarke) before, and I thought straight away, she's pretty good so I need to be on my game."
In the discus, Dani Stevens lived up to her billing as favourite and she did so in superb style, breaking the Games record with 68.26m to win by almost eight metres ahead of India's Seema Punia and Navjeet Dhillon.
"I think that was a great performance, I am really happy with throwing over 68m," said the winner, who also recorded two other marks of over 65 metres as part of her series.
"The Games record was definitely on my mind. I wanted to snag that one," she added.
"That was my second-best throw ever, so it's really nice to have a few world-class throws to back that up."
England's Jade Lally placed seventh after struggling with a back issue.
"That's just where I'm at at the moment," she said. "This back problem has just been a pain, to put it lightly. I throw 53m in training, I throw 57m in training – it was either going to be one or the other and I had to be mentally prepared for both."
Meanwhile, world indoor pentathlon champion Katarina Johnson-Thompson leads the heptathlon at the end of day one, adding a 11.54m shot put and 23.56 200m to her scoresheet for a 3765-point tally. Canada's Nina Schultz is second on 3639 points, while Johnson-Thompson's 18-year-old England team-mate Niamh Emerson is fourth with 3568 behind Australia's Celeste Mucci with 3613.
Northern Ireland's 17-year-old Kate O'Connor is ninth on 3318 points, one place ahead of Scotland's 18-year-old Holly McArthur with 3270.
After her fall in the hurdles at the start of the competition, England's Katie Stainton went on to jump 1.72m in the high jump but withdrew ahead of the shot put.
"I'm okay, I'm happy I'm in the lead," said Johnson-Thompson. "A bit confused with some of my results but it's what I should expect in April.
"After Birmingham (World Indoors) I was more mentally tired than physically tired so instead of pushing on I had to let my body rest and take it easy.
"I thought I could get away with it but I'll really have to fight on Friday."
She added: "I'm finding it difficult but it doesn't mean I'm not trying my best and I'm going to come back out tomorrow and hopefully get a medal, the gold."
» See the April 12 and 19 editions of AW magazine for in-depth event-by-event coverage from the Gold Coast Games