Brits secure success in blustery conditions as they prepare for next month's London Marathon
Mo Farah and Charlotte Purdue successfully defended their titles in very blustery conditions in The Vitality Big Half in London on Sunday, crossing the line in front of the iconic Cutty Sark.
As with last year, the men's race came down at the end of 13.1 miles to a three-way sprint finish, Farah pulling away over the last 200 metres to clock 61:15.
Farah was seen clutching his stomach earlier in the race when he drifted slightly off the pace. In the end, though, it was comfortable for the Brit, who even had time in the finishing straight to urge on his training partner Bashir Abdi of Belgium, who finished second in 61:16. Former London Marathon winner Daniel Wanjiru was third in 61:17.
Dewi Griffiths was fourth in 63:17, taking second in the incorporated British championships, one place ahead of Chris Thompson, who ran 63:41.
Former world record-holder Wilson Kipsang of Kenya was next in 64:07.
Farah, whose winning time was 25 seconds quicker than last year, said: "I kind of felt good at the beginning but then at four or five miles I just felt a little cramp, not a stitch, and it was bothering me, so I was just thinking 'sit back and try and get through it', which I did, and then towards the end I felt fine again. I wasn't panicking because the pace wasn't that fast."
Farah will now return to training in Ethiopia as he continues his build-up to the Virgin Money London Marathon next month, where he will face a stellar field which includes world record-holder Eliud Kipchoge.
"I'm definitely confident," he said of the prospect. "I think the key to the marathon is being able to believe yourself and that you can mix in with the others… I'm definitely a better athlete than I was last year in my opinion, but it's six weeks' time and it's going to be one of the toughest races of my life."
On the women's side, Purdue passed long-time women's leader Steph Twell with just over 5km to go, finishing just outside her 2018 time with 70:38. Twell was second in 71:33, 11 seconds ahead of Charlotte Arter.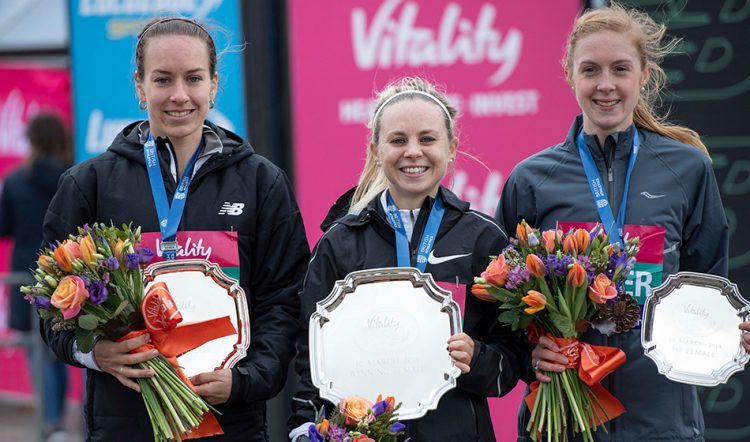 The women's race had been a highly anticipated battle for the overall honours and the incorporated British title. Twell had clocked 2:30:14 on her marathon debut in December, while last month Arter and Purdue set PBs over the half of 69:41 and 69:46 respectively.
But it was ultimately Purdue who will leave the capital much the happiest with her effort.
She said: "I'm really pleased to retain the title. I wanted to run faster than last year but I feel like the conditions were so bad the time is better than last year.
"Steph went off hard and I knew it wasn't a fast day today so I knew she probably wasn't going to keep that pace up so I had to just follow my own race plan."
Hayley Carruthers of Birchfield Harriers was the big surprise in fourth, taking nearly three minutes off her PB with 71:57, one place ahead of Lily Partridge.
Earlier David Weir (51:12) and Netherlands' Margriet van den Broek (63:41) had taken the wins in the wheelchair races.
Such were the windy conditions, both the main stage of the associated entertainment festival and the one-mile fun run were cancelled, although persistent rain on the morning of the race cleared just before the start to allow the expected 11,000 runners some respite.
Top 10
Men
1 Mo Farah 61:15
2 Bashir Abdi 61:16
3 Daniel Wanjiru 61:17
4 Dewi Griffiths 63:17
5 Chris Thompson 63:41
6 Wilson Kipsang 64:07
7 Jonny Mellor 64:31
8 Mustafa Mohamed 64:42
9 Mick Clohisey 64:58
10 Jack Gray 65:01
Women
1 Charlotte Purdue 70:38
2 Steph Twell 71:33
3 Charlotte Arter 71:44
4 Hayley Carruthers 71:57
5 Lily Partridge 72:09
6 Clara Evans 73:13
7 Sonia Samuels 73:46
8 Helen Davies 73:56
9 Breege Connolly 74:49
10 Fiona Brian 75:01
» See the March 14 edition of AW for further coverage
» For more on the latest athletics news, athletics events coverage and athletics updates, check out the AW homepage and our social media channels on Twitter, Facebook and Instagram