PBs aplenty as athletes return to action at Trafford, racing two-lap events completely in lanes
The British Milers' Club (BMC) made its first foray into socially distanced 800m running at Trafford on Saturday and it was a runaway post-lockdown success with numerous athletes setting PBs in the alternate lane scenario, Steve Green reports.
European under-20 1500m bronze medallist Joshua Lay (pictured below), running out of lane one, was satisfied with a near PB of 1:48.75 in his first outing.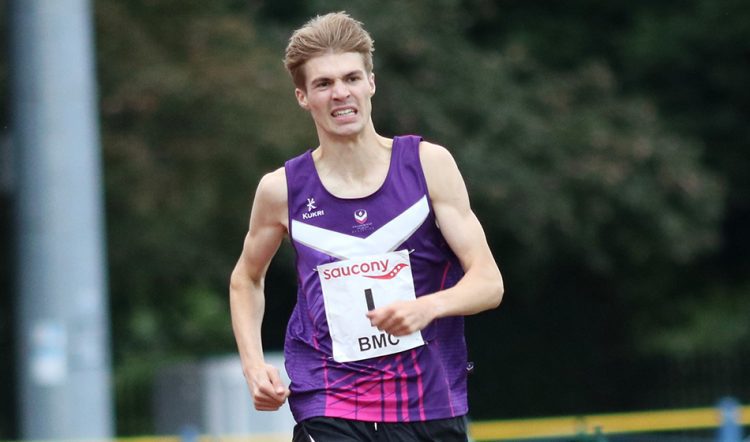 "I got off quite well in around 52 seconds at the bell. I was hoping for better after a recent 76-second time trial over 600m, but I was maybe lacking a bit of race sharpness. It was great just to race properly again," reflected the Rugby man, who will head to the Flanders Cup meeting in Belgium to race over his favoured 1500m distance, hoping to improve his 3:41.38 PB.
Tom Dodd was second behind Lay in 1:51.73, with Max Wharton returning a decent 1:50.94 in winning the B race.
Georgie Hartigan (pictured top) is another athlete who has emerged strongly out of the pandemic. The 2019 BUCS 1500m champion, who is now eligible to represent Ireland, sped to a new best of 2:04.60, taking nearly a second off her previous PB.
"It was great to get a new PB, but most importantly for myself and the other athletes we were just grateful for the BMC for putting this event on, in a year when we thought the season was over," she said.
Hartigan reflected that she found running in lanes a strange experience, however she clearly adapted to this new reality with gusto.
Francesca Brint followed the Birchfield Harrier home in 2:07.49.
An invitational 200m produced some quality times as Joe Ferguson with 21.18 edged Sagesse Nguie (21.45).
It was a case of twin peaks in the second heat as Arif and Adam Mohamed both returned new bests of 22.11 and 22.42, respectively.
Full results can be found here and here.
The event was live streamed by Vinco Sport and can be watched back in the UK here.
» For more on the latest athletics news, athletics events coverage and athletics updates, check out the AW homepage and our social media channels on Twitter, Facebook and Instagram